King County
Gloves off: Steinbrueck calls Murray 'candidate of the establishment'
Mayoral candidate Peter Steinbrueck Monday said his primary contender Ed Murray is a creature of Olympia, has scant knowledge of Seattle issues, and has become the darling of the city's downtown establishment. "He's been in Olympia for 18 years working as a legislator, and what is his familiarity with issues in Seattle? I would suggest next to nothing," Steinbrueck, a former city councilman, told  Seattle Weekly. With the August 6 primary fast approaching – vote-by-mail ballots go out Wednesday – Steinbrueck's decision to go after Murray is revealing. It shows that the Steinbrueck camp is convinced that only Murray stands in the way of winning one of the top spots in the primary. And like all the other challengers, he badly wants to face incumbent Mayor Mike McGinn. Seattle Weekly, 7-15-13.
McGinn's broadband dreams slow to materialize
When Mike McGinn ran for mayor in 2009, he campaigned on the promise of high-speed internet for all of Seattle. But once elected, he struggled to implement anything close to that. Four years later McGinn still presides over a city of internet haves and have-nots. So what happened to McGinn's pledge for widespread broadband service? Even before McGinn was running for office, the city's Technology Advisory Board issued report after report on the need to improve internet service in Seattle. McGinn said when he was elected he liked the concept of a municipal broadband utility. But he soon concluded that Seattle couldn't afford it. So most residents will continue to have choice only between the slower speeds offered by Comcast and CenturyLink. KUOW, 7-15-13.
Former state Representative Kip Tokuda dead at 66
Former state legislator and community leader Kip Tokuda died Saturday of a heart attack while fishing on Deer Lake on Whidbey Island. He was 66. Island County Coroner Robert Bishop said Tokuda called out for help from his small kayak about 11:25 a.m. Saturday. Several people on shore came to his assistance and started CPR but Tokuda was unresponsive. An ambulance arrived shortly afterward and medics continued CPR, but were unable to revive him, Bishop said. Tokuda served in the state Legislature from 1994 to 2002, representing Seattle's 37th District, which encompassed the Central Area and Southeast Seattle. He was known in Olympia as a champion of children and families. He served on the House Children and Family Services Committee and the House Juvenile Justice and Family Law committees. Seattle Times, 7-15-13.
Sale sign up for White River Forest near Enumclaw
The White River Forest, owned by Hancock Timber Resource Group and located near Enumclaw, is on the market. The King County Council approved a conservation easement in April negotiated by King County Executive Dow Constantine to protect 43,000 acres of the White River Forest from development. Enumclaw Mayor Liz Reynolds said the important issue for the city regarding the forest is recreation access. "We have an opportunity to build economic development based on recreational access to the foothills," she said. King County Councilman Reagan Dunn said the conservation easement preserves the forest for recreation use and protects it from residential development, but continues to allow the land to be used for mineral extraction and logging. Enumclaw Courier-Herald, 7-15-13.
New Pacific Mayor Guier approves filling vacant police department positions
In her first act as Pacific's new chief administrator, Mayor Leanne Guier Friday directed Pacific Public Safety Director John Calkins to immediately fill two police department vacancies. The hiring of two additional police officers returns the department to fully staffed status, with officers in all positions authorized by the City Council. The police department toiled under the 18-month administration of former Mayor Cy Sun – who was recalled last week – weathering his refusal to hire for vacant positions, and several attempts to fire officers and command staff, including Calkins. "Public safety is a cornerstone of government service, and it was important to me that we live up to that promise," Guier said. Auburn Reporter, 7-15-13.
The State
Closed-door deal with water bottler spurs rare challengers to re-election bid of Anacortes' five-term mayor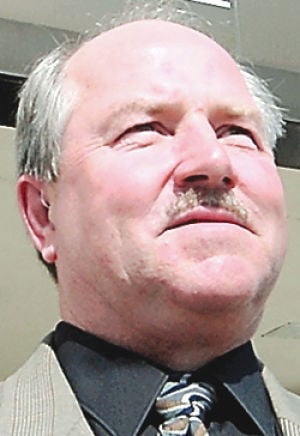 Anacortes Mayor Dean Maxwell may be facing his toughest election since he took office in 1994, as three challengers have stepped up for the primary race to square off on important issues for the town's future. Maxwell has had little competition in any election since his first. He ran unopposed in 1997 and won the other races by 29 percentage points or more, according to Skagit County elections records. The run for his sixth term is shaping up differently, because of the Tethys project, and questions about whether Maxwell appropriately handled the proposal to build a 1-million-square-foot bottling plant in Anacortes. Challenger Mitch Everton said the mayor was wrong to keep the proposal out of the public eye until a contract was signed. At a forum last Thursday, Everton and challenger Laurie Gere voiced worries over the impact the plant might have on the environment and traffic. Both wanted to know more from Tethys about the number of direct jobs created by the plant, and at what pay grade. "In order to justify itself, Tethys needs to generate living-wage employment for workers who will live in Anacortes, shop here, pay taxes here and put their children in our schools," Everton said.  Skagit Valley Herald, 7-14-13.
Longshore union objects to Coast Guard 'safety zone' plan
The International Longshore and Warehouse Union is objecting to the U.S. Coast Guard's expansion of safety zones around certain vessels on the Columbia and Willamette rivers. The union says the new temporary zones would encroach on its free speech rights and hand grain terminal operators an "undue advantage" in their dispute with the ILWU. At issue are temporary safety zones aimed at keeping demonstrators a certain distance away from grain-hauling vessels calling on grain terminal operators, including United Grain Corp. at the Port of Vancouver. A previous Coast Guard rule "regulated only grain shipment vessels," according to ILWU attorney Robert Lavitt. The new proposal regulates both grain shipment boats and their assist vessels. It adds vessels that do business with Louis Dreyfus Commodities to the list of ships subject to the rules. The new rules enlarge the safety zones in several ways, including creating a "200-yard radius of grain shipment vessels when anchored at any berth, moored or in the process of mooring" on the Columbia and Willamette rivers, according to Lavitt. The union's on-water picketing activities "are aimed at announcing the existence of a picket line to incoming vessels and grain shipment assist vessels that may choose to honor the picket line," Lavitt wrote. "By prohibiting demonstrators from coming anywhere near incoming vessels, the safety zones effectively prevent the ILWU from conveying its message to its intended audience." Vancouver Columbian, 7-15-13.
GMO battle lands in Washington
A national fight over labeling of genetically engineered foods is touching down in Washington this fall, fueled by money from organic and food-safety advocates. On the other side, large agribusiness and food industry groups are giving mightily to efforts that oppose Initiative 522. Like Proposition 37 that failed narrowly in California a year ago after opponents spent $46 million to defeat it, I-522 would require that food products with genetically modified or engineered contents be labeled. As of last week's filings with the state Public Disclosure Commission, No on I-522 forces had collected nearly $952,000 – with all but $6,700 of it coming from five industry groups. The largest amount was $472,500 from the Grocery Manufacturers Association in Washington, D.C. Another $242,156 was from Monsanto in St. Louis, $171,281 from DuPont Pioneer in Johnson, Iowa, and $29,531 each was from Bayer Cropscience in North Carolina and Dow AgroSciences LLC in Indianapolis. Olympian, 7-14-13.
Allegiant Air bails out; no passenger service for Paine Field
Plans for passenger air service from Paine Field appear dead, at least for now. Las Vegas-based Allegiant Air, the primary carrier interested in flying from the Snohomish County-owned airport, did not agree to the county's financial terms for building a passenger terminal. The airline instead offered to build the terminal but wanted the land for free, without a lease. "We can't do that," said Peter Camp, an executive director the county, at a County Council committee meeting Monday. "It is what it is. They can take it or leave it," Councilman John Koster said. A couple of years ago, "we received a pretty strong statement from the (Federal Aviation Administration) that they did not want the carrier to build the terminal, they wanted us building the terminal," Councilman Dave Gossett said. Everett Herald, 7-15-13.
The Nation
Saying 'Senate is broken,' Reid seeks showdown over filibusters
Senate Majority Leader Harry Reid (D-NV) took a defiant and uncompromising stand Monday before a showdown on the future of the filibuster, saying that Republicans must stop blocking executive branch nominations or he will try to change rules to "save the Senate from becoming obsolete." In a final effort to defuse the tense partisan standoff, 98 of the 100 Senators cloistered themselves Monday night in the ornate Old Senate Chamber, where some of the great compromises of the early days of the nation were struck and where modern Senates have met at difficult moments, including the impeachment of President Bill Clinton. Senators from both parties said they were seeking an alternative to Reid's vow to ask a majority of members to ban filibusters against executive nominations, though he would leave the storied procedural option intact for judicial nominees and legislation. The Senators failed to arrive at a deal. New York Times, 7-15-13.
Coal industry feels the heat from the feds in Ohio
As the Obama administration prepares to roll out tough new standards aimed at sharply curbing carbon pollution, it's hard to overstate the high stakes for Ohio. The state is home to Murray Energy Corp., America's largest privately owned coal producer, and American Electric Power, which has one of the biggest fleets of coal-fired power plants in the nation. Some 830,000 residential, commercial and industrial customers in Ohio and Kentucky rely on electricity from Duke Energy, which operates 22 coal plants in six states. Plus, Buckeye State residents rely overwhelmingly on coal to power televisions, refrigerators, air conditioners, and lights. In 2010, Ohio generated more carbon emissions than all but three other states. Critics say the new federal regulations could devastate the coal industry, jack up electricity prices, and hurt the economy. Proponents say they will improve public health, stem the threat of extreme weather and usher in a new era of energy innovation. Both sides agree that Obama's plan is short on key details, and the coal sector will grapple with significant uncertainly until at least next summer. Cincinnati Enquirer, 7-15-13.
State audit faults Colorado health department for its mishandling of medical marijuana
State auditors Monday faulted the Colorado Department of Public Health and Environment for its oversight of the state's medical marijuana patient registry, pointing to lax regulation of physicians, unnecessarily high fees, and a failure to oversee caregivers. The audit found evidence that the department does not sufficiently oversee doctors who give patients the recommendations needed to obtain medical marijuana under Colorado state law. One doctor provided recommendations for more than 8,400 patients on the registry, auditors found. On average, a typical U.S. physician sees 2,300 patients, according to a study cited by the audit. The performance audit, released at a hearing of the state Legislative Audit Committee, is the second stinging rebuke in recent months of Colorado's oversight of medical marijuana. In March, auditors found the Department of Revenue division charged with overseeing medical marijuana businesses was rife with wasteful spending and incomplete enforcement. Revenue departments have said they have responded and are now running a tighter ship. Denver Post, 7-15-13.
Hostess Twinkies return to stores, but unionized jobs disappear
Twinkies made their sweet comeback in stores nationwide Monday, but hundreds of workers who helped make the sponge cakes an American staple are not celebrating. That's because only 20 to 25 percent of jobs at Hostess Brands, the Twinkies-maker that sank under bankruptcy last year, are likely to reemerge, estimates Natalie Everett, a bread and snack industry analyst with IBISWorld. Under its new business model, Hostess will likely axe jobs and replace workers with machinery in an effort to rein itself back into financial health, Everett says. While the former Hostess ran 11 factories that produced just half of what they were capable of making, the new company is operating four factories that are producing closer to 90 percent of their capacity, according to Hostess. Additionally, instead of hiring truck drivers to deliver products directly to 50,000 stores across the country, the new Hostess is using third-party truckers to drop off products at warehouses – a move that will save the company gas money and allow it to cut drivers' positions. And unions? Forget it. Christian Science Monitor, 7-15-13.
To Think About
Black boys are being denied the right to be young
Justice failed Trayvon Martin the night he was killed. We should be appalled and outraged, but perhaps not surprised, that it failed him again Saturday night, with a verdict setting his killer free. Our society considers young black men to be dangerous, interchangeable, expendable, guilty until proven innocent. This is the conversation about race that we desperately need to have — but probably, as in the past, will try our best to avoid. If anyone wonders why African Americans feel so passionately about this case, it's because we know that our 17-year-old sons are boys, not men. It's because we know their adolescent bravura is just that — an imitation of manhood, not the real thing. We know how frightened our sons would be, walking home alone on a rainy night and realizing they were being followed. We know how torn they would be between a child's fear and a child's immature idea of manly behavior. We know how they would struggle to decide the right course of action, flight or fight. Eugene Robinson, Washington Post, 7-15-13.