Make a Real Difference, Starting With Your Neighborhood
A Precinct Committee Officer (PCO) is one of the most important roles in the Democratic Party. They serve on the front lines of our elections, engage directly with their neighbors, build strong communities and ensure strong Democratic turnout in all elections. Apply now!
What are a PCO's duties?
Make sure neighbors in your precinct are registered to vote
Remind neighbors in your precinct to vote
Vote on party priorities and leadership
Decide which candidates to endorse
Why are PCOs important?
PCOs are the backbone of the local Democratic party:
Neighborhoods with PCOs have higher voter turnout
PCOs vote on and endorse candidates for office all the way from school board to state legislature. They help connect voters to those who hold those offices.
PCOs can build toolkits and best practices that can be shared amongst Legislative Districts
Many future elected officials begin as a PCO – having a strong pool of PCOs leads to a strong pipeline for future party leadership
What is my precinct?
Need help finding your legislative district or precinct? Here is where you can look up all of your districts on the King County Elections site. (Note: it can be particular about the use of "," and spelling of "Street", "Avenue", etc.)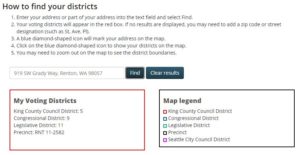 Once you have your Legislative District and Precinct, you can find a map of your precinct here, under Legislative District Maps for your Legislative District.
I'm ready to apply! What's next?
Fantastic! Fill out this application and we'll get you in touch with your Legislative District for the next step in the process.
Still have questions?
Get in touch with us at kcd.pcochair@kcdems.org. Even if you're not quite ready, you could:
Work with LD members to form a committee to engage your neighborhood
Volunteer! There's just so much to do – please share your passion with us and help us elect representatives who can lift our voices! Reach out and we'll work to help find a role that fits you.