King County
Bellevue council members fight to keep conservative majority
Whether a conservative majority continues to control the Bellevue City Council may depend on how well voters like the record of its longest-serving member — and whether they think he's physically up to another four-year term. Don Davidson, 73, who was excused from participating in council meetings for nearly three months because of health issues, recently returned to the council and the primary-election campaign. Davidson faces two candidates for the Position 6 seat in the Aug. 6 primary: Lynne Robinson and Vandana Slatter. Kevin Wallace, the youngest council member and a political ally of Davidson's, has one serious challenger for his Position 4 seat, Steve Kasner. Seattle Times, 7-14-13.
Dozens of Trayvon Martin supporters protest Zimmerman verdict at Westlake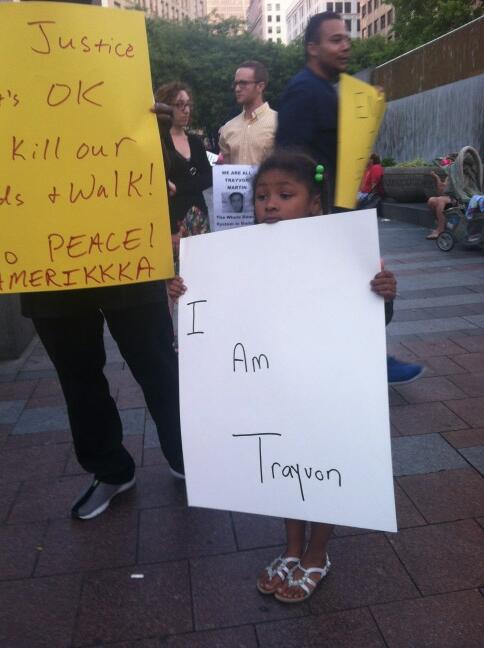 Monique Hendrix says Trayvon Martin could have been her child. After George Zimmerman's acquittal Saturday evening, she decided to go and protest. Hendrix and her daughter, Ava, 5, went to the Dollar Store to get posters then walked to Westlake Center, where a group of about 50 people gathered shortly after the verdict was announced. As people around her chanted "Justice for Trayvon" and "Zimmerman was guilty," Ava held a sign: "I am Trayvon." Her mother wrote "No justice for African-Americans" on another poster. "We Are All Trayvon Martin" rallies were held across the nation by the Stop Mass Incarceration Network, according to Orpheus Reed, a staff member at Revolution Books, one of the local endorsers of the protest. The group had planned in advance to protest the verdict and spread the word through Facebook. Seattle Times, 7-14-13.
Neighbors, police, city officials give Chinatown ID fresh start
Visitors to this past weekend's Dragon Fest in the Chinatown International District might have noticed glints of change throughout the neighborhood. Hip new shops have opened, and once seedy public spaces now attract lunchtime visitors, playing kids, and impromptu games of chess. Graffiti has been painted over and trash-filled alleys are kept clean enough to host outdoor art shows. Nine security cameras record street activities around the neighborhood, with two more cameras soon to be installed. Calls to 911 have dropped noticeably. Two community groups monitor the camera footage over the Internet using access codes and provide it to police when break-ins or vandalism occur. Lighting has been installed in the park and alleys to discourage crime after dark. Seattle Times, 7-13-13.
The State
Quebec's nightmare sends shivers through Rainier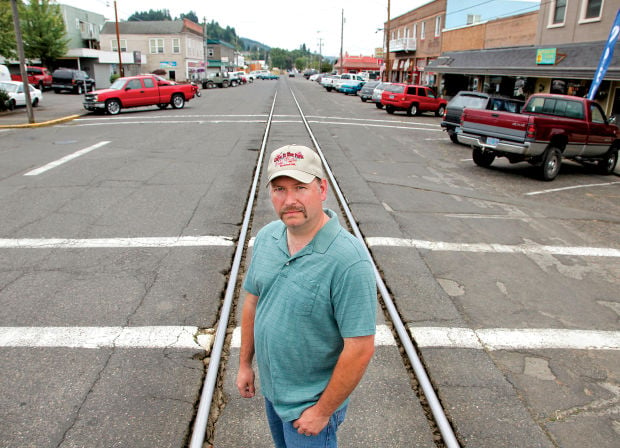 The railcar explosion that devastated a Quebec town one week ago has raised questions about whether the same thing could happen in small Columbia River towns such as Rainier, where an increasing number of the same petroleum trains are rolling in daily. The July 5 explosion, caused by a runaway crude oil train that derailed in the town of Lac Megantic, is estimated to have killed 50 people. The blast wiped out entire blocks of the little town of 6,000 people. Trains carrying the same crude oil began moving through the center of Rainier last year, headed for a Port Westward plant where it is loaded onto barges and shipped to West Coast refineries. A railcar explosion of similar magnitude would wipe out much of Rainier's downtown. Trains move through town at 10 mph, and the chances of such a catastrophe probably are slim, but Mayor Jerry Cole says even small risks should be taken seriously. Longview Daily News, 7-12-13.
New law increases access, accountability for ATVs
In two weeks, drivers of all-terrain vehicles will have more access to Washington's rural roads than ever before. They'll also have less anonymity than ever thanks to a requirement they've never had before. Signed last Wednesday by Gov. Jay Inslee, HB 1632 goes into effect July 28. It gives ATV drivers immediate access to 35 mph-or-less rural roads in seven counties with fewer than 15,000 residents, while allowing more-populous counties and municipalities to grant greater access to roads. Under the new law, all ATVs — whether their owners plan to ride on roads or not — will be required to display a small metal license plate similar to those on motorcycles, thereby making it easier for witnesses to report mudding — the practice of tearing up meadows and similar vulnerable places — and other abuses to law enforcement. Yakima Herald-Republic, 7-14-13.
Sakumas, workers reach partial agreement
Farm workers from Sakuma Bros. Farms who walked off the job Thursday have reached an agreement with farm President Ryan Sakuma that had them back to work Sunday. In a meeting with workers Friday afternoon, Sakuma said he rescinded the firing of Federico Lopez — one of the biggest grievances in the list farm workers presented to Sakuma management. "It was an intimidation issue," Sakuma said. "The whole group agreed to let us know if intimidation is happening in the future." Intimidation by managers was another complaint the workers brought to Sakuma, but that and several other issues were tabled until a later meeting. The workers also demanded an increase in the price per pound they were getting for berries, but Sakuma said the amount was simply too high. Rosalinda Guillen, who works with migrant workers through Community to Community Development to promote fair treatment in agricultural work, confirmed that the workers would return to work but still intended to pursue their other demands. Skagit Valley Herald, 7-13-13.
Future of Van Lierop land stirs controversy in Puyallup
Puyallup officials are reviewing proposed land-use changes that could lead to industrial development of one of the valley's last daffodil farms. Meanwhile, a private meeting between public officials and the site's potential developer has sparked an election-season fire. Two members of the Puyallup Planning Commission, who also are running for City Council, have been criticized for attending the private meeting last month. Among the attendees was the developer who is seeking the proposed rezone on 13 acres of bulb grower Neil Van Lierop's property near Shaw Road. Afterward, the Puyallup city attorney warned in an email to the two commissioners that such meetings "often generate public criticism and tend to undermine the confidence of the public in government." Van Lierop, the last in a five-generation line of daffodil farmers, closed his operation in May. Tacoma News Tribune, 7-13-13.
The Nation
Abortion bill highlights Democrats' uphill fight in Texas
The politically charged battle over whether to restrict abortions in Texas ended late Friday when the state Senate passed legislation and sent it on to Gov. Rick Perry (R) for his signature. In the end, the fight illustrated the challenges Democrats face as they look to break the Republicans' grip on the state. Democrats haven't had a moment like this in Texas for years. The abortion clash provided a sudden jolt of energy to a beleaguered state party and created a new star in Democratic state Sen. Wendy Davis, whose 11-hour filibuster helped block the abortion bill last month and forced Perry to call another special session to deal with it again. Democrats look at the changing demographics of Texas — a growing Hispanic population and an aging white Anglo population — and see an inevitable comeback. But the Democrats haven't elected anyone to statewide office since the 1990s, and the prospects for doing so in 2014 are bleak. Washington Post, 7-13-13.
To Think About
WA state Senator  rejects views of grandfather's church
State Sen. John Smith (R-7) lives in a remote part of the largest legislative district in Washington, an area with sparse population and wide open spaces that over the decades has attracted people with extreme political and religious views. Smith acknowledges that both his grandfather and his wife's grandfather were among those with extremist, anti-Semitic views, and that both ended up living in northeast Washington. Both were adherents of a radical strain of Christianity known as Christian Identity, an offshoot of a belief known as British Israelism. Smith and his wife, the former Dezarae Bright, said their marriage vows and attended events at a church called The Ark that the Southern Poverty Law Center lists as a hate group. But he said he was never a member of that church's congregation and doesn't share his grandfather's beliefs. Those are legacies he's worked for years to escape: "I am not my grandfather, and my wife is not her grandfather." Spokesman-Review, 7-14-13.