(Server problems prevented publication  of Daily Clips for Wednesday, January 22)
King County
Backers of $15 minimum wage turn out for MLK celebration
Seattle's burgeoning $15 minimum-wage movement turned out in droves Monday at the annual Martin Luther King Jr. celebration, peppering the crowd at Garfield High School with its red signs, T-shirts, and banners. King County Council member Larry Gossett, the longtime chairman of the MLK Celebration Committee, sponsor of the event, acknowledged that this year's rally commemorating King's legacy had the added energy of a specific, modern-day political cause. "Martin Luther King, from the beginning … he was constantly speaking, engaging, and doing what he could to tie all the progressive forces of America together," he said. Gossett was honored for his decades-long contributions to Seattle's activist scene. He was arrested in a sit-in on the day of King's 1968 assassination and booked into the King County Jail. His office is now in the approximate location of his former jail cell. Thousands packed the Garfield High gymnasium, filling the bleachers so that hundreds of people had to stand in the back or sit on the floor. Outside, hundreds more skipped the remarks but participated in a march to Westlake Center. Seattle Times, 1-20-14.
The State
Senate GOP pits vets against Dreamers for higher ed funding
A fight between Republicans and Democrats in the Legislature over higher education is setting up what could be a stalemate between the two houses, pitting the needs of veterans against those of immigrant students. Republicans in the Senate are pushing to eliminate the one-year waiting period for veterans and active-duty military members to use the Post-9/11 GI Bill to fund in-state tuition, while Democrats in the House want to extend access to the state need grant to students brought to the country illegally as young children. Sen. Barbara Bailey (R-10), chair of the Senate Higher Education Committee, wants to change that. Bailey recently reintroduced legislation, HB 1817, that would eliminate the one-year waiting period. Meanwhile, the House passed legislation on the first day of session that would allow students living in the country illegally to apply for the state need grant. Students would be eligible if they have graduated or will graduate from a Washington state high school and arrived in the United States prior to their 16th birthday. But Bailey told reporters that she will not bring the legislation up for a hearing this legislative session. Part of her objection to the bill has to do with the unmet demand the state need grant program already faces. Tacoma News Tribune, 1-20-14.
Bill would govern use of drone aircraft by state agencies
State law enforcement agencies would need a court order to use unmanned aerial vehicles, or drones, to collect information that could be used to identify a person if a bill sponsored by the North Olympic Peninsula's state senator becomes law. The bill, introduced last week by state Sen. Jim Hargrove (D-24), also would require agencies to get approval from the state Legislature or local governments, such as city councils, before purchasing drones. "It just adds some judicial review. It isn't trying to prohibit the technology," Hargrove said after the first week of session. Hargrove said Friday he has had concerns over the issue of drones and privacy for a few years. He was approached by the American Civil Liberties Union (ACLU) of Washington state to sponsor the bill this session. Hargrove said he thinks regulating drones is an issue that both liberal and conservative senators agree on. "I think it's just a broad concern that it should be regulated, that there should be some due process involved," Hargrove said. Eight Democratic senators, including Hargrove, and three Republicans are co-sponsoring SB 6172. Peninsula Daily News, 1-19-14.
Activists bring guns to Olympia to defend rights
About 200 people gathered Sunday on the Capitol Campus to rally support for gun rights, two days after the Washington chapter of Moms Demand Action for Gun Sense in America held a rally there. Sunday's gathering belonged to those who believe strongly in the Second Amendment and the right to bear arms. And many did just that by bringing a firearm to the rally. "Many participants are expected to openly carry firearms, as is allowed under state law," the state Department of Enterprise Services, which manages public events and activities at the Capitol grounds, announced in a news release. "There is no prohibition against carrying weapons on Capitol grounds." Olympian, 1-19-14.
21st LD Democrats back Liias, Ortiz-Self for legislative seats
Democratic Rep. Marko Liias (D-21) should be appointed to the state Senate Tuesday and political newcomer Lillian Ortiz-Self tapped to take his place in the House. Liias emerged as the
Democratic PCOs' first and pretty much only choice to replace Sen. Paull Shin in the 21st Legislative District in balloting by precinct committee officers Saturday. Names of two other Democrats appeared on the ballot, but both individuals indicated they back Liias and would not accept the post. In the same meeting, Democrats nominated three people to succeed Liias. Ortiz-Self finished ahead of Darrell Chapman and Susan Phillips in that round of voting. The Snohomish County Council will make the appointments Tuesday following public interviews of each nominee. Those who are appointed will serve through the November election. Liias and Ortiz-Self each intend to run for a full term in this fall's election. Everett Herald, 1-20-14.
The Nation
The GOP's 2016 presidential roster is already melting down
A once-promising roster of Republican presidential hopefuls in 2016 is slowly coming apart, tarnished by individual scandals, and the struggles of some candidates to keep faith with the conservative base's stubborn rightward shift. New Jersey Gov. Chris Christie is the latest to fall from grace, as a political retribution-laced scandal implicating his top officials continues to make national headlines, fueling a narrative about his alleged history of being a bully. Christie's plunge is particularly painful for Republican operatives because of his dually strong conservative record and cross-partisan appeal. Late last month, before Christie apologized for his aides' decision to cause traffic jams on the George Washington Bridge, he was leading Hillary Clinton by two points in a nationalCNN/ORC International poll. By late last week, he was trailing her by 13 points, according to an NBC News/Marist poll. And Christie is not the only A-list Republican whose standing has diminished. Talking Points Memo, 1-20-14.
Staples' selling postal products without USPS workers stirs fears of privatization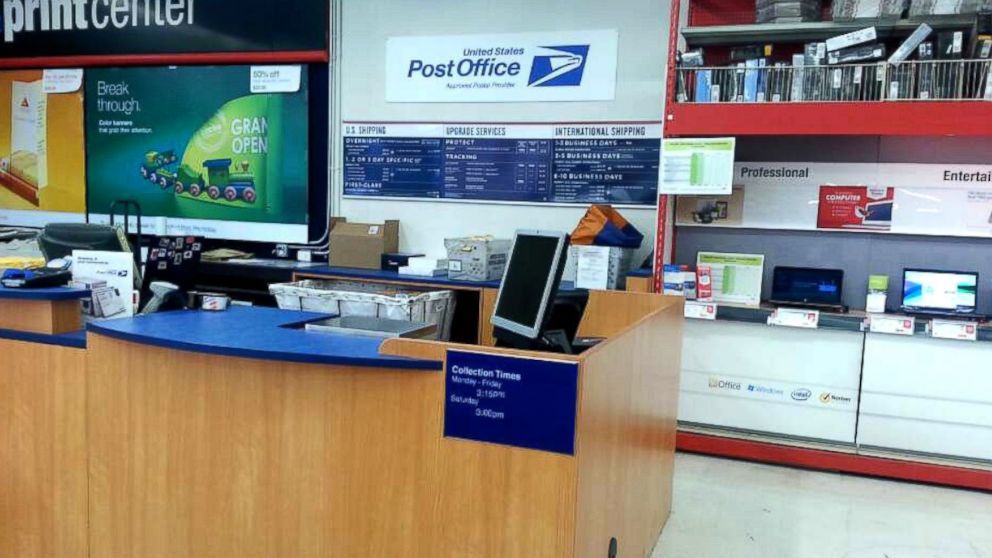 With its steep financial challenges, the U.S. Postal Service desperately needs to find innovative solutions, including new ways to deliver services to the public. A pilot project with Staples stores around the nation does that. But feeling ignored in this equation are postal workers left watching as their jobs go to private employers who can pay their nonunion employees just above the minimum wage, even as postal employment plummets. The largest postal employee union and Sen. Jon Tester (D-MT), chairman of the federal workforce subcommittee, say the pilot also is a step toward privatization of the USPS, an assertion that the postmaster general vehemently denies. The Staples pilot project, called the Retail Partner Expansion Program, began in October. Eighty-two stores nationwide, though none in the D.C. area, have sections resembling mini-post offices. They sell a variety of products and services, including stamps, Priority Mail, Priority Mail Express, and package handling. Staples doesn't offer registered mail, money orders, stamped envelopes, or post office boxes. Washington Post, 1-16-14.
Campaign for gay marriage braces for arduous battle in South
Hours after federal judges struck down bans on same-sex marriage in Utah and Oklahoma, activist Evan Wolfson and his colleagues reached out to gay rights groups in the deeply conservative states with both congratulations and a reminder: Court wins alone won't be enough. Wolfson knows the perils of judges forcing social changes on a population that isn't ready for them—he filed the first successful gay marriage lawsuit in the 1990s in Hawaii, and the backlash against that case convinced him to focus on the political process rather than litigation alone. That strategy has helped lead to a stunning turnaround in public opinion on gay marriage and a series of electoral wins that laid the groundwork for the recent court rulings. Now the movement faces its greatest test as foes complain that the recent decisions have leapt ahead of the public in those deeply red states and risk creating another Roe v Wade, where courts settle a divisive social issue but sow the seeds for prolonged conflict. Associated Press (The Contributor), 1-20-14.
To Think About
Can three lawmakers revive the Voting Rights Act after the Supreme Court trashed it?
Seven months ago the Supreme Court gutted the Voting Rights Act, one of the great achievements of the civil rights era. They did this by striking down preclearance, a provision that required certain states to get prior permission from the federal government before changing election laws. When the VRA was renewed in 2006, the preclearance formula in Section 4 was left unchanged. But Chief Justice John Roberts has long believed it's implausible that the original set of states covered by the VRA half a century ago should be the exact same set covered today,  something he made clear in Shelby County v. Holder: "Congress may draft another formula based on current conditions. Such a formula is an initial prerequisite to a determination that exceptional conditions still exist justifying such an "extraordinary departure from the traditional course of relations between the States and the Federal Government." All of which brings us up to last week, when a bipartisan trio of lawmakers introduced legislation that would partially reverse the Supreme Court's handiwork in Shelby County. Basically, it takes up John Roberts' challenge to create a new formula for preclearance that takes into account current conditions. Kevin Drum, Mother Jones, 1-20-14.