King County
Gates Foundation earns 'very poor' scores on transparency
The Bill and Melinda Gates Foundation should be more transparent about its aid spending in developing countries, according to an advocacy group that tracks international aid organizations. The group Publish What You Fund ranked the Gates Foundation 43rd out of 67 humanitarian agencies in transparency. The agency earned scores noted as "very poor" in the aid transparency index report for failing to publish their spending in a useful and timely manner. The campaign for aid transparency, now in its fifth year, is part of a global movement for more open government. KPLU, 10-28-13.
Ed Murray's UW parking-ticket spat
Nobody likes to pay parking tickets. State senator and mayoral candidate Ed Murray is no exception. Murray got irritated in October 2010 when confronted with an old parking ticket at the University of Washington, recently released records show. The ticket amounted to $60 with late fees, but Murray refused to pay it, according to records released by the UW after a public-disclosure request. He'd stopped by the UW parking office to pick up new parking passes he needed as a UW employee but was told he first needed to resolve the old violation. In an email to parking officials, Murray complained he'd been unaware of the ticket, which hadn't come up the last time he picked up parking passes. He wrote that he only would have been on campus in 2008 "in my capacity as Washington State Senator." Seattle Times, 10-28-13.
Evergreen hospital chair throws big money into election
Big campaign spending — at least by standards in most public hospital districts — has come to the commission that oversees Kirkland-based EvergreenHealth. Nearly all of the money — more than $55,000 — has come from the chair of the board of commissioners, Al DeYoung, and his family. DeYoung, a commissioner for 34 years, is backing attorney Kinnon Williams, who is seeking to unseat Commissioner Rebecca Hirt, who has been on the board since 1984. DeYoung, 84, said he won't run for re-election when his term ends two years from now. DeYoung; his wife, Donna; and their daughter Lucy made contributions of $10,000 each to Williams' campaign on July 23, five days before the state limited contributions to $800. DeYoung doubled down on his contributions two weeks ago, creating a political committee, Keep EvergreenHealth Improving, and donating $30,000 to it, which then spent $25,000 on an independent mailing in support of Williams. Independent expenditures are not subject to the limits that apply to campaigns managed by the candidates. Seattle Times, 10-28-13.
The State
Why big companies are spending $21 million to beat I-522
The latest No on 522 cash infusion, another $3.78 million channeled through the Grocery Manufacturers Association, brings to $21.1 million the war chest that food and agribusiness giants have raised to defeat Washington's Initiative 522, which would require labeling of genetically modified foods. A military phrase, "shock and Awe," best describes the No on 522 campaign: Pepsico has put $2.352 million, Nestle $1.528 million and Coca Cola $1.520 million, with General Mills now at $598,819, and J.M. Smucker up to $349,977. Why are these corporate interests spending, and until recently laundering, such enormous amounts of money? It is to prevent the labeling movement from scoring a momentum-building victory. Stop it now. Washington is a much-watched state and, as history shows, a bellwether for issues about to go national. Seattle P-I, 10-28-13.
Skagit farmworker fight moves to federal court
A Sakuma Brothers Farms berry picker has sued his employer, claiming he and others at the embattled Skagit County farm were unfairly denied pay and breaks. Filing a potential class action lawsuit, Sakuma employee Raul Merino Paz contends he and hundreds of other seasonal berry pickers weren't paid what they were owed for their work. The claim also alleges workers were denied breaks required by state law. Sakuma Bros., a prominent farm in the Northwest Washington agricultural community, saw a tumultuous summer during which workers walked off the job several times in a protest related to a pay dispute and claims of retaliation. Workers returned to the fields in July after reaching an agreement with management, only to strike again in September when the company fired a leader in the workers' rights movement, according to Associated Press. Sakuma Bros. said the man was fired after he was arrested on suspicion of assault. Organizers claimed the firing was retaliation for the earlier labor actions. Seattle P-I, 10-28-13.
Small liquor stores in Washington struggle with state taxes
A year and change after private liquor sales began in Washington, nearly two dozen mostly small retailers are in danger of losing their licenses for failing to pay the required taxes and fees. Two are in the Inland Northwest: Owners of the Colville Liquor & Wine store and Deer Park Liquor & Wine say they're behind in payments because of a new 17 percent licensing fee on all sales. That fee is on top of the 10 percent excise tax added to all liquor sales. Both owners say they have a hard time competing against big-box stores and grocery chains, which can spread taxes and fees to their other products and offer lower shelf prices for liquor. In addition, bigger retailers get discounts from liquor distributors for bulk purchases that aren't available to the small stores. Spokesman-Review, 10-28-13.
Petitions in the waiting room? Hospital group urges 'no' on I-517
The Washington State Hospital Association is adding its voice to the ranks opposing an initiative that would broaden the rules for, well, initiatives. Supporters of Initiative 517 say the proposal would protect people who are gathering signatures for state initiatives from harassment and retaliation. It also gives them more time (a year instead of six months) to gather signatures. But opponents, including the hospital group, argue that the proposal is intrusive in the way it would allow signature gatherers to petition in schools, hospitals, sports arenas and other public places. Business owners have argued that if I-517 passes, they couldn't prevent signature gatherers from harassing customers immediately outside their entrances—and maybe even in hospital waiting rooms. Puget Sound Business Journal, 10-28-13.
Banks willing to serve pot industry, but not able
Community banks and credit unions are ready and willing to provide financial services to entrepreneurs in the state's new legal pot industry. But they aren't able to, at least not yet. Marijuana businesses, even ones that will soon be legally licensed in this state, are considered criminal enterprises under federal law, which makes handling their money a crime in the eyes of the Department of Justice. Until the agency changes its outlook or Congress changes the law—and efforts are under way to do both—those getting into the pot business can't open a bank account, secure a line of credit, or obtain a loan from a federally insured financial institution in their neighborhood. For those who make a living doing those things, it's frustrating. Everett Herald, 10-28-13.
Yakama Nation won't recognize state's new pot law
Washington state's new law allowing for personal marijuana use by adults won't be recognized on the Yakama tribal reservation. The Yakama Nation has decided that despite the wish of state residents in voting to allow for marijuana use, they will not allow cannabis to be consumed or grown on the reservation. Tribal attorney George Colby says, in part, it is an issue of tribal sovereignty. Colby says marijuana is not a part of the Yakama Nation's culture, medicines, or traditions. He says the Treaty of 1855 requires the tribe to turn over those who violate laws of the US to federal authorities. Since use of cannabis is still considered a violation of federal law, that policy will remain in effect. KPLU, 10-28-13.
Highway to nowhere: Will Spokane's North-South Corridor ever get finished?
If you're not convinced that Spokane could use a high-speed roadway linking downtown to the North Side, take a spin along Division Street during rush hour. More than 43,000 vehicles a day lumber through stop-and-go traffic on Division between Euclid and Francis Avenues. It's the city's most crowded north-south arterial. Washington State Department of Transportation officials say the long-planned North-South Freeway would not only create jobs, cut travel time and reduce air pollution, it would also relieve some of that damned congestion, too. It's high time, say business advocates and lawmakers, to finish the freeway, and it looks like they may finally have their chance to complete the project. Pacific Northwest Inlander, 10-24-13.
The Nation
Federal judge blocks key part of Texas abortion law
U.S. District Judge Lee Yeakel's opinion found that a provision requiring abortion doctors to gain admitting privileges at a nearby hospital "does not bear a rational relationship to the legitimate right of the state in preserving and promoting fetal life or a woman's health." Yeakel also barred Texas from enforcing a provision regulating the dispensing of abortion-inducing drugs for "women for whom surgical abortion is, in the sound medical opinion of their treating physician, a significant health risk." However, he allowed other parts of the provision, including a requirement for one extra office visit, to stand. According to testimony in a trial last week before Yeakel, requiring abortion doctors to get admitting privileges in a hospital within 30 miles of their clinic would force 13 of the state's 32 abortion facilities to close Tuesday. Austin American-Statesman, 10-28-13.
DeBlasio in position to become NY mayor by historic margin
Bill de Blasio is poised to win the race for mayor of New York City by a historically large margin, powered by optimism that he will bring about change and by overwhelming voter disapproval of the Republican Party. de Blasio, a Democrat who is currently the public advocate, leads his Republican opponent, Joseph J. Lhota, a former chairman of the Metropolitan Transportation Authority, by 45 points among likely voters, according to a New York Times/Siena College poll. That lead, which has remained remarkably consistent in multiple polls over the last six weeks, suggests that Mr. de Blasio could win the most sweeping victory in a mayor's race since 1985, when Edward I. Koch was re-elected to a third term with a crushing 68-point margin of victory over his opponents. New York Times, 10-28-13.
Leith City Council OKs building moratorium; Neo-Nazis unhappy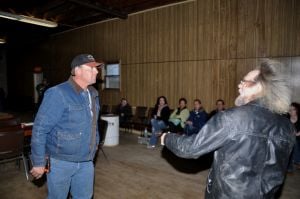 The city of Leith approved a building moratorium and took other steps Sunday night to prevent white supremacists from living on property without sewer and water and squatting in tents and trailers. Law enforcement was only required to remove Craig Cobb from sitting at the city council's meeting table and to intervene when Cobb told members of the Standing Rock Sioux tribe they were off the reservation and should go back home. Cobb, a hate crimes fugitive from Canada with extremist neo-Nazi views, purchased a home and 12 other lots and is encouraging others to join him in taking over the town. The new ordinances will require Cobb to put water and sewer into his house, where three other white male supremacists and two young children are also living with space heaters and no working furnace. Bismarck Tribune, 10-27-13.
To Think About
Obamacare and the limits of the wayback machine
The new Democratic talking point about Obamacare is full of optimism: After all, the launch of the Medicare prescription drug program was bumpy, too, but now the program is considered a huge success. It's true, and there are parallels between the two rollouts — but that doesn't guarantee that Obamacare will be vindicated in the same way, health care experts say. It just means that President Barack Obama's signature health care law shouldn't be written off just yet. Everything depends on what happens in the next few months. A full recovery is possible, if the federal enrollment website stops having comical breakdowns within the next month and the rest of the implementation runs more smoothly. If that doesn't happen, none of the lessons of Medicare Part D's rollout will be able to save Obamacare. Politico, 10-28-13.