(Technical problems are preventing updates of Daily Clips for Tuesday, August 20. Daily Clips hopes to resume publication Friday, August 23. The editor will be attending the KCDCC meeting Tuesday night and the 41st District appointment meeting Wednesday night.)
King County
Hansen's secrecy might cool Council on arena
So it turns out that Sonics' white knight Chris Hansen, the Rainier Valley kid who grew up to buy our city a beer and one day a basketball team, is actually Karl Rove. Or more precisely, he's like Rove's moneymen the Koch brothers — billionaires who, when they aren't getting their way, use their wealth to tilt the democratic process from the shadows. The revelation last week that Hansen is the secret financier of a group trying to kill a basketball arena in Sacramento is troubling for all sorts of reasons. There are few values Seattle City Council members say they care about more than integrity in the election process. Their partner in this deal just showed what he thinks of that. Danny Westneat, Seattle Times, 8-17-13.
Why McGinn is right to raise hell over the coal port
McGinn is not posturing but doing his job in challenging Big Coal and the railroads.  They want to send 18 trains each day, each a mile to mile-and-a-half long, through Seattle's downtown waterfront . . . with the coal bound eventually for a China whose dirty power plants lead the world in greenhouse gas emissions. Is it not reasonable, then, to demand full evaluation of potential pains, along with the gains claimed by Big Coal, the railroads, and their mercenary flacks?  It's our waterfront down which those trains would travel, and which might be impacted a generation or two down the line if sea levels rise. Joel Connelly, Seattle P-I, 8-16-13.
The State
Oregon-first CRC faces more questions
As Washington phases out its involvement in the Columbia River Crossing, the project's remaining director said last week he still considers it a bistate effort. Kris Strickler, the Oregon director of the CRC, refuted the notion that staff now working in the project office are attempting to bypass rejection by the Washington Legislature, which adjourned in June without authorizing any funding for the project. Any pared-down CRC that replaces the Interstate 5 Bridge and extends light rail to Vancouver would still require intergovernmental agreements and some form of partnership to happen, he said. "That doesn't mean that Oregon can come through and initiate a project on their own," Strickler said of Washington's funding decision. But as supporters hold out hope for a revived CRC with Oregon at the helm, the many unanswered questions surrounding the original project haven't gone away. Vancouver Columbian, 8-18-13.
Longview longshore local backs Millennium coal port project ahead of public hearings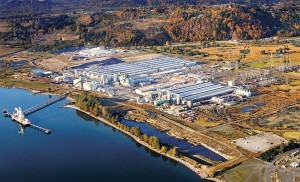 Millennium Bulk Terminals officials said Thursday they will hire a stevedoring company and longshore workers at their proposed coal dock west of Longview. Also on Thursday, officials from Millennium and ILWU Local 21 jointly announced the union's formal support for the proposed terminal, which Millennium estimates will support 135 full-time, family wage jobs. While ILWU officials have spoken favorably of coal docks for the past few years, this latest announcement solidifies political support from labor as the first public hearings on the Millennium project are scheduled to begin next month. In April, Millennium officials announced they would hire Cowlitz County trade union members to build their $643 million terminal, which would support more than 2,000 jobs during construction. Longview Daily News, 8-15-13.
State mulls privatizing websites, printing
Washington state government is belatedly wrapping up a review of services for possible privatization and could make its biggest decision so far—whether to farm out state printing—by this week. The decision would follow the state's conclusion last week that it can't save money by contracting with a private courier service to deliver interoffice mail to far-flung locations. State employees will keep that work. The Legislature created a Department of Enterprise Services in 2011 to handle back-office services, including printing and mail services. Lawmakers mandated that a few of the department's lines of work be reviewed every two years to see if the private sector could do them more efficiently. Tacoma News Tribune, 8-17-13.
State toll system: High tech, low marks
Toll roads and bridges could spread like blackberry bushes in Western Washington in the coming years. Spokane residents who encounter them on a future visit are likely to think fondly of the booths and baskets on the Maple Street Bridge. An audit of the tolling system released last week pointed out several mistakes that WSDOT made selecting a company to set up the system. Getting a system no other state had was risky but unavoidable, auditors said, because state law says tolls collected on each project have to be spent on that bridge or highway. Other states throw all toll money into one pot. Jim Camden, Spokesman-Review, 8-17-13.
The Nation
Toughest state to get food stamps? You might be surprised
It was not surprising that Texas held out. For years, Texas was among a handful of states that required every resident seeking help with grocery bills to first be fingerprinted, an exercise typically associated with criminals. Even though Gov. Rick Perry ultimately got rid of the policy, Texas, always seeking to whittle down "big government," remains one of the most effective states at keeping its poor out of the giant federal food stamp program. But it is not No. 1. That distinction belongs to California. California discourages eligible people from signing up for food stamps at rates conservative activists elsewhere envy. Only about half the Californians qualified for help get it. That stands in contrast to other states, including some deeply Republican ones, that enroll 80 percent to 90 percent of those whose low incomes qualify them. Sacramento Bee, 8-18-13.
Embattled San Diego mayor, accused sexual harasser, not going away despite recall efforts
At the news conference that launched the sexual harassment drama involving Mayor Bob Filner, a former supporter demanded that he resign, then added that the next chapter was up to Filner. Five turbulent weeks later, the same is true. The scandal shows no signs of letting up despite demands by all nine City Council members that Filner step down. The 70-year-old Democrat has given no indication that he plans to quit — despite an avalanche of negative media coverage, numerous calls by political and business leaders that he resign and accusations by 16 women that he had made unwelcome sexual advances. Los Angeles Times, 8-18-13.
One reform, indivisible
Recent political reporting suggests that Republican leaders are in a state of high anxiety, trapped between an angry base that still views Obamacare as the moral equivalent of slavery and the reality that health reform is the law of the land and is going to happen. But those leaders don't deserve any sympathy. For one thing, that irrational base is a Frankenstein monster of their own creation. Beyond that, everything I've seen indicates that members of the Republican elite still don't get the basics of health reform—and that this lack of understanding is in the process of turning into a major political liability. Paul Krugman, New York Times, 8-19-13.
To Think About
The case against Algebra II
(Chicago education blogger and political activist Mike Klonsky writes: I'm reposting, in full, this excellent Harper's piece by Nicholson Baker, who has lots to say about Arne Duncan, Common Core standards, corporate reform, Race to the Top, and cold-war type educational competition.  To read it on-line at Harper's website, you will have to buy a year's subscription which I've already done on my Kindle. I am reposting the whole piece here on SmallTalk, hoping that some others who dearly care about the future of public education will read it and spread the word.) Mike Klonsky's Small Talk Blog, 8-18-13.
Math-intensive education hasn't done much for Russia, as it turns out. But historical counterexamples don't seem to interest the latest generation of crisis-mongers. We've once again gotten ourselves caught up in a strangely self-destructive statistical cold war with other high-achieving countries. The recruits are young teenagers, their ammunition the little bubbles on standardized tests. America's technological future hinges, say the rigorists, on whether our student population can plug-and-chug the binomial theorem better than, say, Korean or Finnish or German or Chinese students. The childishness of this hypernationalistic mentality depresses me, and I want it to end, and I am not alone.