(Daily Clips will be taking next week off. The editor is otherwise occupied.)
King County
Reichert, with newly drawn district, backs immigration reform, hints once again at run for statewide office
Rep. Dave Reichert (R-WA-8), with a newly redrawn district that spans the "Cascade Curtain," has become the state's first Republican member of Congress to back immigration reform and a "path to citizenship" for undocumented residents of the United States. Reichert took his stand on right-thinking 570 KVI radio, on a program hosted by onetime Republican gubernatorial nominee John Carlson.  The former King County sheriff saw Chelan and Kittitas counties, with sizable populations of agricultural workers, put into his suburban King and Pierce County district. Whether Reichert gets what he wants depends, in part, on fellow Republicans in Washington's House delegation. But House Speaker John Boehner and the Republican leadership will not allow a vote. Seattle P-I, 8-9-13. Reichert said in a Thursday interview with C.R. Douglas of KPCQ13 that he is considering running for governor or U.S. Senate in 2016. "I'm thinking about all those options," he said. "I still feel like I'm young and energetic. And, you know, we'll see how Mr. (Gov. Jay) Inslee does, and if he continues on the path that he is, it doesn't look too good for him. So I'll keep an eye on that. And who knows what Patty Murray does in the next year or two?" Seattle Times, 8-8-13.
City stops arena work for nonpayment
The City of Seattle Department of Planning and Development has placed a hold on the Sodo arena project because of about $47,000 in unpaid fees by investor Chris Hansen. A spokesman for the department said review work currently under way will not continue until the back due amount is paid. Hansen has until Aug. 25 to submit payment. A spokesman for Hansen said an administrative oversight occurred because of summer travel and that the bill is being taken care of. Hansen is paying for much of the preliminary design and permitting work on the planned new $290 million sports arena under an agreement reached in October with the city and King County. The city is currently completing a draft environmental impact statement that is due out Aug. 15, and working on a design review of the building plans. Seattle Times, 8-8-13.
Primary election results signal big turnover in Burien council
There could be at least three new Burien City Council members in January if Aug. 6 primary election results are a good indication. In results as of Wednesday evening, Aug. 7, challenger Lauren Berkowitz was garnering a majority of the votes against Council member Jack Block Jr. and Kip Walton. Former Burien mayor Joan McGilton was in a dead-heat with council critic Debi Wagner for McGilton's council seat. In the race for Mayor Brian Bennett's council seat, newcomer Steve Armstrong had a healthy lead over planning commissioner Joey Martinez and Chuck Rangel. Rangel has also been very critical of the council majority. Bennett did not seek re-election. Incumbent Rose Clark faces a stiff challenge from Nancy Tosta, but with only two candidates in that race, they will face off in the general election and were not in the primary. Highline Times, 8-7-13.
Hell on wheels: Burdened with broken-down vehicles, car campers exhaust every option to keep their homes on the road
First the water pump started leaking. That cost $60. Then the radiator went out. That was another $100. Then Jim Hall needed a new master cylinder and new brakes. It's happened to Hall many times over the past three years since he's been living in his Toyota pickup. He can fix the car himself; he used to work at an auto parts store. The truck is the last thing he's got, and every part he replaces costs him a little more. For people with steady work and a house, those repairs are setbacks. A $60 repair is a major expense for someone living in a car. Of the 2,736 people the Seattle/King County Coalition on Homelessness counted sleeping outside in January, 878 of them lived in cars: the largest single segment of the region's homeless population. It's also one of the most hidden and underserved, said Bill Kirlin-Hackett, executive director of the Interfaith Task Force on Homelessness. Like Hall, the Interfaith Task Force and other groups that serve car campers are scraping together pennies and relying on luck. There are no dedicated resources to help. Real Change, 8-7-13.
The State
Lawmakers may take new stab at roads budget
House Democrats triggered quite a political storm this year with their plan to raise billions of dollars for transportation by, among other means, increasing the gas tax by a dime a gallon. When the clouds of conflict subsided after a regular session and two extra ones, they looked weary and had nothing to show for the effort. Now, the climate may actually be improving. There's a slim chance an agreement could arrive in a special session this fall or in the 2014 session. The Senate Majority Coalition Caucus, who withstood relentless pressure through 153 days by Democratic lawmakers, Gov. Jay Inslee, and pro-transportation package forces, intend to draft their own transportation funding proposal. And surprise, surprise, they want to gut prevailing wage and project labor provisions. Everett Herald, 8-8-13.
Supreme Court Justices: WA cities can be liable in DUI crashes
Washington's Supreme Court says cities, counties, and utility companies can be liable when faulty road design leads to injuries in car crashes—even when the driver is drunk. In an 8-1 ruling Thursday, the justices overturned a lower court's decision in a case involving a crash near Anacortes. There, two people who had been drinking were injured when their car ran off the road and struck a utility pole that was reportedly closer to the roadway than guidelines dictated. The passenger, whose arm was disfigured, sued Skagit County and Puget Sound Energy. A lower court judge tossed the case, but the Supreme Court reinstated it, saying government entities owe a duty to ensure roads are reasonably safe for public travel, no matter whether the driver is at fault. Associated Press (Olympian), 8-8-13.
Workers at AIM Aerospace vote to join Machinists union
Workers at AIM Aerospace in Sumner have voted to join the Machinists union. The union said Wednesday that the July 26 vote, as recorded by the National Labor Relations Board, was 60 percent in favor of joining the International Association of Machinists (IAM). The vote covers more than 250 workers at the AIM plant. The company designs and manufactures a variety of airplane interior components such as lavatories and stow-bins. It also makes airplane ducting, structural composite assemblies such as winglets and wing-to-body fairings, and aerospace tooling. Seattle Times, 8-7-13.
The Nation
U.S. warns against eminent-domain mortgage seizures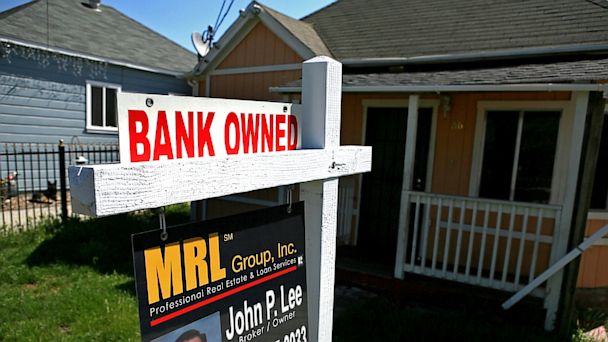 The nation's top housing finance regulator threatened to choke off mortgage lending in cities that use eminent domain to seize underwater loans from lenders. The salvo from the Federal Housing Finance Agency came Thursday, on the heels of a lawsuit directed by major Wall Street firms and U.S.-sponsored mortgage giants Fannie Mae and Freddie Mac against the Bay Area city of Richmond. Richmond is the first to push forward with the plan, also being debated in cities across the state and nation. Richmond wants to require lenders and investors to sell underwater mortgages at a deep discount. The city would then refinance borrowers into more-affordable mortgages. The federal housing agency, which regulates Fannie and Freddie, made clear Thursday it doesn't intend to let this happen. The agency said it would instruct Fannie and Freddie to "limit, restrict or cease business activities" in any jurisdiction using eminent domain to seize mortgages. Los Angeles Times, 8-8-13.
Megaload draws Idaho protesters for 3rd night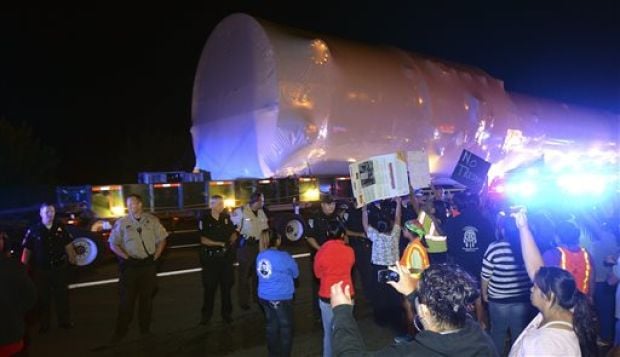 Protesters formed another blockade on the Nez Perce Reservation near Orofino Wednesday night, as members of the tribe and environmental activists continue efforts to slow a shipment of oil refinery equipment en route to the Alberta tar sands in Canada. The law enforcement presence Wednesday night was larger than in the previous two demonstrations, according to Borg Hendrickson, an activist with the Rural People of Highway 12 Fighting Goliath, which has opposed so-called megaload truck shipments along the U.S. Highway 12 corridor for the past three years. Law enforcement vehicles trailed the truck for at least 36 miles as it headed east Wednesday night, Hendrickson wrote in an email. While the truck's permit requires it to stop at intervals to allow traffic to pass, Hendrickson reported the Omega Morgan truck traveled without stopping, blocking traffic for several hours along the isolated road that snakes its way across the reservation and into Montana. While Montana has now granted permission for the material to pass through that state, the dispute shows no signs of easing. Associated Press (Spokesman-Review), 8-8-13.
To Think About
Labor trafficking? Immigration reform's the thing
Last week, the FBI rescued 105 sexually exploited children—including some 13-year-olds—and arrested 150 alleged perpetrators of human trafficking crimes during Operation Cross Country. Three of those young women and nine of the 150 were local, according to the Seattle Times. The U.S. Dept. of Justice has estimated that between 14,500 and 17,500 people are trafficked into the country each year. Washington's many ports and its international border make it a particular hotspot for trafficking: The Washington Task Force against Trafficking of Persons reports that there have been human trafficking cases in 18 of Washington's 39 counties. Of course, not all trafficking victims are alike. "We often think of trafficking as the horrific situations of trafficking women for prostitution, but there is labor trafficking, in all manner of low-wage and not-low wage work, against workers who are here with every different kind of visa or no visa," explained Rebecca Smith of the National Employment Law Project, at a Human Trafficking and Immigration Reform conference earlier this year. Crosscut, 8-8-13.