(Daily Clips will not publish Thursday, July 11, so that the editor can attend the meeting of the 34th District Democrats Wednesday. See you there.)
King County
TV ad wars begin in Seattle mayor's race
With less than a month to go before the August primary, candidates in the crowded Seattle mayor's race are now trying to reach voters with new ads on cable TV. Ads from two of the nine mayoral candidates are now on the air, and a third will begin airing this week. City Council member Bruce Harrell was the first to launch his commercial last week. It begins with a picture of Mayor Mike McGinn, his face looming over the Seattle skyline. Cracks begin to appear in the picture to the sound of breaking glass. "Our current mayor has failed and fractured the city," Harrell's voice intones. "As mayor, I will bring people together." McGinn has launched two TV ads that focus on his accomplishments over the last four years. The first features Estela Ortega, executive director of El Centro De La Raza. "What if Seattle had a mayor who made education a priority," she asks in the ad. "We do, and his name is Mike McGinn." KUOW, 7-9-13.
Harrell's ad
Mayoral candidate Charlie Staadecker vs. Reddit
As some of the most visible politicians of our time have shown us, venturing into the world of Reddit for an AMA – or, "ask me anything" – is all the rage. It connects you with the people. It displays your technological hipness. It provides would-be voters and/or constituents with the keyboard-to-keyboard access they might not otherwise have. Yesterday, Seattle mayoral candidate Charlie Staadecker straightened his bow tie and dove headfirst into Reddit, answering questions about his candidacy and his platform. Perhaps surprisingly, the 70-year-old real estate tycoon with a penchant for antiquated neckwear fared fairly well in the intimidating domain of Redditors. Seatle Weekly, 7-9-13.
It's official: Sun goes down in Pacific, clears out of office
Cy Sun's term as mayor of Pacific ended Tuesday morning after King County Elections certified last month's recall vote. Nearly two-thirds of people who took part in the June 25 election voted to recall Sun. Total voter turnout was 49 percent. Mayor Pro Tem James McMahan said he believed Sun cleared out last week. The mayor's office was empty Tuesday morning. Sun ran on an anti-corruption campaign in 2011 and won as a write-in candidate. He has fired police chiefs and other city employees, prompting lawsuits against the town. The recall accused him of jeopardizing the town's insurance by leaving some jobs vacant. KING, 7-9-13. With the recall now official, the City Council has laid the groundwork for recovery by approving an agreement for neighboring Auburn to temporarily provide vital city services. The interlocal agreement – requested by Pacific Council President Leanne Guier and approved by the Auburn City Council this past Monday – allows Pacific and Auburn Mayor Pete Lewis to negotiate on temporary clerical, public works, and information technology services, as the beleaugered town begins the process of filling vacant city staff positions and putting its financial house in order. Auburn Reporter, 7-8-13.
The State
Rep. Marcie Maxwell to join governor's staff
State Rep. Marcie Maxwell (D-41) will resign her seat in the state House of Representatives to join Gov. Jay Inslee's Legislative Affairs and Policy Office as Senior Education Policy Advisor. Maxwell is known for her work in STEM education, arts education, improving teaching and learning, college access, and preserving the state's safety net to ensure that at-risk kids are healthy and ready to learn. Elected to three terms in the Legislature, Maxwell was previously elected to the Renton School Board for eight years. She served all of the King County school boards as their Legislative Representative to the Washington State School Directors Association. Bellevue Reporter, 7-9-13.
Tom bill would charge lawmakers for each overtime day
After an overtime legislative session that brought Washington to the brink of a government shutdown, Senate majority leader Rodney Tom ("D"-48),  says lawmakers need greater incentive to finish on time — the monetary kind. Tom said he plans to introduce legislation next year that would fine lawmakers $250 each for every day they go past the allotted length of the legislative session. Tom said he also will propose stopping lawmakers' per diem payments during extra sessions, meaning that they would be responsible for their own meals and daily expenses when they work overtime. "We don't have enough of a forcing function to get us out of town," said Tom, who leads the Senate majority coalition of 23 Republicans and two Democrats. (The grandstanding clown knows full well this bill would be DOA in the House.) Olympian, 7-9-13.
Canada's oil train disaster sparks Northwest concern
The weekend's deadly oil-train derailment and explosion in Quebec has raised concerns in the Pacific Northwest, where there are several proposals to increase the amount of oil transported into to the region by train. By Monday afternoon the confirmed death toll had reached 13, with 50 people still missing after Saturday's derailment of more than 70 tanker cars. They were filled with oil from the Bakken oil fields of North Dakota—home of the largest oil boom in recent U.S. history. Bakken oil is also moving through the Northwest in increasing amounts, with three sites in Washington and Oregon receiving oil by train from North Dakota, and eight more in various stages of the permitting process. The proposals could bring oil trains to ports along the Columbia River, Puget Sound and the Washington coast. KUOW, 7-8-13.
Tacoma, Long Beach pickets address longshore medical benefits
Some two dozen active and retired Longshore Union workers Monday picketed the Tacoma offices of the Pacific Maritime Association to put the association of waterfront employers on notice of what the longshore workers say are major flaws in a new medical benefits payment system. Those workers say their medical bills in some instances are being paid months late or are being wrongly denied outright. The Tacoma pickets were part of a coastwide protest against the PMA's medical insurance system adopted in January. In Los Angeles and Long Beach, pickets there disrupted loading and unloading of ships at several terminals. Tacoma News Tribune, 7-9-13.
Pierce Transit starts new trolley service, despite cuts elsewhere
Pierce Transit has recently voted to cut 28 percent of its service after already eliminating 84 jobs, both because of budgetary restraints. However, that's not stopping them from starting a new trolley service in Gig Harbor. The trial run of the trolley will go until September 28 and cost $250,000; Pierce Transit is footing $210,000 of that. The remainder is being paid for by a combination of funds from local business groups and the City of Gig Harbor. KING, 7-9-13.
The Nation
Scott Walker's Wisconsin: Open-pit mine's private security force, camo and all, intimidates rural area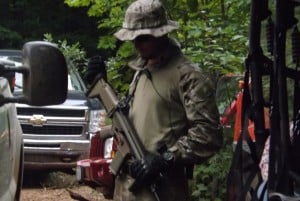 Despite harsh criticism from two northern legislators and an outcry from anti-mining activists, a spokesman for Gogebic Taconite said Tuesday that armed, paramilitary-style guards will continue to patrol the site deep in the Penokee Range where the company wants to build a large open pit iron mine. Bob Seitz, a Madison lobbyist representing Gogebic, said the guards (from Bulletproof Securities, of Scottsdale AZ) are necessary because of a confrontation between 15 to 20 protesters and an unknown number of mine workers a month ago. "The guards are going to stay," Seitz said. "We have a responsibility to provide a safe workplace." But others say they fear Gogebic Taconite's hiring of the guards only serves to escalate the already heightened tension over the company's plan to build a 4 ½-mile-long open pit iron mine in northwestern Wisconsin. And critics of the company say the guards, especially those wearing tactical gear and armed with semi-automatic weapons, are unnecessary because protesters' activities have been almost entirely peaceful. Wisconsin State Journal, 7-9-13. Bulletproof's owner, Tom Parrella, isn't just in the private security/paramilitary business. He's also owns a major real estate agency in Scottsdale. In fact, they're run out of the same office on Gelding Drive. So if you're looking for a new McMansion in the Scottsdale area and also need paramilitary protection for your border personnel, they've got you covered. Talking Points Memo, 7-8-13.
Same-sex marriage isn't just illegal in Indiana, it's criminal
Same-sex marriage is already against the law in Indiana, and Republican lawmakers still plan to advance a constitutional amendment next year solidifying that ban. Still, it seems that is not enough, and some changes to the law made this week may lead to gay people and religious leaders being criminally punished for trying to marry. An update to the state's criminal code classifies that it's a Level 6 felony if someone submits false information, or lies on a marriage license application. This is actually a downgrade from a Class D felony that was established by a 1997 law, but the adjustment has made news as a reminder that the law exists in the first place. Because the marriage form specifies one "male applicant" and "female applicant," a same-sex couple could not actually use the form as it is written. If a couple were thus to attempt submitting an application in protest of the state ban, they could face a maximum of 18 months in prison and a potential fine of up to $10,000. Think Progress, 7-9-13.
"This is a farce. The Texas legislature is a bunch of liars who hate women."
If you don't watch anything else today, you need to see Central Texas resident Sarah Slamen testify during a Human Services Committee meeting on the state's contentious abortion legislation and then get silenced by the chair and dragged away from the podium mid-testimony by state troopers, ostensibly for calling out the junk science behind the legislation and the misogynist legislators who support it. The Stranger, 7-9-13.
To Think About
Is the political will of the civil-rights era at an end?
The Reverend Martin Luther King believed that defending the voting rights of minorities was the responsibility of the executive branch. For years, King begged the White House to send federal authorities to protect voter-registration drives. Presidents and attorneys general always found reasons to refuse. Finally, with the Voting Rights Act of 1965, Congress gave the executive branch the tools and the authority to enforce the law. With the decision in Shelby v. Holder, the Supreme Court has taken much of that authority away. Claims of Fifteenth Amendment violations must again be pursued through the courts, a lengthy and expensive process that shifts the burden of proof to the plaintiffs. It didn't have to be that way. Louis Menand, New Yorker, 7-8-13.