King County
Council puts limits on how much, where pot can be grown, sold
The Seattle City Council is proposing new rules for marijuana that would restrict dispensary and retail locations, and the size of grow operations, in an attempt to limit impacts on neighbors, particularly in residential and historic areas.  Sponsored by Council members Sally Clark and Nick Licata, the proposed city rules would prohibit dispensaries, retail stores and large growing operations in much of Seattle, including residential zones, areas of historic character, and small retail areas surrounded by residences (Neighborhood Commercial 1 zones). The historic areas include Pioneer Square, the International District and Pike Place Market. Seattle Times, 3-27-13.
Sea-Tac baggage handlers and cabin cleaners unionize
After a year of agitating over working conditions, more than 1,000 workers at Sea-Tac Airport say they have now joined unions. The involved workers load and unload baggage, push wheelchairs, and clean airplane cabins, among other jobs. They are employed by five companies: Menzies Aviation, BAGS Inc., Delta Global Services, AirServ and GCA. Most of them have joined the Service Employees International Union, and one group, the GCA workers, has joined the Teamsters. The workers have complained over the past year of unsafe conditions and what they call poverty wages. KPLU, 3-26-13.
State Rep. Roger Freeman diagnosed with cancer
Rep. Roger Freeman (D-30) has been diagnosed with colon cancer and is undergoing chemotherapy. In a statement issued Tuesday, the Federal Way Democrat said he was diagnosed Feb. 28, but that his prognosis is good and he is optimistic about his treatment. He says he will continue to work at the Capitol, where lawmakers are in the midst of a 105-day legislative session. Freeman, 47, was elected to his first term in November. Associated Press (Tacoma News Tribune) 3-27-13.
Bailey Stober to seek Kent City Council seat
Bailey Stober is running again for the Kent City Council. Stober said he is waiting to see which council members run for re-election before picking a position to seek. Stober, who works as executive assistant to the Washington State Commission on African American Affairs, lost a 2011 run for the City Council against incumbent Deborah Ranniger. Before his appointment in September , Stober served as a Community & External Affairs director in the healthcare sector. Kent Reporter, 3-27-13.
Ken Sharp to run for Kent City Council
Ken Sharp, owner of Minuteman Press in Kent, said he will run for Kent City Council Position No. 6, held by Elizabeth Albertson. Sharp served last year as president of the Kent Chamber of Commerce. He has owned Minuteman Press for 10 years. Sharp said with three council members up for re-election, he didn't want to run against Dennis Higgins because he has "done a terrific job." He didn't want to take on Jim Berrios for Jamie Perry's open spot, so he chose to go for Albertson's seat. Albertson has not yet said if she is running again. Kent Reporter, 3-27-13.
Lonergan withdraws from mayoral race, endorses Partridge
Auburn locksmith Frank Lonergan has withdrawn his name from the race for Auburn mayor. Lonergan says he'll be supporting City Council member John Partridge for mayor instead. Lonergan's withdrawal leaves a field of three candidates still vying for the post: Partridge, fellow Council member Nancy Backus, and Iraq War veteran Scot Pondelick. Auburn Reporter, 3-27-13.
Medina, city manager must pay $2M to fired police chief over racial bias
A federal court jury sent a sharp rebuke to Medina and its city manager Tuesday, saying former Police Chief Jeffrey Chen was fired, in large part, because of racial discrimination. And a big price tag comes with that decision. The small lakefront city and City Manager Donna Hanson were ordered to pay $2 million to compensate him for back pay, future pay and emotional harm. Hanson, who fired Chen two years ago, must pay $25,000 in punitive damages. U.S. District Court Judge Thomas Zilly will decide at a future hearing whether to order the city to reinstate Chen, who is Chinese American, in his old job. Seattle Times, 3-26-13.
The State
Who would Jesus fire?
As most people know, the Washington State Law Against Discrimination (WLAD) broadly protects employees from being discriminated against on the basis of their age, gender, sexual orientation, marital status, race, creed, color, national origin, military status, or presence of any sensory, mental, or physical handicap. But most people don't realize that the law doesn't protect all employees. There's a hole in our state's antidiscrimination law—a giant, Jesus-shaped hole—that exempts religious not-for-profit organizations from honoring it. The exemption simply reads "'Employer'… does not include any religious or sectarian organization not organized for private profit." Aside from church groups, it excuses religious nonprofits like schools, universities, hospitals, and even credit unions from honoring the antidiscrimination law. Moreover, it grants them the legal protection to discriminate in areas totally unrelated to their religious practices or ethical beliefs. The Stranger, 3-27-13.
Democratic legislator sends scathing e-mail to county auditors about campus voting
Over the weekend, state Representative Sam Hunt (D-22) sent a scathing e-mail to two county auditors criticizing their testimony against a bill requiring ballot drop boxes on college campuses. "I would expect someone who is supposed to run elections to read a bill about elections before launching into testimony," Rep. Hunt wrote, "Your opposition would at least have had a ring of truth to it." HB 1290, sponsored by Rep. Tina Orwall (D-33), requires a drop box at each public institution of higher education and establishes an advisory committee with student input to decide the drop box location and appropriate voter outreach plan. The House version passed 53-44 along party lines with Hunt's support. During a hearing on the bill in the Senate Government Operations Committee last Thursday, Pierce County auditor Julie Anderson and Clark County auditor Greg Kimsey argued that the bill encroaches on their election expertise by enacting top-down legislation to mandate drop box locations instead of leaving it to local governments. Publicola, 3-27-13.
State's clandestine license program comes to light in Legislature
More than 1,000 fictitious state driver's licenses and identification cards help cloak the identities of undercover law enforcement, long issued under a Department of Licensing program to safeguard those officers' lives. One problem: It appears the program was too confidential. No state laws guide its use; no one at DOL even knows how it started. And, up until now, no one bothered to tell the Legislature it existed. "At this point it appears there's no oversight whatsoever," Rep. Matt Shea (R-4), said of the program, "and (DOL) has been doing this above the law literally for years." Kitsap Sun, 3-26-13.
Gov. Inslee to offer budget scheme Thursday
Gov. Jay Inslee will grab the spotlight Thursday when he identifies tax breaks he wants to end ito generate more money for the state's education system.
The big reveal will be made at 11 a.m. when he intends to release a broad blueprint for balancing the next state budget and pumping as much as $1 billion more into public schools in the coming two years. For weeks, Inslee has promised to provide a list of tax exemptions he wants to end. It's very possible Inslee will also suggest continuing a surcharge on business and occupation tax on some professional services rather than allowing it to expire in June. Inslee is ready for a partisan throw down with Republicans who are likely to say his plan raises taxes. Everett Herald, 3-27-13.
GOP Senator's illness could imperil majority coalition
The serious illness of a Washington state Senator could threaten to alter the balance of power in that legislative chamber. The majority is now potentially short a critical vote. Mike Carrell (R-28) is home battling a blood disease and is a candidate for a bone marrow transplant. His condition is serious enough he was recently hospitalized. With Carrell gone, the mostly Republican Majority Coalition Caucus has just 24 members – one shy of an actual majority. Northwest News Network, 3-26-13.
Motorcyclists who can't trip stoplights may get to run them
A bill allowing motorcycles to go through red lights might get a green light from lawmakers. If passed, SB 5141 would allow motorcycles to proceed, "after exercising due care," through an intersection if the vehicle detection device fails to operate after one full light cycle. The proposal to allow red-light running — sponsored by Sen. Curtis King (R-14) — received wide support in the Senate, passing 47-1. The bill is now in the House Transportation Committee, where Chair Judy Clibborn (D-41), said she thinks it is a good solution for a problem that frustrates many motorcyclists. She said she doesn't expect the proposal to encounter any significant opposition in the House. Tacoma News Tribune, 3-27-13.
Corps of Engineers says it's not authorized for in-depth coal study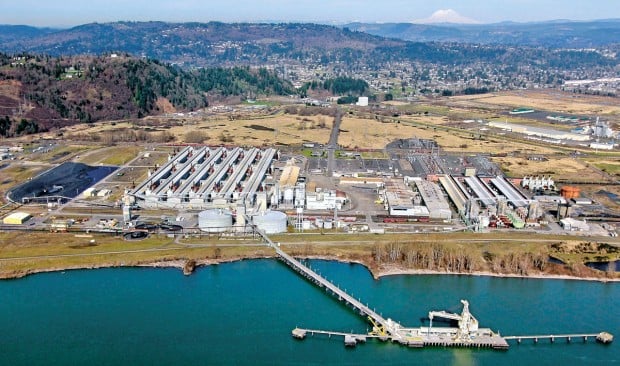 The U.S. Army Corps of Engineers is unlikely to conduct a massive, comprehensive environmental review of proposed Northwest coal terminals, but agency officials have not ruled out a smaller review of three Columbia River projects. Officials at the corps' Washington, D.C., office said Tuesday a so-called "programmatic" review is outside the agency's authority, which is limited to granting permits for waterfront projects. The stance is a setback for environmentalists and Govs. John Kitzhaber or Oregon and Jay Inslee of Washington. Both have asked for a review of the cumulative effects of building the coal terminals. Longview Daily News, 3-26-13.
The Nation
Argument recap: DOMA is in trouble
If the Supreme Court can find its way through a dense procedural thicket, and confront the constitutionality of the federal law that defined marriage as limited to a man and a woman, that law may be gone, after a seventeen-year existence.  That was the overriding impression after just under two hours of argument Wednesday on the fate of the Defense of Marriage Act. That would happen, it appeared, primarily because Justice Anthony M. Kennedy seemed persuaded that the federal law intruded too deeply into the power of the states to regulate marriage, and that the federal definition cannot prevail.   The only barrier to such a ruling, it appeared, was the chance – an outside one, though — that the Court majority might conclude that there is no live case before it at this point. United States v. Windsor (12-307). SCOTUSblog, 3-27-13.
Taxpayers get $3 million bill for defending DOMA, Boehner clams up
The House Republican leadership has billed American taxpayers $3 million to defend the anti-gay Defense of Marriage Act (DOMA) in federal courts and the U.S. Supreme Court, but GOP leaders did a deep dive Wednesday as the high court heard the legal challenge to DOMA. The growing approval of same-sex marriage, and declining popularity of anti-gay laws, seems to have gotten under House Speaker John Boehner's orange skin. Boehner was tweeting Wednesday on familiar topics — "Time to Build the Keystone Pipeline," "Bad News for Obamacare" — but said not a tweet about a federal law that discriminates against same-sex couples and denies them federal benefits. With public opinion rapidly changing, House Republicans have tried to disguise the big legal bill, used to hire ex-Solicitor General Paul Clement.  The House leadership assumed defense of DOMA when the Obama administration decided the law was no longer defensible. Seattle P-I, 3-27-13.
Ten Dems in the U.S. Senate oppose marriage equality
So swift is the tide running in support of same-sex marriage that in just the past week several senator from conservative states have climbed on the bandwagon, including Missouri's Claire McCaskill and Montana's Jon Tester, both Democrats. Still, ten Democrats still lean against it, some stronger than others — and for reasons all over the board. Seattle Weekly, 3-27-13.
To Think About
Meet the CEO who cut worker pay in half while pulling in $21 million last year
The founder of modern management science, Peter Drucker, considered excessive executive pay an assault on good enterprise management practice. Drucker also cared deeply about enterprise morality. In his later years, he watched — and despaired — as downsizing became an accepted corporate gameplan for pumping up executive paychecks. Drucker could find "no justification" for letting CEOs benefit financially from worker layoffs. If Drucker were still writing today, he'd likely be even more unforgiving. CEOs these days aren't just slashing worker jobs to add on to their own rewards. They're slashing worker pay as well — and no CEO may be benefiting more from shrinking paychecks than Ford chief executive Alan Mulally (remember him?). Alternet, 3-25-13.