Daily Clips will be taking Wednesday off so that the editor can attend the KCDCC monthly meeting Tuesday night. See you at the Carpenters Hall, call to order 7 PM.
King County
(We could give this exercise some catchy title,  like 'A Tale of Two Cities.' At one end . . .)
Trouble at 'Nickelsville' encampment: Central Committee says it's 'on the brink,' 'overrun,' alleges police inaction
As the encampment that calls itself "Nickelsville" nears the second anniversary of its unauthorized yet unchallenged return to the southeastern West Seattle site where it began, its Central Committee says the camp is "overrun" with troublemakers. It was first detailed in the WSB Forums, beginning with a report that the porta-potties at the encampment – their only toilet facilities, since the city has refused requests to hook up water or other utilities – had been removed Friday, and that the order had come from the camp's "staff person," Scott Morrow, over an "internal management issue." West Seattle Blog, 3-24-13.
(And at the other end . . .)
City Council doesn't fear fees will freeze development boom
Barring a reversal, the Seattle City Council aims to raise affordable-housing fees along with building heights in South Lake Union, going against intense pressure from business interests. Business leaders and property owners, including the Seattle Times, have lobbied the council not to tie fee increases to a proposal allowing much taller buildings. That could "shock" the market, as one letter delivered to the council Monday said, and discourage development. However, a majority of council members is betting that South Lake Union's popularity, driven by Amazon.com, will keep developers from going elsewhere or not building as tall as they could. Council member Nick Licata has argued that raising fees at the same time as heights will give the city leverage. Seattle Times, 3-25-13.
Seattle and Tacoma ports: Compete or merge?
Speed, efficiency, and timing are the keys to port success. And, for nearly 95 years, the Port of Tacoma has been a success, though often in the shadow of the Port of Seattle, about 30 miles to the north. So much so that there are recurring calls for the two ports to merge, creating a Port of Puget Sound. Just recently, the Seattle Times editorial page called for such a merger, citing efficiencies and capital spending as key reasons. During a recent visit to the Tacoma port, officials there acknowledged the conversations about mergers, but also begged to differ on the wisdom of combining the two. Seattle and Tacoma are so different in potential, operations and culture, they say, that a combination does not make sense. Crosscut, 3-25-13.
Head of Seattle-based OneAmerica to receive White House award
The White House Tuesday will honor Rich Stolz, executive director of Seattle-based OneAmerica, with its "Champions of Change" award for his work on immigration. Stolz is among 11 people from across the country who will receive the Cesar Chavez award for embodying the spirit of the late farm worker and civil rights leader "and for advocating and organizing around immigration-related issues," the White House said. Seattle Times, 3-25-13.
Pacific mayor puts 2 top cops on adminstrative leave
Controversial Pacific Mayor Cy Sun placed the City's two top-ranking police officers  on administrative leave last Friday, it was revealed Monday. In an email sent to local media outlets, Sun wrote: "…I have placed (Chief) John Calkins, Public Safety Director, and Lt. Edwin Massey on Paid Administrative Leave pending an investigation of allegations of harassment and intimidation." In addition, Sun ordered city employees in a memo Friday to not have any contact with Calkins or Massey to protect the "integrity of the investigation." The memo – available here – also ordered employees to not have any contact with the media. Auburn Reporter, 3-25-13.
The State
Gov. Inslee gets first bill through the Legislature
The state House passed legislation Monday, 61-32, aimed at developing ways to reduce state greenhouse-gas emissions, and meet targets set by the Legislature in 2008. The measure already has passed the Senate, and now goes to Gov. Jay Inslee, who had requested the legislation. It's the first bill requested by Inslee to clear the Legislature. SB 5802 creates a work group that's supposed to come up with recommendations by the end of the year. Rep. Dave Upthegrove (D-33) argued in favor of the measure, saying, "Our constituents are seeing the effects of climate change in their daily lives — extreme weather, a rise in temperatures and the economic costs that result. They are hungry for leadership and solutions and I'm confident our state can lead the way." Seattle Times, 3-25-13.
(We can call this one "A Tale of Two Senators." On the one hand . . . )
Seattle's Sen. Jeanne Kohl-Welles still leading the fight against human trafficking
Seattle's Sen. Jeanne Kohl-Welles (D-36) has dedicated herself to fighting human trafficking and child prostitution. It's a battle she's in for the long haul. So it should come as no surprise that after the legislation she championed last session targeting Backpage.com and other similar Internet sites linked to the exploitation of victimized child prostitutes was shot down in federal court – and specifically by the Federal Communications Decency Act – that she's been back at it this year, sponsoring a handful of bills designed to protect kids getting pimped on the Internet. Seattle Weekly, 3-25-13.
(And on the other hand . . . )
Central Washington senator emerges as champion of business enemy of labor
It's been a good legislative session so far for Janéa Holmquist Newbry (R-13). The Republican senator from Moses Lake and two colleagues held a press conference on March 14 to celebrate 22 Senate business-oriented bills being passed and sent to the Democratic-controlled House. The three are the Republicans' business issue leaders for their chambers. They were flanked by representatives of almost all of the business lobbying groups in Olympia.  Crosscut puff piece (nary a mention of ALEC), 3-25-13.
Panelists say state funding needed for undocumented students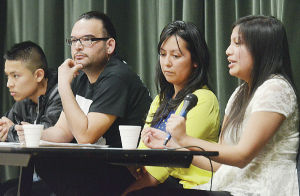 Though undocumented students can aspire to attend college, there's an obstacle blocking some of their dreams — how to pay for it. During a forum on the Washington DREAM Act, or HB 1817, Friday night at Mount Vernon High School, panelists said undocumented students could get a little help paying for college if the bill is passed by the state Senate. Already approved by the House 77-20, the bill would qualify eligible undocumented high school graduates for Washington state's State Need Grant. The Washington DREAM Act is getting a public hearing in the state Senate Higher Education Committee this week. Skagit Valley Herald, 3-23-13.
Bill would teach kids age-of-consent laws
Sexually active teens who don't understand Washington's age-of-consent laws could commit crimes they aren't even aware of, says state Rep. Ed Orcutt (R-20). He's championing HB 1397 to educate young people about sexual offenses in the hopes of preventing inappropriate relationships from starting in the first place (as if). Public schools that already teach sexual health education would be required to also teach students about sexual criminal law in Washington and the legal consequences for committing a sex crime with a minor. Vancouver Columbian, 3-24-13.
Will Paine Field's tower go dark?
The control tower at Paine Field– which last year directed traffic for 105,000 flights of aircraft large and small — could become a casualty of the federal budget sequester. The airport's tower staff of about 15 survived the first round of cuts, announced Friday. Funding for 149 towers at small airports around the nation, including five in Washington state, will dry up starting April 7. Funding for Paine Field's tower still could be cut later in the year, according to U.S. Rep. Rick Larsen (D-WA-2), who has been negotiating with the Federal Aviation Administration. FAA officials are not discussing the issue with the public. Paine Field is owned and operated by Snohomish County but its control tower is staffed by the FAA. Everett Herald, 3-25-13.
The Nation
Rep. Doc Hastings disputes San Juans, other national monuments
He wouldn't hold a hearing on legislation to protect the islands, but House Natural Resources Committee Chairman Rep. Doc Hastings (R-WA-4) has denounced President Obama for creating a San Juan Islands National Monument and monuments in four other states. U.S. Sens. Patty Murray and Maria Cantwell (D-WA), along with Rep. Rick Larsen (D-WA-2), sponsored legislation to establish a National Conservation Area in the San Juans.  They urged Obama to make a national monument only when the legislation couldn't get a hearing in the committee of which Hastings is chairman. But such is Hastings' antipathy for conservation that he has apparently stiffed a Republican colleague from his home state.  Rep. Dave Reichert (R-WA-8) has championed legislation that would protect the Middle Fork-Snoqualmie River in eastern King County, and add 22,000 acres of the Pratt River to the existing Alpine Lakes Wilderness Area. Hastings won't even give it a hearing. Seattle P-I, 3-25-13.
NLRB alleges repeated retaliation at Walmart's top US warehouse
The National Labor Relations Board has issued a complaint against four companies involved in staffing and managing Walmart's largest distribution center in the United States. The NLRB complaint—similar to an indictment—alleges that the companies repeatedly threatened and punished warehouse workers for labor organizing, including by firing activists involved in a September strike that helped to inspire November's Black Friday retail walkout. "They had targeted the organizers ever since we got back to the warehouse," Philip Bailey, one of the fired workers, told The Nation Monday. The Labor Board complaint, issued February 28, alleges that in order to discourage the Elwood IL warehouse workers from organizing, managers from the four companies—Roadlink Workforce Solutions, Skyward Employment Services, Select Remedy and Schneider Logistics—repeatedly broke the law. This included illegally threatening workers with firing or arrest; punishing employees by cancelling their breaks and increasing their workload; making workers believe they were under surveillance; and terminating six activist workers on November 10. The Nation, 3-20-13.
Op-ed: The GOP's Bachmann problem
The current intramural squabbling on the right is just too delicious for words. At least for nice words. Senator John McCain called the far-right darlings Senator Rand Paul, Senator Ted Cruz and Representative Justin Amash "wacko birds" earlier this month. (McCain later apologized for that burst of honesty and candor.) The Republican Party is experiencing an existential crisis, born of its own misguided incongruity with modern American culture and its insistence on choosing intransigence in a dynamic age of fundamental change. Instead of turning away from obsolescence, it is charging headlong into it, becoming more strident and pushing away more voters whom it could otherwise win. Charles Blow, New York Times, 3-23-13.
To Think About
The racism that fuels the 'war on terror'

A new Gallup poll released Monday morning has a surprising finding: a majority of Americans – while supporting air strikes in foreign countries against foreign nationals suspected of terrorism – oppose such air strikes when used to target US citizens who are suspected terrorists, whether at home or on foreign soil. This is surprising because when the US actually killed a US citizen on foreign soil on the grounds that he was a suspected terrorist – Anwar al-Awlaki – large majorities approved.  Meanwhile, Obama aides ran to Politico to boast that Awlaki's corpse would be a significant asset in Obama's re-election bid, leading to this Politico headline: "Al-Awlaki's killing could pay political dividend for Obama." What's the explanation? Many Americans can (a) say that they oppose the targeted killings of Americans on foreign soil while simultaneously (b) supporting the killing of Anwar al-Awlaki in Yemen because, for them, the term "Americans" doesn't include people like Anwar al-Awlaki. "Americans" means their aunts and uncles, their nice neighbors down the street, and anyone else who looks like them, who looks and seems "American." Glenn Greenwald, The Guardian, 3-25-13.