King County
Shades of gray in union's OK of Boeing 777X offer
Many around metro Puget Sound breathed a big sigh of relief when they heard Machinists union members Friday narrowly approved a Boeing Co. contract offer, which cuts benefits in exchange for securing thousands of high-paying jobs into the next decade. The deal means 10 years of labor peace, an opportunity to establish cutting-edge manufacturing capability, and stable aerospace employment in Washington. But it won't stop the global economic trends that led union workers to vote yes. Boeing workers have long been paid well above the industry standard, but they will face continuing downward pressure on wages and benefits, driven by factors such as passengers' demand for cheap tickets and increasingly automated production. Everett Herald, 12-5-14.
Boeing deal won't end company's tough bargaining
For some observers, the heady enthusiasm after Friday's narrow 51 percent vote was diluted by the sobering prospect of dwindling middle-class wages and benefits, and the near certainty that pressure for future concessions to Boeing will continue. The deal leaves the IAM in disarray and greatly diminishes the bargaining power of blue-collar workers. Boeing developed maximum leverage by negotiating outside the normal schedule of contract talks — when it could threaten to locate a new airplane elsewhere and the union couldn't strike. Seattle Times, 1-4-14.
Gay vice principal said he was fired, offered option of divorce
The vice principal of Eastside Catholic school, who was fired last month after school officials learned he had married his male partner, said in a newly released video that he was told he could keep his job if he got a divorce. Mark Zmuda, 38, a well-liked swim coach and vice principal of Eastside's middle and high schools, said the school's president told him he could keep his job if he divorced his husband of five months and had a commitment ceremony with his partner. The story of Zmuda's termination was reported globally, triggered sit-ins by students at Eastside high school and other area Catholic schools, and remains the subject of ongoing protests and rallies by students hoping to change the church's position on same-sex marriage. The Catholic church also does not recognize divorce. Seattle Times, 1-5-14.
The State
Defense bill a boon for JBLM, Pacific Northwest
The $526.8 billion defense budget President Barack Obama signed Christmas week steers hundreds of millions of dollars to Puget Sound military installations and billions more for Boeing-made aircraft being developed here. It also buys some peace of mind for Northwest defense contractors. The spending plan, coupled with a two-year bipartisan budget deal adopted last month, gives them the stability they've been missing in an era marked by repeated fiscal crises. Tacoma News Tribune, 1-5-13.
State's appeal of Stormans Plan B case continues
Six years after state regulators clarified that pharmacies must dispense emergency contraceptives when asked, the legal fight over an Olympia pharmacy owner's refusal to comply is continuing. The boycott of the Ralph's Thriftway pharmacy that local activists began in 2006 has, at least formally, long gone away. But Kevin Stormans, whose family owns the Ralph's pharmacy at the heart of the dispute, still is in federal court fighting for the right to not dispense. His case has been delayed by legal fights over the requirements of the federal Affordable Care Act. The family won at trial in U.S. District Court in Tacoma in February 2012, but the state Department of Health and Pharmacy Commission is appealing that decision, which included an award of legal fees in excess of $2 million that the state would have to pay if it ultimately loses. The central legal issue is whether a private business can assert a right to exercise religious conscience in not following the state law. Olympian, 1-4-14.
Anacortes artist: Border Patrol lied to justify racist arrest
An Anacortes man who claims he was unlawfully held by local police at the request of Border Patrol agents has sued the federal government claiming his rights were violated. Gustavo Vargas Ramirez was stopped by an Anacortes police officer after failing to signal while taking a left turn in the Skagit County city. Vargas, 35, an artist, claims he was subsequently arrested even though he had a valid driver's license, and was jailed for more than two months after deportation proceedings were launched. The government ultimately abandoned its effort to deport Vargas, a Mexican national with no criminal history who had been living in Skagit County for years. Late last month, public interest attorneys filed a lawsuit on Vargas' behalf against the government in U.S. District Court. Through his attorneys, Vargas claims a Border Patrol agent lied about the circumstances of his arrest, claiming to have responded to the traffic stop when he in fact was at a Bellingham office. Police reports appear to back Vargas' claim that an Anacortes officer called the Border Patrol to check his immigration status. Seattle P-I, 1-1-14.
Spin Control: Looking forward to 2014
As  it has in some past years, Spin Control looks into the crystal ball for the first Sunday of 2014 to predict the year ahead. Regular readers might notice that some predictions seem familiar, like they've read them before. They have, but it doesn't mean we are plagiarizing ourselves; we're just contributing to Spokane's recycling rate with things that happen all the time. Spokesman-Review, 1-4-14.
The Nation
Democrats seize on income inequality for 2014
Democrats aren't wasting any time tackling an issue they are convinced will help them this election year: income inequality. One of the Senate's first votes upon returning to Washington from its holiday break Monday will be on a bill reviving emergency unemployment benefits that lapsed at the end of 2013. The vote marks the first concrete step by Democrats toward a populist economic platform ahead of the November elections. The inequality campaign will intensify later in the year with a push in the Senate to raise the federal minimum wage that will be synced with President Barack Obama's State of the Union speech, which is expected to dig heavily into the issue of economic disparity. The lead sponsor of the bill, Sen. Jack Reed (D-RI), said he hopes other Republicans from high-unemployment states will come around when they "begin to recognize these are real constituents in their home state that have worked very hard." Politico, 1-5-14.
Koch-backed political network, designed to shield donors, raised $400 million in 2012
The political network spearheaded by conservative billionaires Charles and David Koch has expanded into a far-reaching operation of unrivaled complexity, built around a maze of groups that cloaks its donors, according to an analysis of new tax returns and other documents. The filings show that the network of politically active nonprofit groups backed by the Kochs and fellow donors in the 2012 elections financially outpaced other independent groups on the right and, on its own, matched the long-established national coalition of labor unions that serves as one of the biggest sources of support for Democrats. The resources and the breadth of the organization make it singular in American politics: an operation conducted outside the campaign finance system, employing an array of groups aimed at stopping what its financiers view as government overreach. Members of the coalition target different constituencies but together have mounted attacks on the new health-care law, federal spending, and environmental regulations. Washington Post, 1-5-14.
Liz Cheney to abandon Senate bid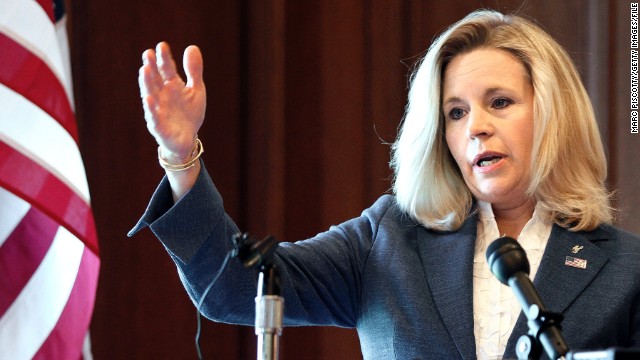 Liz Cheney, whose upstart bid to unseat Wyoming Sen. Mike Enzi sparked a round of warfare in the Republican Party and even within her own family, is dropping out of the Senate primary, she said in a prepared statement Monday morning. "Serious health issues have recently arisen in our family, and under the circumstances, I have decided to discontinue my campaign," she said. Cheney, the eldest daughter of former Vice President Dick Cheney, began telling associates of her decision over the weekend, CNN reported late Sunday night. There was little public polling of the race, but two partisan polls released last year showed Enzi with a wide lead, an assessment mostly shared by GOP insiders watching the race. CNN, 1-6-14.
Gay marriage opponents call for 'uprising' in Utah
The Constitutional Sheriffs and Peace Officers Association Saturday organized a meeting in Highland UT to call for an uprising and to express their opposition to same-sex marriage in Utah, Fox 13 Now Salt Lake City reported. "The people of Utah have rights, too, not just the homosexuals. The homosexuals are shoving their agenda down our throats," Former Graham County, AZ Sheriff Richard Mack said at the meeting. A federal judge in December struck down Utah's ban on same-sex marriage, and courts subsequently denied the state's request for a temporary stay, which would keep counties from issuing marriage licenses to gay couples while the state appeals the ruling. By the third stay denial, most counties in Utah were issuing licenses to all couples. Talking Points Memo, 1-5-14.
To Think About
The financial crisis: Why have no high-level executives been prosecuted?
Five years have passed since the onset of what is sometimes called the Great Recession. While the economy has slowly improved, there are still millions of Americans leading lives of quiet desperation: without jobs, without resources, without hope. Who was to blame? Was it simply a result of negligence, of the kind of inordinate risk-taking commonly called a "bubble," of an imprudent but innocent failure to maintain adequate reserves for a rainy day? Or was it the result, at least in part, of fraudulent practices, of dubious mortgages portrayed as sound risks and packaged into ever more esoteric financial instruments, the fundamental weaknesses of which were intentionally obscured? If it was the former—if the recession was due, at worst, to a lack of caution—then the criminal law has no role to play in the aftermath. But if, by contrast, the Great Recession was in material part the product of intentional fraud, the failure to prosecute those responsible must be judged one of the more egregious failures of the criminal justice system in many years. Jed Rakoff, New York Review of Books, issue of 1-9-14.