(Daily Clips will not publish Thursday December 19. The editor is at work on another project.)
King County
Sawant: '2014 is going to be the year of $15 an hour in Seattle'
It wasn't so long ago that Kshama Sawant might call a press conference at which little or no press would show up. Not anymore. The City Hall lobby was crowded with TV cameras and A-list reporters Tuesday morning for a press conference called to announce plans for passing a $15 an hour minimum wage in 2014. The big news: Sawant intends to pass a $15 an hour minimum wage in 2014. Not 2015. Not 2016. Not by the end of mayor-elect Ed Murray's first term. And the focus of Sawant's announcement: A new website, 15now.org, intended to draw in participation from the "thousands of people out there who want to do something for $15 an hour." Among those joining Sawant at the podium was SEIU 775NW vice president Sterling Harders; NAACP of Seattle-King County economic development chair Dr. Sheley Secrest; Carlos Hernandez, the fast food striker who was fired for allegedly giving a child a cookie; and Pastor Rich Lang of the University Temple United Methodist Church, who made an impassioned plea for fixing an economic system that is no longer working for most Americans. The Stranger, 12-17-13.
Minimum wage appears inevitable, but the debate is in the details
When local venture capitalist Nick Hanauer laid out his "capitalist's case" for a $15 minimum wage just six months ago, he says he was hailed as "the devil" in certain circles, while a Forbes columnist called his thesis a "near-insane idea." Oh, what a difference a few months can make. A debate is quietly shaping up—centered not so much on whether a minimum-wage hike needs to happen, but on what the right number is, who should be affected, and how quickly it should be implemented. Those mulling over the issue are looking not just to SeaTac, but to other cities offering different minimum-wage models, most notably Washington, D.C. Seattle Weekly, 12-17-13.
Judge approves sweeping new use-of-force policy for Seattle police
The Seattle Police Department has reached a milestone—and a major stepping stone—toward complying with its settlement agreement with the Department of Justice over reforms. U.S. District Judge James L. Robart has accepted a new use-of-force policy negotiated between the DOJ and the police department aimed at radically changing the way SPD officers use force and how they report it. The DOJ, in a news release, said the 70-plus page use-of-force policy requires all but the most minimal force be reported by police. The new policy replaces a five-page policy that was in place when the DOJ investigated the SPD and found that officers were quick to resort to force and routinely used too much when they did. According to the DOJ, the new policy for the first time defines "force," and details when it is appropriate, and when it isn't, and provides new detailed reporting requirements. Seattle Times, 12-17-13.
The State
Boeing admits it: Offer to Machinists did require endorsement
Boeing confirmed Tuesday that its contract proposal to the Machinists union last week was indeed offered with a stipulation that union leaders recommend a yes vote to members. But that was asking too much, union District 751 President Tom Wroblewski has said since talks fell apart. The talks included local and national representatives of the International Association of Machinists and Aerospace Workers (IAM) and Boeing Commercial Airplanes at its offices in Renton. Tuesday's announcement clarifies what happened Thursday. Wroblewski has said that the company withdrew the offer when told the union's leadership would not endorse its passage. Boeing said the union had outright rejected the offer, but declined to confirm Wroblewski's description of a stipulation. Besides the requirement for a yes recommendation, Wroblewski said, he didn't take the offer to members because it is too similar to one overwhelmingly rejected by union members in mid-November. Everett Herald, 12-17-13.
Washington state courts Airbus amid Boeing tension
Even as they try desperately to hang on to Boeing, officials in Washington state have been courting the main competitor of the aerospace giant. During the past several months, state officials have traveled to the U.S. headquarters of Airbus SAS in Virginia, moved to connect Airbus with Washington state suppliers, and signed a five-year confidentiality agreement with the company to allow further exploration of business opportunities, according to records obtained by Associated Press under public disclosure laws. In a confidential memo provided to Gov. Jay Inslee in July, state officials described dozens of potential ways to expand or recruit aerospace businesses in the state. At the top of the memo was Airbus, described as just one of a few major opportunities. Associated Press (Tacoma News Tribune), 12-17-13.
Inslee unveils supplemental budget proposal; once again, no COLA for teachers
Gov. Jay Inslee Tuesday proposed additional spending to address overcrowded prisons, cover wildfire costs, and upgrade technology to aid small businesses. The supplemental budget the Democratic governor unveiled has about $200 million more in spending, including $8.2 million in response to a settlement that requires the state to expand mental health services for children (but no cost of living allowance for teachers). The proposal comes six months after he approved a $33.6 billion two-year state budget. Inslee said the state doesn't currently face a budget shortfall, but steady economic growth is not likely to keep up with growing expenses as the state heads toward the 2015-2017 biennium. Associated Press (Tacoma News Tribune), 12-17-13.
The Nation
Budget deal stirs unrest, division inside Senate GOP; some incumbents, like McConnell, face challenges from right
The budget deal the Senate is likely to approve Wednesday will mean an easing of the automatic spending cuts, or sequester, but it's also exposing a deep political rift among Republicans. The deal passed a crucial test Tuesday, when the Senate agreed 67-33 to limit debate. Twelve Republicans–a surprisingly big number–joined 53 Democrats and two independents to back the cutoff. Fifty-one votes will be needed for final passage. The deal will increase discretionary spending, or items Congress and the White House can largely control, above the sequester amount by about $63 billion over the next two fiscal years. It also raises $85 billion in new revenue, largely through increases in fees, federal employees' retirement contributions, and other strategies, over 10 years. Many Republican conservatives are furious about the change. They were proud of the 2011 agreement that created the automatic cuts and are convinced voters will punish lawmakers who voted to break them. Republicans voting against cutting off debate were often those facing re-election next year, notably lawmakers with nomination challenges from the party's more conservative wing. Kansas City Star, 12-17-13.
But McConnell also has a Democratic challenger—and the latest polling shows her in a virtual tie
Senate Minority Leader Mitch McConnell's re-election bid remains one of the closest in the country, as he leads his presumed Democratic opponent, Alison Lundergan Grimes, by just a single percentage point, according to a new poll. The Republican Kentuckian has just a 31 percent job approval rating, marking him one of the most unpopular senators in the country, according to Democratic polling firm Public Policy Polling, in a survey first reported by Politico and released Tuesday. McConnell leads Grimes 43 percent to 42 percent, with 15 percent of Kentucky voters undecided. A similar poll in October had Grimes ahead by 2 percentage points. Grimes' favorability matches McConnell's at 31 percent, but about one-third of voters are unsure of whether they approve of her, giving her potential room to grow. But most people have already formed their opinion of McConnell, with 61 percent disapproving and just 8 percent unsure. US News and World Report, 12-17-13.
50 educators sign letter to Catholic University protesting Koch Foundation's $1 million gift
Fifty prominent Catholic educators have signed a letter protesting Catholic University of America's recent acceptance of a $1 million grant from a foundation affiliated with the billionaire libertarian fascist Koch brothers, saying the gift sends "a confusing message" that the brothers' "anti-government, Tea Party ideology has the blessing" of a school created by U.S. bishops. The letter, whose signers include deans and department heads of Catholic universities, was made public Monday but delivered last week to Catholic University of America President John Garvey and Dean Andrew Abela. It says the Koch brothers' activism against unions and climate-change science, among other things, is in "stark contrast" to the church's "traditional social justice teachings." Charles and David Koch have given hundreds of millions of dollars to conservative and tea party groups. The grant to Catholic will enable the university's new School of Business and Economics to recruit and hire four visiting scholars to conduct research on "principled entrepreneurship." Washington Post, 12-16-13.
Former Microsoft exec Kurt DelBene to tackle Obamacare website fix
Kurt DelBene, former chief of Microsoft's Office division and husband of U.S. Rep. Suzan DelBene (D-WA), was tapped by President Obama Tuesday to take over the continuing fix for the troubled Affordable Care Act website. Kurt DelBene will assume his new assignment from Jeff Zients, who was brought in temporarily to tackle the enrollment foulups that marred the launch of the federal Obamacare health exchange. Zients is slated to become director of the National Economic Council next year. Kurt DelBene announced his retirement from Microsoft in July during a reorganization announced by Microsoft CEO Steve Ballmer. He is married to Suzan DelBene, a freshman Democrat from Medina and a former Microsoft executive herself. Seattle Times, 12-17-13.
Republican Byrne coasts in special House election in Alabama
Republican Bradley Byrne Tuesday won the special election for Alabama's vacant 1st Congressional District, easily defeating Democrat Burton LeFlore. Byrne, a lawyer and former state senator, will succeed ex-GOP Rep. Jo Bonner, who resigned from the Mobile-area seat this year to take a job with the University of Alabama system after representing the district for more than a decade. With 64 percent of precincts reporting, Byrne led LeFlore, a realtor, 66 percent to 34 percent, according to Associated Press. Byrne, who waged an unsuccessful 2010 gubernatorial campaign, came into Tuesday's race as the strong favorite. The district tilts strongly conservative. Politico, 12-17-13.
Flying Spaghetti Monster joins crowded holiday display of religious items at Wisconsin State Capitol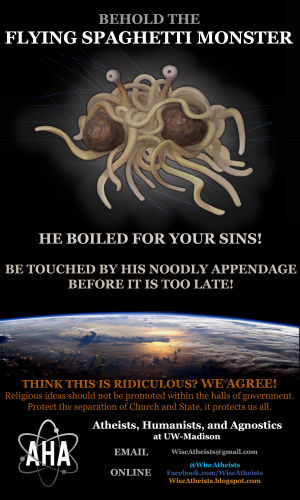 A college atheist group has set up a Flying Spaghetti Monster display at the Wisconsin State Capitol to make a point about religious expression on public property. The Atheists, Humanists, and Agnostics group at the University of Wisconsin set up the satirical religious display alongside a "Festivus" pole and a "Winter Solstice Nativity" scene featuring Charles Darwin, Albert Einstein, and Mark Twain that was set up by the Freedom From Religion Foundation. "The rotunda is getting very cluttered," said Annie Laurie Gaylor, co-president of the Freedom from Religion Foundation. "But if a devotional nativity display is allowed, then there must be 'room at the inn' for all points of view, including irreverency and free thought." The secular displays join traditional Christmas items such as a 30-foot balsam fir tree encircled by a toy train set, and they have been part of the capitol holiday displays since a 1984 lawsuit failed to remove the Capitol Christmas tree, halt a menorah lighting, and end an annual nativity pageant. Raw Story, 12-17-13.
To Think About
In the War on Poverty, a dogged adversary
When President Lyndon Johnson declared his war on poverty on Jan. 8, 1964, almost exactly 50 years ago, 19 percent of Americans were poor. "The richest nation on earth can afford to win it," he reasoned, as he proposed a clutch of initiatives from expanding food stamps to revamping unemployment insurance. "We cannot afford to lose it." A half-century later, our priorities have changed. In November, food benefits were cut for approximately 48 million Americans by an average of 7 percent, costing the typical recipient about $9 a month, as the emergency expansion of the food stamp program enacted in the depths of the great recession was allowed to expire. Next month, 1.3 million jobless workers are scheduled to stop receiving an unemployment check, after Congress' refusal to prolong the extension of emergency jobless benefits to up to 73 weeks, from 26. Perhaps five million people will lose their benefit over the next year. But while politicians' attention has wandered, poverty remains uncomfortably close to where it was five decades ago. New York Times, 12-17-13.