King County
Long march into Seattle for a living wage
A "Long March" for a living wage took 100-plus hearty demonstrators from a hotel at SeaTac to Seattle City Hall Thursday, coinciding with a national day of action in which fast food workers marched off the job in 100 cities across America. The movement scored a big victory in the "other" Washington as the Washington DC city council voted unanimously to raise the city's $8.25 minimum wage to $11.50.  The council acted while elsewhere in DC, the Republican-led U.S. House of Representatives has flatly refused to consider increasing the $7.25 federal minimum wage. The objective locally is more ambitious, a $15 an hour minimum wage for Seattle.  A $15-an-hour wage initiative was narrowly approved last month by SeaTac voters, but faces a certain court challenge.  "Show our employers we have power and strength, and they cannot ignore us anymore," Ethan Dietrich-Reed, a fast food worker, told about 200 people at the concluding rally. He defined a challenge, but there are signs of national momentum, and that America's growing income gap has touched Americans' sense of fair play. Seattle P-I, 12-5-13.
Boeing's wish list for 777X asks for "no cost" site
Boeing says factories for its planned 777X will require total investment of up to $10 billion, but states competing for the work are asked to shrink that tab by providing the site and facilities at "no cost, or very low cost." In confidential documents sent to the 15 states vying for the project, Boeing estimates it will produce 8,500 direct jobs. The Seattle Times obtained the formal Request for Proposal (RFP), dated Nov. 22 and marked "Boeing proprietary." Washington is among the states that will submit responses to Boeing's request. Among the sites known to be under consideration are Everett, Long Beach CA, Salt Lake City, and Huntsville AL. Also likely on Boeing's list are North Charleston SC, San Antonio, and St. Louis. Seattle Times, 12-5-13.
Was Boeing's ultimatum to IAM an unfair labor practice?
Could Boeing face a new complaint with the National Labor Relations Board over the 777X assembly site? In These Times wrote on November 25 that Boeing's shopping the assembly site around following IAM's rejection of Boeing's concession-laden offer is like the 2009 decision to locate the second 787 assembly line in South Carolina following a 57-day 751  strike in 2008. IAM filed an Unfair Labor Practice complaint with the NLRB that Boeing had retaliated illegally, and the staff agreed, filing a formal complaint against Boeing and demanding that the assembly line be relocated to Everett. The complaint was dismissed in 2011 when 751 and Boeing agreed to locate the 737 MAX line in Renton in exchange for a four year extension of the 2008 contract. The November contract offer would have extended the 2016 contract to 2024 in exchange for dramatic concessions that the 751 membership rejected. Boeing said it would shop the 777X assembly site around if the members failed to ratify the contract, and this is exactly what Boeing did. In These Times wrote: Boeing's thinly veiled ultimatum may represent a violation of labor law, according to Cornell University labor professor Kate Bronfenbrenner, the author of No Holds Barred: The Intensification of Employer Opposition to Organizing. "Boeing is doing exactly the same thing that they got punished for two years ago [in South Carolina]," she explains. "Threatening to move to get concession is bad-faith bargaining under the National Labor Relations Act." Leeham News, 12-5-13.
Police managers push back on plan to open top jobs to outsiders
The Seattle Police Management Association demanded in a formal letter Wednesday that the city begin bargaining over a proposed City Council bill that would allow the chief of police to fill high-ranking positions from outside of the department. A city ordinance currently requires the chief to hire only lieutenants and captains from within the Seattle Police Department as assistant and deputy chiefs. Public Safety, Civil Rights, and Technology Committee Chair Bruce Harrell and committee member Tim Burgess have sponsored a bill that would eliminate that rule. They believe the ordinance should be changed to attract top-notch police chief applicants and to improve the department's performance. The union, which represents lieutenants and captains, considers such a change a subject of mandatory bargaining. Crosscut, 12-5-13.
The State
Could state's plans for coal port EIS violate WTO ban on export restrictions? Big Coal, NAM want you to think so
An unprecedented Inslee Administration tactic apparently aimed at blocking development of coal ports in the state of Washington could mean big trouble for American exporters, warns the National Association of Manufacturers. It says a plan by the state Department of Ecology to write an unusually broad environmental impact statement for a coal terminal near Bellingham might easily be taken by the World Trade Organization as an impermissible restriction on exports.  That means sanctions could be imposed against the United States, possibly choking off business for American firms. All it takes is a complaint from a member country, and because the United States hasn't been shy about complaining about other countries, it might not take long for that to happen. So warns the breathless Erik Smith, in Washington State Wire, 12-5-13.
Some striking workers locked out of Valley Hospital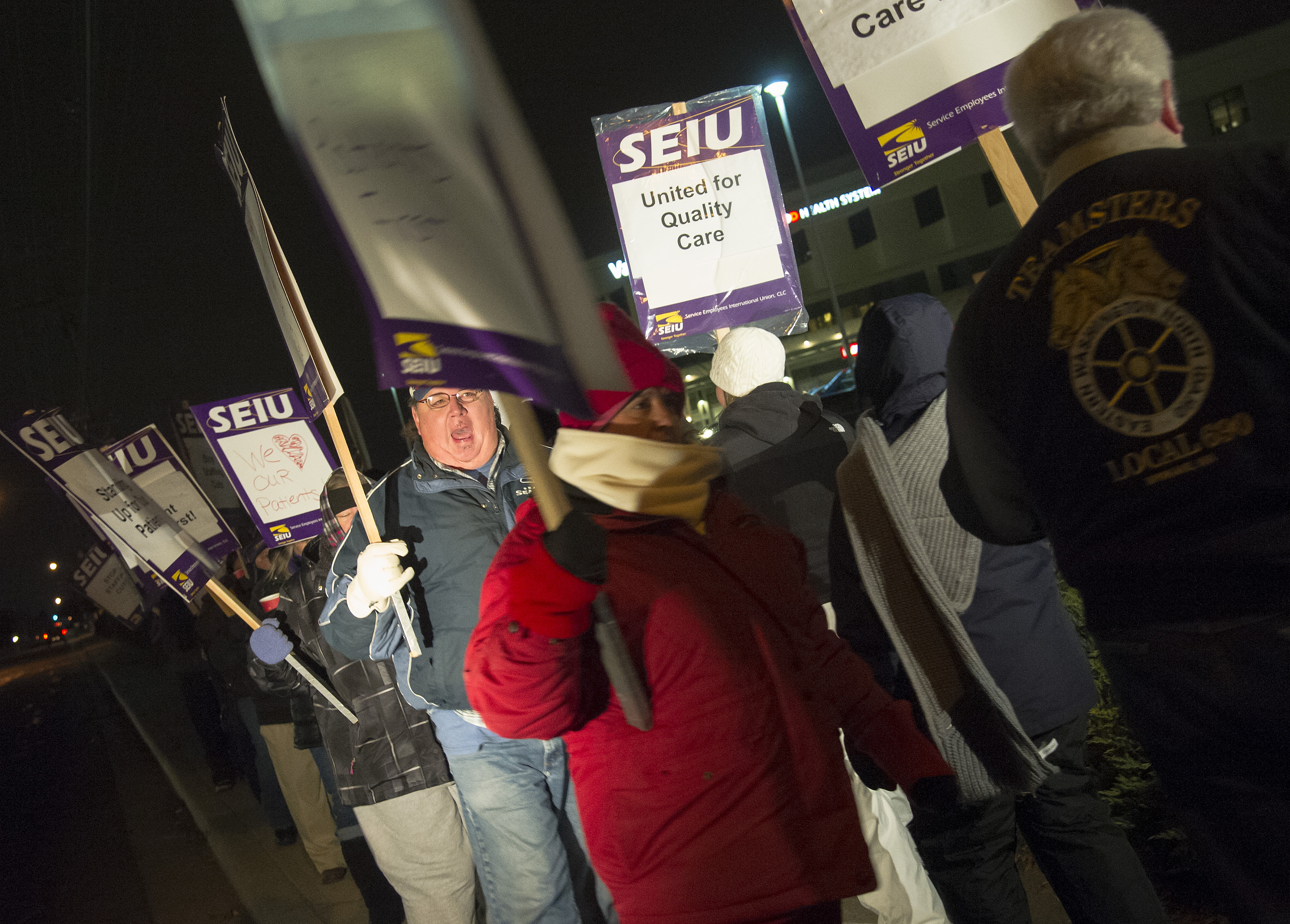 In a tense but peaceful dispute Thursday morning, at least 20 employees of Valley Hospital, including nurses and technical workers, were locked out of the hospital following a one-day strike against Valley and Deaconess Hospitals Wednesday. Dozens of union members marched in a long line to the visitors' entrance where they were turned away by security guards speaking through bull horns. Joining the workers in support were union representatives from Service Employees International Union 1199NW, along with Teamsters, fire fighters, and others, including state Rep. Marcus Riccelli (D-3). Deaconess workers all returned to work today. Deaconess and Valley hospitals are owned by Community Health Systems, a for-profit chain based in Tennessee. Valley Hospital representatives said the hospital was forced to hire replacement workers scabs on 72-hour contracts to keep the hospital open during the strike and that they're simply fulfilling that short-term obligation. Spokesman-Review, 12-5-13.
Jesse Young is Republicans' first choice to replace Angel
Republicans made Gig Harbor resident Jesse Young their top choice Wednesday to fill out the year left in Rep. Jan Angel's term in the state House. Pierce County council members and Kitsap County commissioners will now appoint someone from the GOP's slate of three nominees: either Young; second choice Adam Berman, a Gig Harbor film maker; or third choice Doug Cloud, a Gig Harbor lawyer. Republican Angel (R-26), of Port Orchard, is moving to the Senate after winning an expensive special election against Sen. Nathan Schlicher (D) last month to finish the term of former Sen. Derek Kilmer (D), now representing the 6th congressional district in the U.S. House. Young received the nod from more than 50 local Republican Party  precinct committee officers who gathered Wednesday evening in Port Orchard. Tacoma News Tribune, 12-4-13.
Same-sex couples now account for 1 in 6 Washington weddings
Thursday marked the one-year anniversary of Washington's same-sex marriage law.  To mark the occasion, the state Department of Health has released marriage statistics gathered from the date the law took effect — Dec. 6, 2012 — through the end of September, date of most recent available numbers. In that time, 7,071 gay couples tied the knot. That's 17 percent of the total 42,408 new marriages, or one out of six. Of the same-sex marriages, 62 percent were between two women.  No  surprise, King County had the most same-sex weddings –3,452 — followed, in order, by Clark, Pierce, Snohomish, and Thurston counties. Clark County, on the Oregon border just north of Portland, had the highest rate — 30 percent of weddings performed there were to same-sex couples. This fact and other data also indicate that Washington's marriage law is drawing couples from other states to marry here. For 24 percent of the ceremonies, neither spouse lived in Washington. For opposite-sex couples, the number is only 6 percent. Seattle Times, 12-5-13.
The Nation
Lawmakers rush to budget agreement to avoid another federal government shutdown
With the holiday recess fast approaching, congressional negotiators were closing in on an agreement to avoid another government shutdown. But they faced a last-minute outcry from House Democrats demanding to extend federal jobless benefits as part of any deal. "We are making a very clear statement that we cannot, cannot support a budget agreement that does not include unemployment insurance in the budget or as a sidebar in order to move it all along," House Minority Leader Nancy Pelosi (D-CA) said Thursday after holding a hearing on the jobless program, which is set to lapse at the end of December, cutting off checks to 1.3 million people. But House GOP leaders are counting on Pelosi to deliver a large number of the votes they need to push a budget deal to final passage in the chamber. Democratic aides said her demands would give their chief negotiator, Senate Budget Committee Chairman Patty Murray (D-WA), leverage to extract concessions as the talks enter the last stage. Washington Post, 12-5-13.
GOP men tutored in running against women
The National Republican Congressional Committee wants to make sure there are no Todd Akin (and John Koster)-style gaffes next year, so it's meeting with top aides of sitting Republicans to teach them what to say — or not to say — on the trail, especially when their boss is running against a woman. Speaker John Boehner is serious, too. His own top aides met recently with Republican staff to discuss how lawmakers should talk to female constituents. "Let me put it this way, some of these guys have a lot to learn," said a Republican staffer who attended the session in Boehner's office. There have been "multiple sessions" with the NRCC where aides to incumbents were schooled in "messaging against women opponents," one GOP aide said. Politico, 12-5-13.
Civil war in the church! More and more American Catholics are telling their bishops to stop playing doctor
Pope Francis last week issued an expansive document outlining the mission behind his papacy, including a strongly worded indictment of free market economics and the government leaders and corporate executives who are the system's greatest beneficiaries. The pope's declarations on poverty and economic justice may have been a new turn for the church, but the rest of the 84-page document was a regurgitation of the same old doctrine. Specifically, the church's hard line on abortion and other issues of reproductive justice remains as rigid and as dangerous as ever. Which is why the timing of the American Civil Liberty Union's lawsuit alleging gross medical negligence against the United States Congress of Catholic Bishops, filed just days after the pope released his "Evangelii Gaudium," felt significant. The suit was a necessary reminder that a church doctrine that refuses to respect women's bodily autonomy and the medical judgment of doctors — no matter how progressive its economic agenda — is still a dangerous thing. Katie McDonough, Salon, 12-5-13.
To Think About
Fight the right-washing of Mandela's legacy; much of the American right supported apartheid, almost to the end
I tried to honor Nelson Mandela on the day of his death, and love my political enemies. But the whitewashing of Mandela's legacy, and the role of the United States, in supporting both apartheid and Mandela's long imprisonment, has to be rebutted. It began on Mandela's 95th birthday in July, when House Speaker John Boehner had the audacity to declare in a tribute "At times it can almost feel like we are talking about an old friend." It got much worse when Sen. Ted Cruz (R-TX) said Thursday night: "Nelson Mandela will live in history as an inspiration for defenders of liberty around the globe." But Cruz's political heroes opposed Mandela as a terrorist and a communist, and there's little doubt the red-baiting Texas senator would have done the same had he been in Congress back then. We mustn't let them off the hook for it. Joan Walsh, Salon, 12-6-13.