King County
Lake Forest Park candidate pursued relationship with female employee; invited her to explore "alternate universe"
A Lake Forest Park city council candidate is under investigation by the Washington State Patrol after a female employee said he pursued an inappropriate relationship with her that began with an invitation to take her to an "alternate universe." Alan Kiest was placed on reassignment from his position as a high-level state employee with the Washington Department of Social and Health Services on April 14, according to a letter obtained by KIRO through a public disclosure request. Kiest was in charge of operations at the King Eastside Community Service Office (CSO) in Bellevue, where people apply for government assistance. The woman, 25, has assisted DSHS in its administrative investigation against Kiest, 64, which arose after she reported the incident. The investigation is being conducted by the Washington State Patrol. She said she was reluctant to speak with the media, but did so because of Kiest's current candidacy for public office. "He probably should not be running for public office," she said. KIRO, 10-15-13.
Undercover Seattle cop trained as drywaller to investigate abusive contractor
A Seattle contractor who'd landed more than $1.1 million in government contracts is now accused of scamming workers out of pay as part of a scheme to underbid his competitors. Caught following an intensive investigation that saw a Seattle police officer trained as a drywall installer and inserted into his company, Dathan L. Williams is alleged to have bragged about threatening his employees with deportation when they asked to be paid correctly. Williams, 32, appears to have been targeted as part of a larger investigation into claims that Washington subcontractors are abusing workers and ignoring wage laws meant to keep opportunistic contractors from underbidding those paying higher wages. Williams has been charged with first-degree theft, a felony, and related offenses. Seattle P-I, 10-15-13.
Government shutdown: Deadline smacks Seattle crab fleet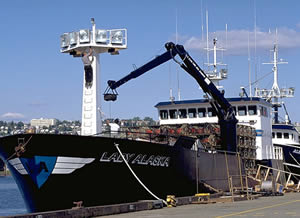 Local fish stores and distributors are bracing themselves for the loss of one of their most important items: fresh king crab from the Bering Sea. National Marine Fisheries Service workers who normally issue the permits and monitor the season have been furloughed. Without them the crab boats, many from Seattle, cannot leave port. "If we can't get the product out of Alaska, get it down to Seattle, we're going to miss it," said John Daniels who owns Seattle Fish Company. Crab boat captains are pressuring congressional members to pass some kind of emergency action. So far, there are no indications that will happen. KING, 10-15-13.
Raplee to seek Kent City Council seat as write-in candidate against Sharp, Stober
Debbie Raplee is running as a write-in candidate for the Kent City Council to give voters a "reasonable alternative" over Ken Sharp and Bailey Stober. Raplee served eight years on the council before losing in the 2011 general election to Bill Boyce. Raplee, a Boeing staff analyst for nearly 35 years, said people asked her to run because they didn't like the options of Sharp and Stober with so many questions about each candidate. Sharp faces first-degree theft charges filed by King County prosecutors against him for allegedly stealing $297,500 from his 93-year-old mother's bank account. Sharp pleaded not guilty to the charges on Aug. 29 in King County Superior Court. He is scheduled to return to court Nov. 20. Rumors about whether Stober lived in Kent for a year prior to filing for office also helped Raplee decide to enter the race. "I've been a resident of Kent for years," Stober said during an earlier interview. "Haven't gone anywhere and don't plan on it soon." Kent Reporter, 10-14-13.
The State
State forecaster: Tax revenues still top forecast but shutdown hitting consumer confidence
The latest revenue collections report for state government shows that Washington continued to take in more money over the past month than even the most recent quarterly forecast had predicted in September. After adjusting for the effect of an expected tax refund yet to be paid out, the real gain is about $9.8 million to the state's bottom line. Steve Lerch, executive leader of the Office of the Economic and Revenue Forecast Council, issued the monthly report on tax collections late last week, and his message carried a hint of worry despite the uptick in revenues. "The impact of the federal government shutdown and concerns about the debt ceiling debate are unlikely to be fully reflected in these September figures," Lerch wrote. He noted the federal government shutdown has idled thousands of government workers who ultimately will get back pay, but he also said consumer confidence has slipped. Olympian, 10-15-13.
Council's swing district at stake in Somers-Vallo race
Dave Somers wants to address some unfinished business if elected to a third term on the Snohomish County Council. The Monroe Democrat has emerged as a leader on county land-use issues, in particular an effort to delineate prime farmland from flood-prone areas that can be converted to fish habitat. He wants to continue that work, and ongoing planning to help the county absorb a growing population over the next two decades. Somers' Republican challenger, Chris Vallo of Lake Stevens, is seeking his first election to public office. The real estate broker is focused on limited government, accountable spending and creating jobs. He believes he has the networking and people skills to make it happen. Everett Herald, 10-16-13.
Hanford workers could get furlough notices this week
Hanford workers could start receiving furlough notices Wednesday because of the federal government shutdown, according to the Tri-City Development Council. Depending on how long the shutdown drags on, about 9,000 Hanford and Pacific Northwest National Laboratory workers could be put on temporary leave or laid off, TRIDEC estimates. With no federal budget for the fiscal year that started Oct. 1, Hanford has been operating largely on money carried over from previous years. However, the last fiscal year had a tight budget because of sequestration. Based on what is being announced for other DOE sites, TRIDEC believes that about 80 percent of Hanford staff could be furloughed to reach the minimum staffing level needed to maintain safety and security, a level called minimum safe at Hanford. Tri-City Herald, 10-14-13.
Clark County Commissioner thinks elected officials need to apologize to voters over CRC
Clark County Commissioner David Madore will soon introduce a resolution for his fellow commissioners to consider that "apologizes for breaking faith with the citizens of Clark County," declares the county will "notify the appropriate authorities that we have not acted with integrity," calls for an investigation into the Columbia River Crossing, and formally requests funding for the project be withdrawn at local, state and federal levels. Madore announced at Tuesday's regular commission meeting that he will introduce the resolution. At the heart of the matter is the September decision by the C-Tran Board of Directors — on which all three commissioners sit — to operate light rail on what is now an Oregon-led Columbia River Crossing project. The C-Tran board voted 5-4 in favor of the funding plan. The three county commissioners split their votes, with Democrat Steve Stuart voting yes and Republicans Tom Mielke and Madore voting no. Since then, Madore has been outspoken in his continued fight against the plan in public meetings and on his Facebook wall. Vancouver Columbian, 10-15-13.
Government shutdown: Olympic National Park-goers handed $125 tickets (by unpaid ranger) for 'violation of closure'
Kelly Sanders decided to take her crew of six international students, including two visiting Port Angeles from its Japanese sister city, on a hike to Marymere Falls over the weekend. "I've hosted a lot of international students for [Peninsula] college," said Sanders, a sixth-grade teacher from Port Angeles. "I like to give them experiences they wouldn't normally get." An experience they got, along with a $125 ticket. Sanders pulled off U.S. Highway 101 into the Barnes Point lot at Lake Crescent — where two other cars were parked — got out and posed the students for a picture behind the Storm King Ranger Station sign when she heard another car pull up. It was Park Ranger Jennifer Jackson's patrol car. According to Sanders' account, Jackson asked for her driver's license and the licenses of the drivers of the two other cars. All three drivers received $125 tickets for "Violation of Closure (Government Shutdown)" as the students, the two Japanese students from Mutsu City and four Peninsula College students from Indonesia, Hong Kong and China, watched puzzled. Peninsula Daily News, 10-15-13.
The Nation
Government shutdown: Rep. Jaime Herrera Beutler calls on GOP colleagues to 'face reality'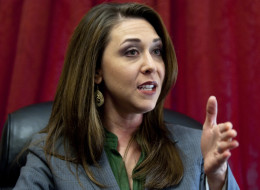 Rep. Jaime Herrera Beutler (R-WA) broke ranks from many fellow Republicans Tuesday evening, calling on her party to give up hope of blocking Obamacare in the budget fight. "Nothing positive will be achieved by prolonging this shutdown any longer, or crossing the debt limit threshold," Herrera Beutler said in a statement. "It's time for my colleagues to face reality." Herrera Beutler pointed out that many of her constituents have been hurt by the shutdown and said she could no longer stand by and watch. Herrera Beutler said she still opposes Obamacare and ultimately wants to repeal it, but the shutdown was "hurting our cause, not helping it." Huffington Post, 10-15-13.
Warring GOP factions sink John Boehner plan
In the end, it wasn't only hard-line GOP conservatives that sank Speaker John Boehner's plan to reopen the federal government and lift the $16.7 trillion debt limit. The Ohio Republican, battered from three years of intra-party battles, was caught between at least three different GOP factions as he tried for a compromise agreement: Republicans who didn't want to slash government health care contributions for Capitol Hill aides, members who thought repealing the medical device tax was a giveaway to corporate America and conservatives, who thought Republican leaders were too soft on Obamacare. Boehner was unable to shape a deal that would satisfy all of the groups, forcing him to shelve his plan and show the world — again — just how hard it is for him to rule the raucous House Republican Conference. No amount of political gymnastics would help him reach the crucial 217 vote-level to send a bill to the Senate. GOP aides said that Boehner was — at a minimum — 20 to 30 votes short of the target. Politico, 10-15-13.
Yes, the debt fight could delay Social Security checks
There's a theory pinging around that says no matter what happens with the debt ceiling, Social Security beneficiaries will keep getting their checks on time. Social Security is a trust fund that brings in more money than it pays out, so the theory holds that even if the United States can't legally borrow more money, benefits must continue until the trust fund runs out. Evidence strongly suggests that theory is wrong. Put very simply: No one knows exactly what will happen if the nation's borrowing limit doesn't rise. As much as retirees and policy advocates want the Obama administration to hold Social Security harmless in that case, there is no guarantee that will happen—or that it's legally or technically possible. Washington Post, 10-15-13.
Op-ed: Obamacare: The rest of the story
Unless you've been bamboozled by the frantic fictions of the right wing, you know that the Affordable Care Act, familiarly known as Obamacare, has begun to accomplish its first goal: enrolling millions of uninsured Americans, many of whom have been living one medical emergency away from the poorhouse. You realize those computer failures that have hampered sign-ups in the early days — to the smug delight of the critics — confirm that there is enormous popular demand. You have probably figured out that the real mission of the Republican extortionists and their big-money backers was to scuttle the law before most Americans recognized it as a godsend and rendered it politically untouchable. You might not know that the Affordable Care Act is also beginning, with little fanfare, to accomplish its second great goal: to promote reforms to our overpriced, underperforming health care system. Irony of ironies, the people who ought to be most vigorously applauding this success story are Republicans, because it is being done not by government decree but almost entirely with market incentives. Bill Keller, New York Times, 10-13-13.
To Think About
Back Door Secession
On Monday, the New York Times reported that eleven counties in Colorado are promoting efforts to secede from their state government. Of course, men like Governor Rick Perry of Texas have gone further and threatened secession from the federal government. It is not much noticed that parts of the country act as if they had already seceded from the union. They do not recognize laws and Supreme Court decisions, or constitutional guarantees of free speech. For instance, 17 states have violated the First Amendment by preventing or hindering the work of "navigators"—organizations and businesses funded by the federal government to educate people on ways to follow the rules of the Affordable Care Act. Some groups routinely attempt to block health centers from advising women on the legal right to contraception. Eight state legislatures this year have passed voter restrictions that may violate the Fourteenth Amendment, and similar measures are pending in other states. The people behind these efforts are imitating what the Confederate States did even before they formally seceded in 1861. Garry Wills, New York Review of Books, 10-9-13.