King County
City of Seattle plays Darth Vader in property fight with 103-year-old woman over parking lot next to Viaduct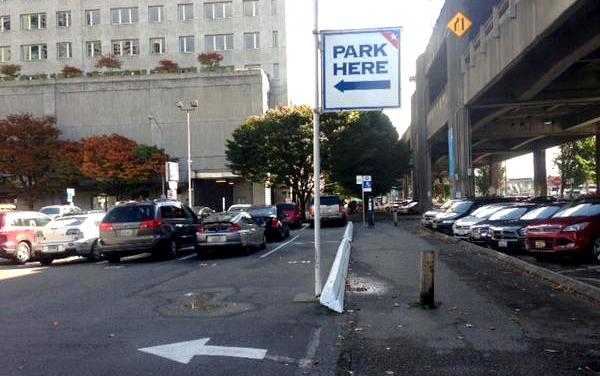 The more you learn about the city of Seattle's threat to condemn Myrtle Woldson's waterfront property, the stranger those plans seem. The city wants to acquire the 103-year-old Spokane woman's property at 1101 Western Ave. to offer a place for tourists and others to park during the years of construction of the $2.1 billion tunnel that will replace the Alaskan Way Viaduct. Yet Woldson's property already is a short-term parking lot. "It makes no fiscal sense to me to have the city condemn a parking lot to make more parking," said Gary Beck, president of Republic Parking Northwest, which operates Woldson's lot. Beck thinks the city wants the prime property so it can build a parking structure there. While a spokeswoman for the City Council denies that, documents from the Washington state and Seattle departments of transportation indicate otherwise. This is but one of the oddities of the issue, which is scheduled to be finalized Monday, when the City Council votes whether to authorize acquisition of the 134-stall lot. Puget Sound Business Journal, 10-18-13.
Could a wealthy few decide Seattle's school board races?
Seattle school board candidate Suzanne Dale Estey and her supporters are poised to raise more money than any other school board candidate in state history—even though a Washington state law passed last year put a cap on campaign contributions in school board races. That's because although campaign contributions are capped, donors can give to political action committees that support the board candidates. That has raised questions about whether a handful of rich donors could sway the school board races this year. Seattle real estate developer Matt Griffin, who supports Estey and Stephan Blanford, is one of those donors. Griffin said he believes the wealthy should donate to schools. Although he doesn't have children in Seattle schools, he said he considers the district the Achilles heel in a city of well-educated people.  Campaign finance records show that the PAC has brought in $100,405 so far. Almost all of the money raised came from just a few people, including retired Microsoft executive Chris Larson and venture capitalist Nick Hanauer. And nearly all that money has been spent to help Estey against Sue Peters (who has the sole endorsement of the King County Democrats) for the open seat vacated by Michael DeBell. KUOW, 10-18-13.
Wallace defends loss of fire union's support
Public safety has put incumbent Bellevue City Council member Kevin Wallace on the defensive after he lost his endorsement from the local firefighters union. Wallace had been endorsed by the Bellevue Firefighters Local IAFF 1604 in his first bid for City Council in 2009, but union vice president Keith Allen said Wallace and other council members allowied budget cuts to the department last year that caused the union to side with Wallace's Position 4 opponent, Steve Kasner. "Kevin has done the exact opposite of everything that he told us he would work toward doing," said Allen. "In fact, we are in far worse shape than we were when Kevin took office." "I think it's a partisan attack," Wallace said of the union endorsement going to Kasner. "They are union Democrats, and they are looking to attack anyone who is not." Bellevue Reporter, 10-18-13.
Tent city moves to Sammamish church
An Eastside homeless encampment started to move to another church Saturday morning.  About 60 people are living in the camp, and every tent had to be moved over the weekend. Tent City 4 had planned to move to Bellevue, but the site there fell through and the group was forced to look for somewhere else. "(We were) knocking on doors, going to a lot of churches, a lot of site searching…" said Willie Fowler. Fowler said they were grateful when the Mary, Queen of Peace Catholic Church in Sammamish and agreed to host the tent city on a grassy area behind their building.  On Saturday, volunteers were at both locations preparing for the move. "Today's about moving, new location, new start," Fowler said. KING, 10-19-13.
The State
Still-preliminary details emerge on proposed HOT lanes for I-5, SRs 167, 509
If state lawmakers decide to extend state Route 167, drivers might pay up to $2.75 during rush hour to drive the new six-mile highway from the Port of Tacoma to Puyallup. If they instead turn north at Fife on Interstate 5, drivers could choose to pay a toll of perhaps $4.55 to bypass 10 miles of heavy traffic, part of a stretch of 32 miles of I-5 HOT lanes from Tacoma to Seattle. The prices are in 2020 dollars. Those still-preliminary toll estimates are contained in a report issued last month by the state Department of Transportation that gives the most detailed account yet of what the proposed Puget Sound Gateway would look like. Estimated toll rates are subject to more study of traffic and revenue, and in the end the state Transportation Commission would set the rates. Tacoma News Tribune, 10-20-13.
Religion at work: state high court to weigh in
Are Washington employers obligated, under the state law, to accommodate the religious beliefs of their employees — freeing them from religious holiday shifts or allowing them to pray while on the job? It's an unanswered legal question that the state Supreme Court may now finally address. Tuesday, the Washington Supreme Court will hear arguments in a case closely watched by legal groups not so much for its merits but for the precedent it could set in finally clarifying the state's discrimination law. The lawsuit before them was brought by four employees of Gate Gourmet, an international company that prepares food for airline passengers, and which, for (what the company claims are) security reasons, prohibits its workers from bringing their own meals to work. Seattle Times, 10-19-13.
Ruling on tidal turbines delayed; sparring continues
While a decision on whether tidal power turbines may be installed in Admiralty Inlet has been delayed in part by the federal government shutdown, sparring between the proponent and opponents has continued. The Federal Energy Regulatory Commission had planned to decide whether to approve the Snohomish County Public Utility District's $20 million tidal power pilot project as early as this past summer, but now it will likely wait at least until December, according to the utility. The tidal power plan has faced stiff opposition from Pacific Crossing of Danville, Calif., which owns two transoceanic cables that run through the inlet between Whidbey Island and Port Townsend. Four Indian tribes, including the Tulalips, also say the project could affect salmon migration and fishing. Everett Herald, 10-20-13.
7th District Senate standoff pits Republican against Republican
In November, voters in Washington's sprawling 7th Legislative District will elect their next state senator: Will they choose the independent-minded, small-government, anti-tax, pro-business Republican? Or the other one? Incumbent state Sen. John Smith (R-7), who was selected in January to succeed retiring GOP veteran Sen. Bob Morton, is up against Brian Dansel, 30, a Ferry County commissioner and former professional golfer. Like Smith, Dansel is a small-town conservative whois fed up with the impasse in D.C. and politics as usual in Olympia. Unlike his opponent, Dansel hopes to convince 7th District voters the status quo is worth upending. The 7th District in Washington's deeply conservative northeastern corner covers Stevens, Ferry and Pend Oreille counties and parts of Spokane and Okanogan counties. Pacific Northwest Inlander, 10-17-13.
The Nation
GOP big-city mayors vanish
The Republican Party's image is in a ruinous condition, as polls show wide public disapproval of the GOP that has only deepened in the wake of the government shutdown, and concern over whether Republicans are too ideologically hardline to govern. For Republican politicians in America's big cities, that grim state of affairs might be called "the usual." Largely unnoticed in Washington, urban Republican politicians have emerged over the last year as perhaps the nation's most severely endangered political species, as the party has either failed to compete for high-profile mayor's offices or has been soundly rebuffed by voters. It's a significant setback that some Republicans view as an ominous sign for the GOP in a country growing steadily more urban and diverse. Politico, 10-20-13.
The Senate has the Constitutional power to expel Ted Cruz
Sometimes, instead of carrying a copy of the Constitution around in your pocket it would be smart to read it. And Ted Cruz (R-TX) would do well to read Article 1, Section 5. It reads in part: Each House shall be the Judge of the Elections, Returns and Qualifications of its own Members, and a Majority of each shall constitute a Quorum to do Business; but a smaller Number may adjourn from day to day, and may be authorized to compel the Attendance of absent Members, in such Manner, and under such Penalties as each House may provide. Each House may determine the Rules of its Proceedings, punish its Members for disorderly Behaviour, and, with the Concurrence of two thirds, expel a Member. (Emphasis is mine.) This means that Cruz could, theoretically, be expelled from the Senate by a two-thirds vote immediately and with no recourse. Alternatively the body could refuse to allow him to assume his duties at the beginning of the next session in January, 2015. My reading is that this would require only a majority vote. Of course Texas might immediately secede, but sometimes sacrifice is required. "Yellow Dog Yankee," Politics USA, 10-18-13.
Phill Kline, former Kansas Attorney General, anti-choice crusader, indefinitely suspended from practicing law
Citing "clear and convincing evidence" of professional misconduct, the Kansas Supreme Court Friday indefinitely suspended the law license of former Kansas Attorney General Phill Kline. The court found that Kline violated 11 rules governing the professional conduct of attorneys during his tenure as the state's highest law enforcement officer and while he served as Johnson County district attorney. The disciplinary action that led to Friday's order arose from Kline's investigation of abortion clinics while he was attorney general, and from his handling of a grand jury proceeding while Johnson County's district attorney. Kansas City Star, 10-18-13.
Breaking black: The right-wing plot to split a school board
On a warm Friday night in early September, a crowd gathered at the gleaming high-school football stadium in Beaumont, Texas, to see West Brook take on Central. The 10,600-seat facility filled to near capacity and the pageantry of Texas high-school football was on full display. That night, the three-year-old, $47-million stadium seemed to bring Beaumont together. But the building is also a reminder of the growing racial tensions that have threatened to tear the city apart. Alleging mismanagement and cronyism stemming from the stadium project, a group of white conservatives has used a series of audacious political and legal maneuvers to try to seize control of the board from its black majority. The attempted power grab is just one flashpoint in a bitter and racially charged feud over control of the school board. The local courts, and many white residents of Beaumont, have made it easy for the conservatives. And they have been helped by developments more than 1,000 miles away in Washington. MSNBC, 10-17-13.
CEO-to-worker pay gap is obscene; want to know how obscene?
Nothing seems to get U.S. corporations' dander up like a threat to the pay and perks of their chief executives. That's one explanation for corporate America's superheated, turbocharged, over-the-top reaction to the CEO pay ratio rule recently proposed by the Securities and Exchange Commission. The rule requires most large public companies to calculate the ratio of the pay of their chief executive officer to the median pay of all their employees. Its general terms were mandated by the Dodd-Frank Act, which imposed numerous regulatory changes on corporate and banking behavior following the 2008 financial meltdown. Congress, however, asked the SEC to figure out how to put it into practice. The SEC voted in September to open its proposed version to comments from supporters and opponents for 60 days. Whatever it finally approves won't go into effect until 2015. Wall Street, big banks and corporate lobbying groups have mustered their troops to fight the most important Dodd-Frank provisions. But the opposition to the CEO rule has a different flavor entirely. It's not unusual for the business community to claim that a new regulation will spell the end of industry. In this case, they're arguing that it will threaten the SEC too. Michael Hiltzik, Los Angeles Times, 10-20-13.
To Think About
Shutdown would never have come up under Foley's leadership
It's probably just a coincidence that Tom Foley passed away slightly more than a day after the Congress he loved and served so well managed to end the partial government shutdown and spare the nation the ignominy of default. He'd been sick for months and on hospice care, and his remaining time was being measured in days not months, his wife, Heather, said the previous week. Still, the not-so-practical part of my brain likes to think the former speaker held on just long enough to make sure the House passed a bipartisan bill to do what most folks thought they needed to do all along. Members of both parties who served with Foley, and the Republican who replaced him in the House, agreed late last week this is not a crisis the former speaker would have allowed to be manufactured under his watch. Foley had many opponents but no enemies over his 30-year career, said Republican Slade Gorton, who served two of his terms in the Senate with Foley in House leadership. He wouldn't have been as adamant as John Boehner, and George H.W. Bush wouldn't have been as adamant as Barack Obama. "They would've met together and settled it," Gorton said. Jim Camden, Spokesman-Review, 10-20-13.