King County
Negotiations continue, but widespread grocery strike still a possibility
Negotiations between four major Western Washington grocery chains and the unions that represent some 20,000 of their employees continued late last week and over the weekend. But according to UFCW 21 Communications Director Tom Geiger, significant disagreements over pay, pensions, and health care still exist between the company negotiating on behalf of Fred Meyer, QFC, Safeway, and Albertsons—Allied Employers—and the three unions representing area grocery workers. With grocery workers in Snohomish, King, Kitsap, and Pierce counties already having voted to authorize a strike back in late September, Geiger says workers in Thurston and Mason counties could soon be adding their weight to that list. Geiger says strike authorization votes in these counties are scheduled for Tuesday, potentially adding 1,000 UFCW 367 members to the list of grocery workers prepared to hit the picket lines if an adequate contract isn't agreed upon. Seattle Weekly, 10-14-13.
Big boost in minimum wage: Would Prop. 1 pay off?
SeaTac voters will consider lifting the minimum wage to $15 an hour for many workers in the airport area. Long Beach CA voters took similar action. Results there suggest a "living wage" ordinance in SeaTac would be neither as good as supporters hope, nor as bad as critics warn. Recent data suggest Long Beach hotels are doing about as well as their Los Angeles County rivals, with strong demand and only modest price increases. The minimum-wage increase also does not appear to have hurt jobs in Long Beach. The city's unemployment rate declined to 11.2 percent in August from 12.4 percent a year ago — in line with a countywide drop to 10.2 percent from 11.3 percent. "Long Beach really demonstrated the popularity of raising the minimum wage," said Unite Here Local 11 spokeswoman Leigh Shelton, citing Measure N's 64 percent majority. "Other cities are taking note." Seattle Times, 10-13-13.
Kent mayoral candidates Clark, Cooke discuss coal trains
Kent Mayor Suzette Cooke and challenger Tim Clark didn't give voters much hope as far as the city's chances to stop 18 additional coal trains from running through town in the future if a new shipping terminal is eventually built near Bellingham. Cooke and Clark were asked at a Panther Lake neighborhood sponsored candidates forum Thursday at Sunrise Elementary School what the city could do about coal trains coming through town. Cooke said she opposes the additional trains because they would snarl downtown traffic, including emergency vehicles responding to calls. Clark also said the city lacks much power beyond being part of the state Department of Ecology's study for its Environment Impact Statement (EIS) expected to be issued in 2014 or later. Clark, in his fourth and final year on the Kent School Board, served 16 years on the City Council before leaving to run for the school board four years ago. Now he wants prove he would be a better leader than Cooke as he works in cooperation with the seven-member council. Kent Reporter, 10-14-13.
Port of Seattle stops welcome messages following complaint
The Port of Seattle says it will stop airing welcome messages at Sea-Tac Airport until after the November election following a complaint that they violate election laws. Passengers heading from the parking garage to the terminal hear one of Seattle's Port commissioners welcoming them to the airport, with a few facts about job creation and the Port's 25-year plan. But now Andrew Pilloud, who lost a campaign for Port Commissioner in the August primary, has filed four complaints with the state Public Disclosure Commission, saying the messages are basically free campaign ads for four commissioners who are running for re-election this year. Seattle Times, 10-14-13.
The State
Inslee wants to explore state-only 'cap and trade' scheme
Democratic Gov. Jay Inslee Monday laid out how he'd like the state to combat global warming pollution, including eliminating any electricity generated by coal and putting a statewide cap on greenhouse gas emissions. Legislative Republicans immediately raised concerns. Back in 2008, the Washington Legislature set ambitious goals for reducing the state's carbon footprint. But they're just goals without enforcement mechanisms. Subsequently, a pact between 11 western states and provinces to put a price on greenhouse gas emissions fell apart. Now Inslee chairs a bipartisan legislative work group tasked with recommending policies to achieve the state's climate goals. He says on its current course, the state will fall far short. Republican legislators flanking the governor at a workgroup meeting weren't shy about raising the fear that this could drive businesses to leave Washington for less regulated neighboring states. KPLU, 10-14-13.
State treasurer says debt refi saves $31.4M; warns that debt default impact would be swift, brutal
Washington state Treasurer Jim McIntire reported the refinancing of $228.1 million in state debt obligations last week, which his office says will result in $8.3 million in savings over two years and $31.4 million longer term. But the Democrat and economist said in an interview late last week that he won't have to take the state back to the financial markets this year. McIntire also said he expects the U.S. to avoid a debt default, but also said he thinks the impact will be immediate if Congress fails to strike a deal to fund the government and raise the debt limit at or near the deadline of Oct. 17. He said a default on U.S. debts could come quickly and would jack up lending rates for U.S. debt.  Olympian, 10-14-13.
Rivals would bring different skills to Snohomish County Council
Just about everyone involved in local politics in Arlington seems to know the two men running for Snohomish County Council's northern district, either through city government, family ties or personal acquaintance. And just about everyone seems to have good things to say about the rivals: Ken Klein, an Arlington city councilman, and Bill Blake, a city utilities supervisor. That's one of many factors making the Nov. 5 election an excruciating choice for some. Blake and Klein are competing for the District 1 council seat. Republican John Koster of Arlington has held the job for three consecutive terms, and cannot run again this year. Three of the five county council seats are up for election this year, with incumbent Dave Gossett also term-limited in south county's District 4. Everett Herald, 10-14-13.
Vancouver mayoral candidates Leavitt and Turlay differ on most issues, most notably the CRC
In the past four years, the city of Vancouver has cut operational costs, improved its credit rating, landed major employers such as PeaceHealth, Integra and Farwest Steel Corp., and started a $40 million waterfront access project to transform the city's west end. But no matter how many first-term accomplishments Vancouver Mayor Tim Leavitt cites, to some people he will forever be defined by his flip-flop on bridge tolls. Those people include his challenger, City Council member Bill Turlay, who called the Columbia River Crossing the defining issue of the mayoral race. "This is going to be a referendum (on the CRC)," Turlay said of the Nov. 5 election. Leavitt has picked up a range of endorsements in the nonpartisan race, while Turlay has one, from the Clark County Republican Party (and Tea Party supporters). Vancouver Columbian, 10-13-13.
Lake Roosevelt: The dam-made lake holding a century of pollution
Imagine bringing your kids to the lake and wondering if they'd be better off at home, watching TV. Or washing your garden-grown vegetables and wondering if it would be healthier to eat canned ones. Or digging for clams and mussels and wondering if they're laden with lead and zinc, mercury, and arsenic. These are the worries of some who live along the upper Columbia River, especially Lake Roosevelt, a 150-mile-long stretch of the Columbia, and the repository for much of the 10 million tons of slag that a Canadian smelter just north of the border dumped into the river for decades. Wenatchee World, 10-12-13.
The Nation
Government shutdown: Senate leaders reported close to deal
Senate leaders said late Monday that they were closing in on a deal to raise the federal debt limit and end the two-week-old government shutdown, just days before the Treasury Department exhausts its ability to borrow. The emerging agreement would extend the Treasury Department's borrowing authority until Feb. 7, reopen the government, and fund federal agencies through mid-January, according to aides and lawmakers familiar with the negotiations. The framework under consideration includes only minor changes to President Obama's signature health-care law, falling well short of defunding it or delaying major provisions as conservative Republicans initially sought. Washington Post, 10-14-13.
Government shutdown: In the House, pressure grows on Boehner
Speaker John Boehner (R-OH), who has wrestled with an unruly pack of conservatives for months, will soon be faced with an uncomfortable choice: Pass an emerging bipartisan Senate deal to lift the debt ceiling and fund the government, or don't — and risk massive political and economic consequences. As the contours of a bipartisan Senate deal became clear, Boehner's leadership team, allies, and rank-and-file lawmakers spent Monday saying that Senate Majority Leader Harry Reid and Minority Leader Mitch McConnell are gearing up to send the House a crummy deal. The buzz in the Republican cloakroom and on the floor was that the House was being asked to vote for a clean debt limit and continuing resolution — in short, the concessions won by McConnell were not victories at all. One House Republican said they would be lucky to find 20 GOP lawmakers willing to vote for this proposal. Politico, 10-14-13.
Conservative chameleon Bob Barr seeks return to the big time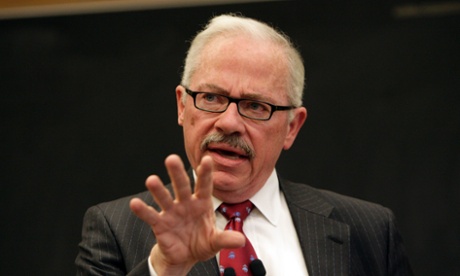 During the Clinton years, Former Rep. Bob Barr (R-GA) was a conservative rock star. He pushed to get Clinton impeached long before it was popular, introduced the Defense of Marriage Act, and became a board member of the NRA, a position he still holds. But he left the GOP in 2007 to cast in with the libertarians, running for president five years ago – an act that many of his old colleagues have not forgotten. Yet Barr hopes his firebrand streak could help him to return to a Congress where approval ratings are at historic lows. Georgia Republicans, mindful of Barr's past, fear his re-emergence could create problems for the Peach State. "We already have enough kooks in Georgia," notes Joel McElhannon, a major Republican strategist. The Guardian, 10-14-13.
Privacy fears grow as cities increase surveillance
Federal grants of $7 million awarded to Oakland were meant largely to help thwart terror attacks at its bustling port. But instead, the money is going to a police initiative that will collect and analyze reams of surveillance data from around town — from gunshot-detection sensors in the barrios of East Oakland to license plate readers mounted on police cars patrolling the city's upscale hills. The new system, scheduled to begin next summer, is the latest example of how cities are compiling and processing large amounts of information, known as big data, for routine law enforcement. And the system demonstrates how technology has enabled the tracking of people in many aspects of life. The police can monitor a fire hose of social media posts to look for evidence of criminal activities; transportation agencies can track commuters' toll payments when drivers use an electronic pass; and the National Security Agency, as news reports this summer revealed, scooped up telephone records of millions of cellphone customers in the United States. Like the Oakland effort, other pushes to use new surveillance tools in law enforcement are supported with federal dollars. New York Times, 10-13-13.
To Think About
The inevitable Republican collapse that will end the shutdown
Even in an age of hyper-polarization and geographic segregation, some tactics go too far, alienating even voters who are ideologically or politically sympathetic to the GOP. And, unfortunately for Republicans, one of those tactics was extortion. Going into the shutdown, more people opposed Obamacare than supported it. But the idea of shutting down the government or threatening a debt default to undo Obamacare was massively unpopular. Most polls showed roughly three times as many voters against the idea as in favor of it. Worse, precisely because the House GOP was so insulated from public opinion—because the average GOP congressman is much more concerned about a Tea Party challenger than a general-election opponent—conservative Republicans couldn't see that this tactic was completely counterproductive. Which is to say, the very forces that made Republicans better able to withstand a public backlash drove them to pursue the one tactic guaranteed to produce a backlash so intense even they couldn't withstand it. Noam Scheiber, New Republic, 10-13-13.