King County
Suburban poverty reflects new demographics in King County
South King County serves as a poster child for the nationwide trend in suburban poverty. Unlike the "white flight" of the 1960s when white urban residents flocked to the suburbs, a reverse shift has occurred during the past decade. In 2012, more poor people now live in the suburbs than in cities. That total is more than 16.4 million people nationwide — a 64 percent increase since 2000, according to the Brookings Institution, a prominent independent think tank based in Washington, D.C. South King County's growing communities are among the subjects of a new book titled "Confronting Suburban Poverty in America" by Elizabeth Kneebone and Alan Berube. Berube, a senior fellow and deputy director at the Brookings Institution, shared his insights on local suburban poverty June 25 at the South King Council of Human Services (SKCHS) luncheon at Emerald Downs in Auburn. Federal Way Mirror, 6-26-13.
Business and green backing for Ed Murray
State Sen. Ed Murray has copped a pair of sought-after endorsements in his race for Seattle mayor, receiving on the same day backing from Washington Conservation Voters and the Seattle Metro Chamber of Commerce. Once more, as in previous elections, the Emerald City's green community is following different candidates on the campaign trail. The Sierra Club and Cascade Bicycle Club are backing incumbent Mayor Mike McGinn. The WCV supported then-Mayor Greg Nickels in 2009, while the Sierra Club went with McGinn (a former chapter president). The WCV endorsement was vigorously contested by several candidates: King County Conservation Voters' executive board made the recommendation for Murray. WCV executive director Brendon Cechovic cited Murray's work as a legislator in Olympia for nearly two decades. Murray is a past winner of the WCV's "Legislator of the Year" award. Seattle P-I, 6-26-13.
Nickelsville residents balk at encampment proposal
Now that Seattle is moving to shut down Nickelsville, some City Council members are proposing a new approach to open more areas of the city to legal tent encampments. But at a public hearing Tuesday night, some residents of Nickelsville testified that the proposal was too restrictive, in part because it wouldn't allow tent encampments in residential neighborhoods. Nickelsville residents told the committee the West Seattle encampment has provided safety and community for people turned away from overcrowded shelters and allowed families to stay together. And eliminating residential areas as prospective camp locations, they said, perpetuates stereotypes that the homeless are dangerous and not good neighbors. Seattle Times, 6-25-13.
A potty for all people
Everyone poops, but Seattle has few facilities to meet the need and no major plans to change that. Private businesses, public libraries, and chambers of commerce are left to pick up the slack — sometimes literally. Metropolitan Improvement District crews cleaned human and animal waste from Seattle streets more than 9,000 times in 2012. Seattle has been struggling with the issue for more than a hundred years. At the turn of the last century, the city built extravagant public toilets but later closed them. In 2004, Seattle tried again, purchasing five self-cleaning public bathrooms that brought infamy to the city for how they were misused. Now, Seattle is bracing for a do-over. In September, Urban Visions will install a new toilet called a Portland Loo, a small, metal outdoor toilet that will sit next to the Sinking Ship parking lot on Yesler Way. Real Change, 6-26-13.
Seattle City Council to weigh code changes to micro-housing
Buildings full of so-called micro-dwellings have been going up in parts of Seattle, but not without controversy. Now the Seattle City Council is getting ready to consider changes to the code to provide more oversight. Developers have been building so-called micro-housing—buildings with up to 64 single bedrooms, each with a private bathroom, but sharing eight common kitchens. They've managed to build these without design review because Seattle counts the number of kitchens—not bedrooms—for the threshold that needs a design review. Neighborhood groups have complained, and now the city council is taking a closer look. The Seattle Planning Commission, which advises the city council and the mayor on development issues, is recommending changes on micro-housing, including requiring design review. The city council's Planning, Land Use and Sustainability committee will discuss the recommendations at a meeting Friday. KPLU, 6-26-13.
Sun goes down in Pacific; vote is running 2-1 for recall
Early returns in Tuesday's special election to recall Pacific Mayor Cy Sun show residents in the embattled town of 6,600 are ready for a change in leadership. Initial counts – as of 3 p.m. Wednesday – have voters leaning more than 2-1 towards recalling Sun for what recall backers claim was "misfeasance in office, malfeasance in office and/or violating his oath of office."With 1,442 of the 2,948 ballots that were sent out to registered voters in Pacific counted, 947 (65.3 percent) favor recall and 500 (34.7 percent) prefer to let Sun continue his term. A simple majority is all it takes to remove Sun from office. Voters were asked to decide whether Sun should be recalled for jeopardizing the city's liability insurance by refusing to fill vital vacant department head positions and trying to use the Pacific Police Department as his personal police force. Auburn Reporter, 6-26-13.
The State
Deal or no deal? Conflicting claims fly, state budget bickering persists
In a sign of just how dysfunctional the state Legislature has become, lawmakers Wednesday argued about whether they had completed a budget deal — or not. The bizarre episode started shortly after noon when Sen. Joe Fain (R-47) tweeted from inside the Republican-led caucus in the Senate that "we have reached the framework for a budget deal." Next came an e-mail to reporters that the Senate majority had reached agreement with House Democrats. That was met with a barrage of denials from House Democrats and Democratic Gov. Jay Inslee's office. Both sides later said the big stuff is out of the way and lawmakers are in the weeds hashing out smaller details. But some of those weeds have apparently turned into Scotch broom. They just won't go away. Seattle Times, 6-26-13.
Boeing's opposition to fish study a sticking point in budget
A dispute on how much seafood Washington residents devour entangled lawmakers Tuesday as they worked to reach agreement on a budget and avert a partial shutdown of state government next week. The House and Senate collided on whether a study is needed before any work is done to revise state rules that tie the amount of fish each resident eats with the levels of contaminants allowed in water discharged from industrial facilities. Boeing Co. opposes efforts to increase the fish consumption figure because it would lead to stricter water quality standards. Compliance could require the company to spend millions of dollars in renovations at the facilities. Everett Herald, 6-25-13.
State Senate approves scaled-back overhaul of DUI laws
The state Senate unanimously approved a set of changes to drunken driving laws Wednesday afternoon, but not before amendments stripped out two of the original proposal's toughest provisions. The provisions, which would have increased mandatory minimum jail sentences and made DUI a felony on the 4th time, instead of the 5th, were removed after negotiators decided they were too expensive, officials said. Sponsor Mike Padden (R-4) said SB 5912 nonetheless would improve public safety. The bill, the subject of long negotiations between lawmakers and Gov. Jay Inslee, would require that those with a previous DUI conviction who are arrested again on suspicion of DUI be arrested and charged within 48 hours. Seattle Times, 6-26-13.
Op-ed: Respectful workplaces are for senators, not their staffers
Meet state Sen. Don Benton: born-again champion of the respectful workplace. Benton (R-17) provided a much-needed distraction from the dysfunction of the Legislature last week by releasing documents exposing the dysfunction of the Senate's majority caucus. In a series of letters to the top Senate administrator, Benton alleged that he was the victim of two profanity-laced attacks by fellow Republican Sen. Ann Rivers (R-18). And there the ironies begin, because Benton is hardly a shrinking violet. Nor has he always been as concerned for Senate employees complaining of hostile workplaces. He voted to lift all Senate sanctions against another senator, Pam Roach (R-31). Roach had been found to have violated the Senate's respectful workplace policies for an angry attack on a senate staff member in the Republican caucus room in 2009. Peter Callaghan, Tacoma News Tribune, 6-25-13.
The Nation
Finishing the job: DOMA repeal bill reintroduced
Now that the U.S Supreme Court has struck down one part of the Defense of Marriage Act, members of Congress have reintroduced legislation to finish the job. Rep. Jerrold Nadler (D-NY) introduced the Respect for Marriage Act in the House today, and Dianne Feinstein (D-CA) introduced it in the Senate. The measure does have some Republican support. The 160 House co-sponsors include Ileana Ros-Lehtinen (R-FL) and Richard Hanna (R-NY). The 41 Senate cosponsors are all Democrats or independents. The Supreme Court, in its Windsor v. U.S. decision, struck down section 3 of DOMA, which prevented the federal government from recognizing same-sex marriages. The Respect for Marriage Act would repeal the entire law. The Advocate, 6-26-13.
Court follows the culture on marriage equality
The duty of the U.S. Supreme Court is to read the law, but its decision overturning the federal Defense of Marriage Act demonstrates how high court justices have two other areas of close study. The Supreme Court follows election returns, and the nation's social trends. "They live in this country: They swim in the oceans of culture," Pam Karlan, co-director of Stanford University's Supreme Court litigation workshop, and herself a former clerk at the court, told a workshop in California last weekend. The Supreme Court has responded to culture trends before. By 2003, with Judge Kennedy writing for the 6-3 majority, it decided in Lawrence v. Texas that sex acts between consenting adults are not the state's business. When it came time for Lawrence v. Texas to be argued, the gay presence among court employees could not be ignored. The court's gay former clerks showed up and sat as a block, Prof. Karlan related,last weekend. The clerks got surprised facial expressions from the bench. Seattle P-I, 6-26-13.
Op-ed: Voting Rights Act decision demonstrates need for national vote by mail
Tuesday's 5-4 US Supreme Court decision tossing out key provisions of the Voting Rights Act is sparking off a mad rush by Republican lawmakers to impose ever stricter Voter ID requirements. The goal, of course, is to make it as hard as possible for the elderly, the poor, and minorities to vote. You know, Democrats. Which means now more than ever is the time to impose national vote-by-mail. Whatever you think about Washington and Oregon's vote-by-mail systems, they have been proven effective shields against Republican efforts at voter suppression. While millions of Americans were forced to wait for hours to exercise their right to vote, and/or jump through unnecessary bureaucratic hoops in an effort to claim that right, Washington and Oregon voters calmly filled out their ballots in the comfort of their own homes. David Goldstein, The Stranger, 6-25-13.
House, Senate subcommittees disagree on Hanford budgets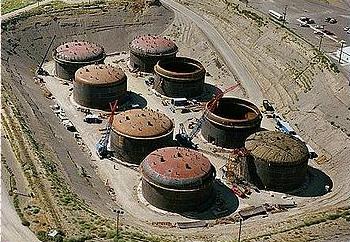 A House subcommittee has approved a Hanford budget for next year that would keep spending at the same level as this year, when sequestration caused layoffs and furloughs. However, the Senate Energy and Water Appropriations Subcommittee has approved spending about $82 million more than the House Energy and Water Development Appropriations Subcommittee. While getting a final budget of that amount is unlikely given the federal budget climate, the higher amount proposed in the Senate could increase funding prospects if the House and Senate approve Hanford budgets and they are reconciled in a conference committee. The money is needed to address newly discovered leaks of radioactive waste from underground tanks and degraded ventilation and level monitoring systems in the tanks, according to the report accompanying the bill.  Tri-City Herald, 6-25-13.
Rick Perry calls second special session
Hours after Democrats won a rare victory by succcessfully filibustering a restrictive abortion bill, Republican Gov. Rick Perry called a second special session to take up the issue again. Perry also put transportation funding and a juvenile justice measure on the agenda for the session, which is set to begin July 1. The governor had been almost universally urged by conservative grassroots activists and Republican lawmakers to call a new session after Democrats, with the help of boisterous activists in the Senate gallery, killed abortion restrictions in the final seconds of the first special session, which ended in chaos Tuesday night. Texas Tribune, 6-26-13.
To Think About
Hispanics and affirmative action in state universities after Fisher
The same day the United States Supreme Court issued its opinion in Fisher v. University of Texas, the trial of George Zimmerman for the shooting of Trayvon Martin began in Florida.  Since the shooting, pundits have debated whether Zimmerman, who has a white father and Peruvian mother, should be described as "Hispanic," "white," or "white Hispanic." Regardless, given his maternal heritage, Zimmerman would clearly qualify for affirmative action preferences at elite colleges. The debate over how to categorize Zimmerman exemplifies ambiguities in Hispanic identity, and therefore leads to some interesting questions regarding the future of affirmative action. Hispanics can be the direct descendants of Spanish conquistadors, their indigenous victims, African slaves, immigrants from anywhere in the world, or any combination of these.  Hispanics' ancestors have come to the U.S. from any one of twenty-one very diverse Spanish-speaking countries, plus possibly Portugal, Brazil, and other countries, depending on exactly how the category is defined.  So what exactly justifies singling out Hispanics for preferences, but not members of other groups? David Bernstein, SCOTUSblog, 6-25-13.