King County
Big haul for Ed Murray in mayor's race
State Sen. Ed Murray (D-43) tore up the track in fund raising for the Seattle mayor's race after being forced to cool his heels on the sidelines for nearly four months, taking in $103,693 between the end of the regular session of the Washington Legislature and Monday morning's beginning of a special session. Under state law, legislators can't raise campaign cash while they are sitting in session. Five other candidates for mayor, including incumbent Mike McGinn, have been steadily putting together their war chests while Murray has been in Olympia fighting a coalition of 23 Republicans and two conservative Democrats who seized control of the state Senate. Seattle P-I, 5-13-13.
Constantine: State should allow King County a local option to fund transportation
As the Legislature heads back into special session this week, King County's most urgent priority remains securing the authority to save Metro bus service and to maintain city and county roads and bridges. So far, state lawmakers have not acted on what seems a simple proposition: that the people of King County should be able to decide for themselves whether to protect the bus service they have, or lose much of it due to inadequate funding. The state should give King County and its cities increased authority to impose license fees and give the county the ability to seek voter approval for a local motor vehicle excise tax. Seattle Times, 5-13-13.
The State
King may not stand in way of 2013 transportation taxes, even if he won't vote for them
The ranking Republican on the Senate Transportation Committee, Sen. Curtis King (R-14) says he won't vote for new taxes, but won't stand in the way of a deal—if one can be made. House Transportation Committee Chairwoman Judy Clibborn (D-41) told a group of advocates from business, labor, and other groups that 2013 is the year to pass a transportation tax package. "We have agreement on that in the Senate," she told them. it seems King has agreed not to stand in the way – if "certain conditions are met," he says. One condition is Republicans' opposition to the proposed Columbia River Crossing replacement project. Tacoma News Tribune, 5-13-13.
After outcry, GOP Clark commissioners cave on attempts to delay public comments
After facing more heat Tuesday morning, Clark County commissioners relented on their notion to move public testimony to the end of their meetings. But first the commissioners heard some three hours' worth of that testimony, most of it critical, again at their regular weekly meeting. The two Republican commissioners, Tom Mielke and David Madore, have taken a verbal lashing over the past two weeks as incensed members of the public harangue them for their recent appointment of state Sen. Don Benton (R-17) to a $109,656-per-year position of director of the county's environmental services department. The appointment bypassed typical county hiring protocol, and when the topic was broached at a May 1 meeting of commissioners, Democratic Commissioner Steve Stuart left the room in a huff after calling the action "cronyism." Vancouver Columbian, 5-14-13.
Could Washington become a right-to-work state to win Boeing's 777X? One (misguided) GOP Senator hopes so
Will Washington become a right-to-work state in order to secure design and manufacturing of Boeing's 777X here? The answer: Not likely. But one state senator has proposed SB 5935, which would weaken labor unions here should the state workers' compensation insurance rates continue to increase. The move would help position Washington to win work on Boeing's updated 777, said Sen. Michael Baumgartner (R-6), in a statement Tuesday. State lawmakers aren't taking for granted that Boeing will remain in Washington for the newest 777. Last week, Democratic Gov. Jay Inslee unveiled his own strategy for the 777X. Inslee's plan didn't include making Washington the 25th right-to-work state in the country. Everett Herald, 5-14-13.
Sarah Palin to speak at Republic HS graduation
Tyler Weyer and his fellow seniors at Republic High School, in Ferry County, began considering possible commencement speakers last fall. Confronting them was the reality that the most likely speaker would be a popular teacher or a standout community member. Not that there's anything wrong with that. But Weyer had a crazy thought. "I said, 'Hey, let's just get Sarah Palin,' " said Weyer, 17, the senior class president. It was kind of a joke, at least at first. But soon Weyer had taken the lead on an aggressive social media campaign that … just got Sarah Palin. The former Republican vice presidential candidate and Alaska governor will be addressing Weyer and his 26 fellow graduates June 1. Spokesman-Review, 5-14-13.
The Nation
Report cites management flaws at IRS in Tea Party scrutiny
An inspector general's report issued Tuesday blamed ineffective Internal Revenue Service management in the failure to stop employees from singling out conservative groups for added scrutiny. Congressional aides, meanwhile, sought to determine whether the Obama administration's knowledge of the effort extended beyond the IRS. House and Senate aides said they were focusing on an Aug. 4, 2011, meeting in which the IRS's chief counsel appears to have conferred with agency officials to discuss the activities of a team in the Cincinnati field office that had been subjecting applications for tax-exempt status from Tea Party and other conservative groups to a greater degree of review than those from other organizations. New York Times, 5-14-13.
Justice Department, IRS scandals challenge Obama's civil liberties credibility
President Obama, a former constitutional law lecturer who came to office pledging renewed respect for civil liberties, is today running an administration at odds with his résumé and preelection promises. The Justice Department's collection of journalists' phone records and the Internal Revenue Service's targeting of conservative groups have challenged Obama's credibility as a champion of civil liberties—and as a president who would heal the country from damage done by his predecessor. For any president, the most cutting political problems emerge when the administration shows signs of faltering in areas where it is supposed to excel. Obama asked to be measured by competence and his commitment to what he called foundational American values—two areas where rights advocates say he has not met the standards he set. Washington Post, 5-14-13.
'A beautiful victory': Supporters celebrate as Minnesota legalizes gay marriage
Generations of families—gay and straight—endured the heat and erupted in cheers as Minnesota became the 12th state in the nation to legalize marriage equality. Before signing the bill, Gov. Dayton (D) thanked the legislators and activists who worked to change public opinion on same-sex marriage. They went from fighting a ballot amendment that would have banned gay marriage in the Minnesota Constitution to defeating it last fall and now making marriage for all couples legal. "What a day for Minnesota," Dayton said. "And what a difference a year and an election can make." St. Paul Pioneer Press, 5-14-13.
Budget surpluses spur tension in some GOP states
Turns out that cutting was the easy part. Now Republicans who control a majority of the state capitols in the United States face a far greater philosophical dilemma—what to do with all the money when an improving economy suddenly creates a surplus in revenues. Save it? Refund it though tax cuts? Or spend it? Though they won majorities in more than half the statehouses on principled platforms of making government smaller, some Republicans now are feeling tremendous pressure to spend newfound money on roads, buildings and schools that had been neglected or cut during the recession-induced downturn of recent years. That has created new tensions in places such as Michigan, Missouri and Texas, where GOP majorities are wrestling with the morality of spending money. Associated Press, 5-13-13.
To Think About
Op-ed: Fast food and the future of the working class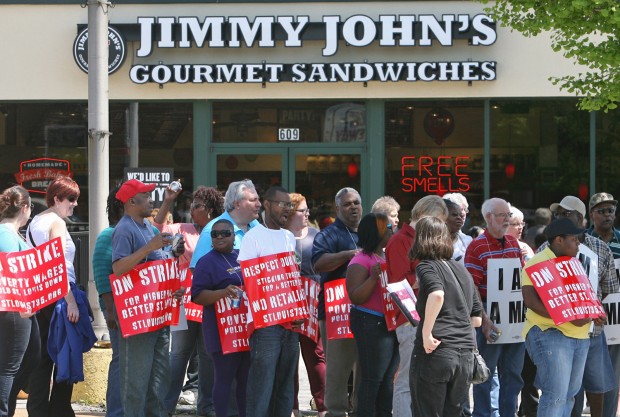 At first glance, last week's wildcat strikes at some 30 St. Louis-area fast-food restaurants might seem like an exercise in futility. All the leverage is on management's side. In the current job market, fast-food workers are fungible, cannon fodder in the class war. Managers are used to staff churn: The annual industrywide turnover rate has reached 145 percent. Managers expect to hire and fire dozens of workers each year. There's never any shortage of applicants. The training cost is high—about $1,700 per worker—but not high enough that it pays to bump up salaries and benefits. But the strike here, like similar efforts in New York, Chicago and Detroit, should be seen not as an effort to bring an industry to the bargaining table immediately. It's an effort to start a fire. St. Louis Post-Dispatch, 5-11-13.