King County
McGinn backers lob race-tinged allegations at Murray
A group of two-dozen Seattle civil rights and minority community leaders appeared Monday at a Central Area senior center to plug Seattle Mayor Mike McGinn's reelection campaign. The pastors, activists, and politicians praised McGinn for directing more money to minority contractors, preserving human services programs during hard times and generally being responsive to their concerns. But the press conference also turned to an attack on McGinn's challenger, state Sen. Ed Murray. Essentially, some McGinn backers played the race card. Reaching back 15 years, former Seattle state Rep. Velma Veloria claimed Murray had privately criticized a bill sponsored by the late Rep. Kip Tokuda that would have tried to preserve affirmative action programs in Washington state from Initiative 200. Legislative records show Murray signed on as a sponsor of Tokuda's bill, which would have preserved affirmative action programs but barred quotas and the hiring of unqualified persons. But Veloria claimed he dissed the measure in a closed-door Democratic caucus meeting. (This and much more). Seattle Times, 9-30-13.
Port commissioners rip proposed SODO arena a new one
In a letter today to Mayor Mike McGinn, the Seattle Port Commission makes it very clear how they feel about the proposed SODO Arena. "Frankly, the analysis before us describes numerous benefits of the arena, but fails to acknowledge obvious costs to the public," the letter reads before calling for complete redo of the review process for the stadium. The letter comes after last week's Commission meeting to review the Draft Environmental Impact Statement (DEIS) for the arena, which was ripped to shreds for its numerous egregious errors and lack of clarity on what the project's "private" status actually means. The Commission also calls out the threat to middle-class jobs the stadium would have on SODO, linked to increased traffic through busy areas critical to the Port and surrounding business. Seattle Weekly, 9-30-13.
Charge: Contractor on city-backed housing project extorted money from workers; threatened to call 'La Migra' on them
A contractor hired to work on a city of Seattle-supported housing project is now accused of extorting money from workers by threatening to report them to immigration authorities. King County prosecutors contend Alejandro Victoria-Martinez shook down workers on the Aurora Avenue North project for $150 a week. When one worker complained, Victoria, 39, of Everett, is alleged to have threatened to contact "La Migra" and have the man deported. Charged with three counts of extortion, Victoria is also suspected of conspiring with an associate to bilk the general contractor on the project, an apartment building being constructed for Catholic Community Services and paid for in part with grants from the city. Victoria has not been charged in the purported fraud. Seattle P-I, 9-29-13.
Kirkland neighborhood petitions to leave city
A group of 16 homeowners will present a petition to the Kirkland City Council this week asking it to redraw its historic boundary with Yarrow Point, and let them change where they live.  The unusual request has perplexed some elected officials in both towns, and could take up to a year to become reality. The neighborhood is located next to Yarrow Bay Wetlands along 96th Ave NE, which separates them from the rest of Kirkland.  Construction on SR 520 has also created a man-made divide. "We're really talking about completing a separation that the government made already," said petition leader Chris Hanak, "We feel more associated with Yarrow Point." KING, 9-29-13.
The State
Dwight Pelz to retire as state Democratic Party chair
Dwight Pelz, the hard-nosed, nose-bloodying chair of the Washington State Democratic Party, is resigning his post as of Feb. 1, 2014. "The mission of the Washington State Democrats is to elect Democrats: I am proud to say we have never lost a major race in my four election cycles — 2006, 2008, 2010 and 2012," Pelz said in a letter. The Democrats will choose a new state chair at the party's next central committee meeting, in February. Pelz has chaired the party during three tight, closely contested election races — Gov. Chris Gregoire's 2008 reelection, the fourth-term win of U.S. Sen. Patty Murray in 2010, and election of Gov. Jay Inslee in 2012 — in Pelz's words, "an election many thought we would lose." Pelz, 62, represented the 37th District in the State Senate and served on the King County Council. Seattle P-I, 9-30-13.
Government shutdown won't hurt WA health exchange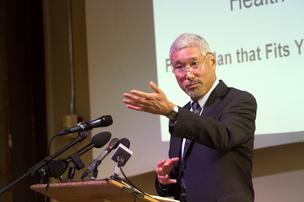 If the federal government grinds to a halt, it won't stop the flow of money for Washington state's new health exchange. "We don't expect any interruptions in services from the federal hub," said exchange CEO Richard Onizuka. Although the Republicans' goal with the stalemate would be to defund the ACA, it wouldn't have the desired effect because federal exchange funds are already appropriated and will continue flowing, according to the Centers for Medicare & Medicaid Services (CMS) and exchange leadership. "We draw down as we need it and it should still be available," Onizuka said. "We've been told (by CMS) it's appropriated dollars." Puget Sound Business Journal, 9-30-13.
Tesoro, Savage explain oil-by-rail plans
Representatives of the two companies that want to build a controversial oil terminal at the Port of Vancouver said Monday night they will operate the facility safely and that they approach doing business in a community as neighbors, bringing charitable and other community-support programs in tow. "We don't look at moving into a community as something that's just a way to make money," Kirk Aubry, president and chief operating officer for Savage Companies, told an estimated 100 people who were inside the cafeteria of Hudson's Bay High School to listen to him and other company executives explain their project. More than 20 protesters gathered outside. Opposition to the Tesoro-Savage plan was evident Monday night. Reacting to the companies' presentation, Eileen Cowen, co-chair of the Hough Neighborhood Association in Vancouver, said it was "pretty slick," with very little worthwhile information. Monday night's meeting did not offer time for formal public testimony. Vancouver Columbian, 9-30-13.
State helps employers save on worker's comp by promoting safety
When Gary Hudson became CEO of Enterprise for Progress in the Community, known as EPIC, in early 2012, he noticed that employees of the early childhood education nonprofit were reporting an unusual number of joint and lower back injuries. And that was driving up worker's compensation premiums. "Our employees are continually lifting children, and it leads to a lot of lower back injuries," Hudson said. "When we started putting safety out front and center, it made a huge difference." EPIC began to offer training in proper lifting techniques. Because some shoulder injuries had been reported from reaching for objects high up on shelves, the center made step ladders available. Worker's comp premiums are a mandatory expense for employers, whether they're self-insured or enrolled with the state Department of Labor and Industries. Injuries may sometimes be inevitable, but as EPIC learned, employers can take relatively simple steps to reduce them. Yakima Herald-Republic, 9-30-13.
Longtime foes unite over water plan for Eastern Washington
The Wymer Dam and Reservoir is part of a roughly $4.2 billion proposal to provide more water for fish and farmers in the drought-prone Yakima Valley over the next 30 years. The effort, if it pans out, would be the biggest thing to hit the region since the Grand Coulee Dam was completed in 1942. Groups that once fought themselves to a standstill — including farmers, big-name environmental groups, and the Yakama Indian Nation — have joined together to persuade Congress and the state Legislature to help fund the projects. The all-for-one strategy has brought unity by providing something for everybody. Yet, even though there's unprecedented cooperation to see the proposal through, critics remain. Seattle Times, 9-28-13.
The Nation
Government shutdown: Lawmakers miss funding deadline
Congress missed a midnight deadline to avert a shutdown of the federal government, as the Republican-led House and the Democratic-led Senate battled through the night on legislation to keep the lights on. National parks and museums were set to shutter Tuesday morning, and hundreds of thousands of federal employees will stay home on furlough with no financing in place at the start of a new fiscal year. Just before midnight, President Obama's budget director Sylvia Matthews Burwell issued guidance to agencies directing them to execute their plans for an orderly shutdown of the government. "Unfortunately, we do not have a clear indication that Congress will act in time for the president to sign a continuing resolution before the end of the day tomorrow, October 1, 2013," the memo said. "Therefore, agencies should now execute plans for an orderly shutdown due to the absence of appropriations." That and more details from The Hill, 10-1-13.
Government shutdown: Red-state Senate Dems stick with party
They're up for reelection in places where President Barack Obama is deeply unpopular, but red-state Democrats are sticking with their party in the acrimonious fight over Obamacare and shutting down the government. Sens. Mark Pryor of Arkansas, Kay Hagan of North Carolina, Mary Landrieu of Louisiana, and Mark Begich of Alaska have consistently voted with their party to reject repeated GOP attempts to chip away at the health care law — reflecting a remarkable level of Democratic unity on the issue. Not a single Democrat crossed party lines Monday in a Senate vote to reject House-passed provisions that would have, among other things, delayed Obamacare for one year. The cohesion stands in contrast to other divisive issues such as gun control and spending cuts that have led red-state Democrats to split with their colleagues. Politico, 9-30-13.
Government shutdown: The tea party's revolt against reality
If you can judge people by the quality of their enemies, one quality shared by many opponents of the tea party is their conservatism. Like many ideological factions, tea-party activists display a special intensity in fighting the "near enemy" — other elements on the right that don't share their tactics. President Obama may be their ultimate foe, but conservative pragmatists are their rivals. And rivals are the more immediate problem. It is no longer a revolt against the Republican leadership, or even the Republican "establishment"; this revolt is against anyone who accepts the constraints of political reality. Conservatives are excommunicated, not for holding the wrong convictions, but for rational calculations in service of those convictions. Michael Gerson, Washington Post, 9-30-13.
NC greets Feds' voter ID lawsuit with praise, trepidation
The Obama administration's decision to sue North Carolina Monday to block new voting rules, including the oft-debated photo ID provision, was greeted with quick applause by civil rights advocates who described the measures as blatant attempts to suppress the African-American vote. But some legal analysts as hastily offered a caution, contending that the U.S. Justice Department faces a high hurdle in trying to prove that intentional racial discrimination played a role in the election law changes. "It is going to be up to DOJ to prove that, not up to the state to disprove discrimination," said Richard Hasen, a law professor at the University of California, Irvine. "Absent smoking-gun evidence that the North Carolina legislature was motivated by racial animus, DOJ is going to have to rely on some kind of inference. That is generally a tough standard to meet." Raleigh News and Observer, 9-30-13.
To Think About
How to ditch the Hyde anti-abortion law—and win elections
A new generation of activists is rising, and they are looking for leaders who are bold, for champions who are unafraid to buck convention, and stand up for what is right. They want elected officials to address their needs and the needs of their communities. They want action, not platitudes. And opposing the Hyde Amendment, believe it or not, just might give lawmakers that opening. The Hyde Amendment, a law that withholds Medicaid coverage for abortion care from low-income women, turns 37 today. Spurred by the purported rationale that taxes should not go toward abortion, the measure has not only been expanded over the course of nearly four decades to deny abortion coverage to virtually any woman who receives health insurance or care from the government; it has become one of the most entrenched policies of all time. The 2012 election showed us that the gender gap is alive and well. One out of three voters was a woman who voted for President Obama. But what's been glossed over in much of the analysis was that it wasn't just a gender gap that won Obama re-election; it was a women-of-color gap. As it so happens, women of color also are unduly affected by the Hyde Amendment and similar anti-abortion restrictions. Talking Points Memo, 9-30-13.