King County
Why Seattle mayor vs. attorney battle will likely return
Who speaks for Seattle? In responding to the court-appointed monitor's plan for the Seattle Police Department to avoid violating the constitution and federal law, Mayor Mike McGinn said it was the mayor. City Attorney Pete Holmes  said it was  the city attorney. McGinn's position has been, and continues to be, that the mayor is the City Attorney's client, and he cites the Goldmark vs. McKenna decision. But that decision is based on the state Constitution. The Seattle City Charter is a different document, and determining who the City Attorney's client is defies the cut-and dried answer that McGinn would prefer. So says the always-excellent Dan Chasan, himself an atorney, in Crosscut, 3-11-13.
Seattle Public Schools reinstates, limits social justice class
Seattle Public Schools Superintendent Jose Banda has decided to reinstate  "Citizenship and Social Justice"  at Center School,  a college-level high school class that has delved deeply — and personally — into issues of race, gender and class in America. But Banda is directing that it be  "taught in a non-threatening manner" with warnings ahead of time whenever classroom activities are likely to cause cause "a high degree of emotion." A "Courageous Conversations" element of the course — in which students talk bluntly of their experiences with race and racism  — will not be used. Seattle P-I, 3-8-13.
Former Seattle Council member Richard McIver dies
Richard McIver, 71, long the only African American on the Seattle City Council and an advocate for Rainier Valley and underdeveloped parts of the city, died Saturday night at Swedish Medical Center. He was selected in 1997 to complete the term of John Manning, a former Seattle police officer who resigned after pleading guilty to domestic violence. Mr. McIver was then elected to three four-year terms. He did not run for re-election in 2009, saying, "I want to go home and sit down." Seattle Times, 3-10-13.
The State
Military pushes back on a legislative bill favoring payday lender Moneytree
A proposed state law that would open the door for Moneytree and other payday lenders to make high-interest, short-term loans in Washington is drawing heat from military officials concerned about predatory lending practices targeting military personnel. The Department of Defense and the adjutant general of the state of Washington are telling lawmakers that the proposed state law, SB 5312, sponsored by Sen. Steve Hobbs (D-44),  could allow lenders to circumvent the Military Lending Act, a federal law passed in 2007 to shield members of the armed forces from abuses in the payday-lending industry. Puget Sound Business Journal, 3-8-13.
State Democrats may have to listen to GOP transportation ideas
Hoping to persuade Republicans to support a major gas tax increase, Democrats may have to take seriously some GOP proposals about how state money is spent on road projects. Indeed, Democrats say they are interested. "What I would like to see is … You take the reforms, then you come and help us with the funding. I think it's a partnership," said House Transportation Chairwoman Judy Clibborn (D-41), who has proposed a package including a 10-cent gas tax increase to fund projects such as extending state Route 167. "If they want to start with efficiencies, that's fine." The Republicans' point man on transportation, Rep. Ed Orcutt (R-20), said the Legislature needs to address high costs and recent Department of Transportation errors — and Democratic Gov. Jay Inslee needs to sign those changes into law — before Republicans will ask taxpayers for more money. Olympian, 3-8-13.
Rule in state law makes it tough for smaller liquor stores
Bonnie Roulstone's business thrived when the state controlled the liquor business, and is fighting to survive now that it's out. She's watched sales at her Clearview Spirits and Wine store plummet as competitors proliferate and new rules wrought by the voter-ordered privatization of the booze industry take root. She expected the cash register to ring less often when the state stopped selling hard liquor last June, just not this much less. What she, owners of other contract stores like her and buyers of state-owned stores through auction didn't expect is a requirement that they charge a 17 percent fee on sales to bars and restaurants. Everett Herald, 3-10-13.
For blind lawmaker, biography reflects in policy
At just 31 years old, Cyrus Habib has mastered skills to bypass the limitations of his disability, and that has allowed him to trace a remarkable life trajectory. At age 8, he completely lost his eyesight to cancer but nonetheless went on to become a black belt in karate, a jazz pianist, a Rhodes Scholar at Oxford, an editor of the law review at Yale, and an attorney at a prestigious Seattle-based firm. Now Habib (D-48) is Washington state's first blind lawmaker in decades, and his life story is in many ways reflected in the policies he's now championing. Seattle Times, 3-10-13.
The Nation
Wells Fargo typo victim dies in courtroom
On the morning of Dec. 19, 2012, in a Torrance CA courtroom, Larry Delassus' heart stopped as he watched his attorney argue his negligence and discrimination case against banking behemoth Wells Fargo. His death came more than two years after Wells Fargo mistakenly mixed up his Hermosa Beach address with that of a neighbor in the same condo complex. The bank's typo led Wells Fargo to demand that Delassus pay $13,361.90 ­— two years of late property taxes the bank said it had paid on his behalf in order to keep his Wells Fargo mortgage afloat. But Delassus, a quiet man who suffered from the rare blood-clot disorder Budd-Chiari syndrome and was often hospitalized, didn't owe a penny in taxes. LA Weekly, 3-7-13.
Georgia House defeats bill to ban municipal broadband networks
Georgia lawmakers last week shot down efforts to effectively ban municipal broadband networks in the state. By a vote of 70 to 94, members of the Georgia House rejected HB 282, which would have greatly restricted a city's ability to start its own broadband network. Cities would have been allowed to provide broadband service only to "unserved" communities, or areas where the FCC's National Broadband Map showed that no broadband service (or 3 Mbps) was available. Existing networks would have been able to continue operations. Bill sponsor Rep. Mark Hamilton, a Republican, told the Atlanta Journal-Constitution that it's wasteful to spend tax dollars on a broadband network when private companies are doing the same thing. But the paper also cited Hamilton's Republican colleague, Rep. Jay Powell, who said he could not get a major ISP to deliver broadband to his community, leaving it woefully behind in the digital economy. PC Magazine, 3-8-13.
Rhee candidate crushed in West Sacramento School Board race
Though Michelle Rhee's name was not on the ballot this week in a race for a school board seat in West Sacramento, Calif., voters there indirectly turned down the former District of Columbia schools chancellor. Francisco Castillo, a spokesman for Rhee's StudentsFirst organization, was trounced in his bid to fill a vacancy on the board that oversees nine schools, despite a campaign treasury of nearly $60,000. More that half that war chest came from StudentsFirst, according to the Sacramento Bee. The winner, Sarah Kirby-Gonzalez, was backed by the local teachers' union, which kicked in most of the $30,000 she raised, according to the Bee. Education Week, 3-7-13.
Mayoral Race Has Mom Running Against Son: 'I Wish I Could Evict His Ass'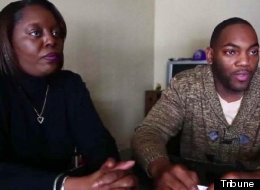 Plenty of families fight over politics, but one household in suburban Chicago at least agrees the next mayor of their town should be a Casey — they just can't agree on which one.  Wendy Casey, 45, is running for mayor of the village of Dixmoor. So is her son, Randall, 27. Both Caseys share a home together in Dixmoor, though the Chicago Tribune reports being recast from their roles as loving mother and son to political foes has been a rough transition; talks are mostly limited to polite kitchen run-ins and rent collection time. According to the Tribune, Wendy Casey said laughing, "I wish I could evict his ass." Huffington Post, 3-8-13.
 To Think About
The five biggest lies about 'entitlement' programs
Everybody loves lists. Most of those you see in the papers or online tend toward the inconsequential (The Six Best "Fast & Furious" Movies). So here's a list with a bit more gravitas: The five biggest lies you're being told about entitlement programs. Never mind that the very word "entitlement" is a lie. Social Security and Medicare got that name because workers became "entitled" to those benefits by paying into the system. In recent years, however, the term has become distorted to signify benefits people are entitled to without earning them. Leaving that whopper aside, here are the top five. (Memorize these; there will be a test — and the stakes are life and death.)  Michael Hiltzik, Los Angeles Times, 3-8-13.