Mark Mullet for State Senate – Campaign Events
Wednesday September 26 – Help build Mark Mullet's signs and get free pizza!
What:
Sign-building party!
When: Wednesday, September 26, at 6:30pm
Where: Blakely Hall (2550 NE Park Drive)  Issaquahm WA 98029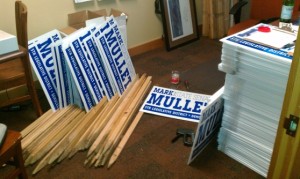 Just like in the primary, we want to have a big visibility push preceding the November ballots arriving in mailboxes on October 19th (Yes, voting begins in 24 days!). So, bring your power drills and help us assemble some yard signs, then take a bundle and an area and make sure everyone knows Mark's name. We'll provide some pizza and drinks and all the supplies, but if you can bring a drill, that would be very helpful.
We'd also love your help collecting Mark signs after the election, so we can use them in future years. See you tomorrow!
____________________________________________________________________
Previous events
Mark Mullet's campaign for State Senate in the 5th District invites you to our:
"Back to School Bash" Education Fundraiser!
Please join the League of Education Voters, Washington Education Association and Democrats for Education Reform for a fun evening and a great discussion of important challenges facing our state's public education.
"Back to School Bash"
Thursday, Sept. 20th, 6:30-8pm
Sammamish, WA (Contact campaign for address)Suggested  donation of $50 at the door will help Mark win in November!
A huge thanks to our generous $500-$900 sponsors:
– League of Education Voters
– Washington Education Association
– Democrats for Education Reform
– Rep. Ross Hunter
– Lesley Austin
– Kelly Munn
– Dean Willard
and our host Suzanne Weaver
Please RSVP here, or to Campaign Manager Isabel VanDerslice
[email protected]
(360) 292-9905
www.electmarkmullet.com