King County
In last days of Seattle mayor's race, a final push to get out the vote as charges of 'cyberbullying' and 'harassment' abound
Exactly how much difference the so-called "ground game" can make in the Seattle mayor's race is hard to gauge. But with the debates over and ads running their course, campaigns don't want to leave any votes on the table when ballot counting starts Tuesday. The last mayoral race in 2009 was decided by about 7,200 votes out of 206,000 cast. King County elections officials estimate 57 percent voter turnout in Seattle this year. Seattle Times, 11-2-13. Murray held his second news conference in 24 hours Saturday morning, responding to last-minute campaign maneuvering by McGinn and his supporters, who had reacted to a Washington Post story about Murray's campaign contributions from Comcast and some Planned Parenthood robocalls for Murray that went out on Tuesday. Murray's campaign, which has seemed comfortably in the lead, seemed less certain Saturday as the Senate Democratic leader accused McGinn's campaign of "harassment" and "cyberbullying" because some of the mayor's supporters put on Facebook the cell phone number of a Planned Parenthood staff member. Asked why he would engage the mayor at such a late stage of the game, Murray said: "I don't believe the polls. I don't believe we're that far ahead." Seattle Times, 11-2-13.
Three Bellevue campaigns each top $100,000 in fundraising
As Bellevue City Council candidates make their final campaign pitches, their spending has reached new heights. Three candidates have raised more than $100,000 each, a threshold never before reached by any campaign. In one race — Kevin Wallace's campaign for re-election over challenger Steve Kasner — independent expenditures by groups affiliated with competing business and labor interests have pushed totals even higher. Wallace has raised $135,538 to Kasner's $66,734, not counting independent spending. Seattle Times, 11-2-13.
Seattle/King County lags behind other big cities and metropolitan areas in sheltering the homeless
King County has more than 13 times as many homeless people without shelter than Boston. In fact, the county has almost as many unsheltered homeless people as New York City. Advocates say that points to an urgent need to move more people here off the street, and probably more money to help tackle the problem. The U.S. Department of Housing and Urban Development says a count of homeless people in Boston lacking shelter totaled 193. In King County, that number was 2,618. Those are figures the United Way of King County and the Committee to End Homelessness in King County are using to emphasize the need to add emergency shelter beds. They'd also like to beef up services to help prevent homelessness in the first place. KPLU, 11-3-13.
The State
Taxpayers foot bill for rarely used Yakima City Council cellphones
The city of Yakima will spend nearly $200,000 this year on cellphones and service plans, including about $5,000 for City Council members, several of whom rarely use the devices, according to public records obtained by the Yakima Herald-Republic. Of the seven council members, only three regularly use their phones. Another uses her phone occasionally, two use their phones only for email, and one councilman has used his phone only a handful of times, according to an analysis of the records. Earlier this month, Councilman Bill Lover asked the city to cancel his cellphone after a Herald-Republic reporter asked him why the city is paying for something he's almost never used. Yakima Herald-Republic, 11-1-13.
Benton County weighs costs of jail time in lieu of court fines
The practice of ordering inmates to serve out their fines and court costs in exchange for credit has been in place in Benton County District Court for more than two decades. It's one of the only courts in Washington to take advantage of a state law allowing it. Many just turn the nonpayers over to collection agencies. Now some criminal justice officials aren't sure it's the best way to handle nonpayers and plan to meet with Benton County commissioners Nov. 18 at the Benton County Justice Center in Kennewick. The issue also is facing a legal challenge from a Tri-City woman who contends she never got a proper hearing and shouldn't be sent to jail because she has a very limited income. Tri-City Herald, 11-2-13.
 Washington Medicaid to restore full dental coverage in 2014
Hundreds of thousands of low-income Washington residents will soon have dental coverage. Since January 2011, the state Health Care Authority has provided only emergency dental coverage for most adult Medicaid clients. Coverage included extractions, treatment of trauma-caused damage and temporary relief of pain or infection. But beginning Jan. 1, the state will restore the adult dental benefits cut three years ago and provide the full slate of preventive and restorative dental care — services such as routine checkups, cleanings, fillings, root canals and dentures — for everyone on Medicaid. When the services were eliminated, about 105,000 adults were utilizing the program, said Jim Stevenson, spokesman for the Health Care Authority. But the state has about 400,000 adult Medicaid clients, all of whom could potentially use the services, he said. Vancouver Columbian, 11-3-13.
The Nation
Senate vote on workplace bias against gays will be test for GOP
A major test of how carefully Republicans can navigate the intraparty politics of sexuality will come Monday, when the Senate holds a crucial vote on a bill to outlaw workplace discrimination against gay men, lesbians, and transgender people. The anticipated vote comes four months after the Supreme Court invalidated a federal ban on recognizing same-sex marriages, and nearly a year after some conservative leaders warned that losses in the 2012 elections exposed the party as being out of touch with much of the country on social issues. With the bill apparently just one vote short of the threshold to prevent a filibuster, the Republican senators believed to be the most persuadable — Rob Portman of Ohio, Kelly Ayotte of New Hampshire and Dean Heller of Nevada — were keeping their positions private. New York Times, 11-3-13.
Koch group, unions battle over Colorado schools race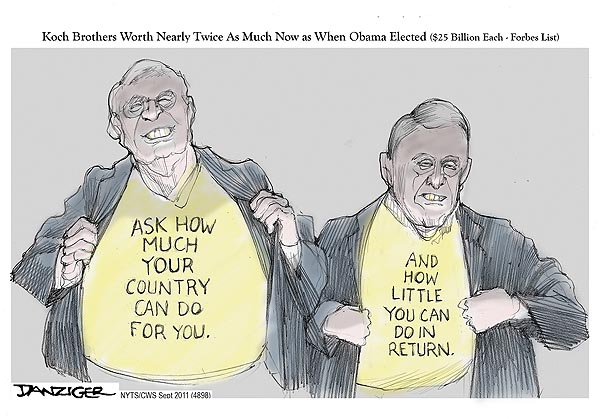 It isn't often that the Koch brothers' political advocacy group gets involved in a local school board race. But this fall, Americans for Prosperity is spending big in the wealthy suburbs south of Denver to influence voters in the Douglas County School District, which has gone further than any district in the nation to reshape public education into a competitive, free-market enterprise. Conservatives across the U.S. see Douglas County as a model for transforming public schools everywhere. But with four of seven seats on the board up for grabs in Tuesday's election, reformers find themselves fending off a spirited challenge from a coalition of angry parents and well-funded teachers unions. The race has been nasty and pricey, too; spending from all parties is likely to hit at least $800,000. Politico, 11-2-13.
Alabama politics blogger jailed for writings on ex-governor's son
There seems to be at least one in every state—a local with a blog and an aggressive interest in state politics and muck—publishing what the local papers wouldn't touch, walking the line between rumor and news, conversant with the key issues, and familiar with the key names—unafraid or indifferent to pissing people off. In Alabama, Roger Shuler is one of those guys. And as a result of an ongoing fight about what he's written on his blog, Shuler is currently in jail. Shuler was arrested last week in his Birmingham home and is being held without bail in a Shelby County, Ala. jail for contempt of court and resisting arrest. The charges stem from a case brought by Rob Riley, a Birmingham attorney and the son of former Gov. Bob Riley (R). Over the past 11 months, Shuler has written blog posts asserting that Riley had an affair with an Alabama lobbyist. Riley has denied the story, and tried to take Shuler to court. Shuler wouldn't cooperate. And he continued to write about the alleged affair, violating a court order in the process. Talking Points Memo, 11-1-13. (great discussion in the comment thread.)
To Think About
From Congress to contract: Heather Wilson says 10K per month Sandia Labs deal met ethics rules
Rep. Heather Wilson (R-NM) walked out of Congress on Jan. 3, 2009, and into a $10,000-a-month consulting contract with Sandia National Laboratories that started paying the next day. The groundwork had already been laid for the arrangement, which Wilson said was completely appropriate, and complied with all House ethics and disclosure rules. Documents obtained show that Heather Wilson and Co. LLC was organized as a New Mexico business on Dec. 8, 2008. Wilson was listed as organizer and later as president. The congressional disclosure form Wilson filed upon leaving Congress listed future employment as being with her newly formed company, but made no mention of the Sandia consulting contract. The documents expand on a Department of Energy inspector general's report earlier this year that found Wilson's contractual work with Sandia and other national labs between 2009 and 2011 "tends to indicate" federal money was used for prohibited lobbying for federally funded projects. Albuquerque Journal, 11-3-13.